Chorrillana is a favorite Chilean dish of French fries loaded with beef, caramelized onions, and fried eggs. It's a perfectly comforting dish to share with friends.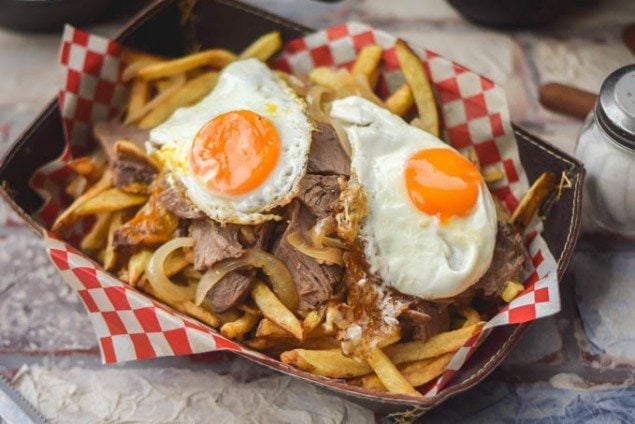 So most of you already know that I live in Chile and that I'm currently dating a Chilean. Wow, sometimes it's still hard even for me to grasp that concept even though we've lived here for a few years now. Already this new year has seemed to be changing with each new day and I feel like I'm trying to catch up and find my equilibrium.
I've had a lot of people ask me why I so rarely share Chilean food recipes when I live here surrounded by it all the time and I was trying to explain it to someone the other day. The best way I can describe it is to tell you what it was like to move to a new culture from the one we left. We arrived here and everything was so vastly different from what we were used to, especially the food.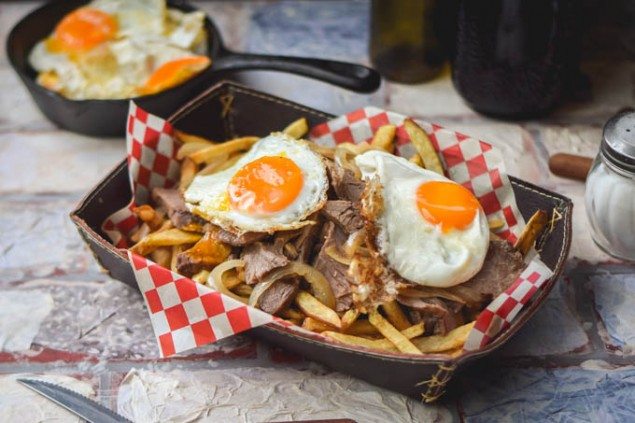 Don't get me wrong, I love trying new flavors and I really like Chilean cuisine, but on those early days in this new culture, when we were getting a little (okay fine, a lot) homesick, what we all were craving were the familiar comfort foods from our own culture. Trying to recreate them became more of my focus, and besides, whenever we do want authentic Chilean food it's available everywhere. See my point? It was one of the last things I wanted to make at the time.
Things are different now that we've been here a while and we've gotten familiar with our surroundings. In fact, I've recently been gaining an interest in learning how to make all the traditional types of food made here so I can share them. I thought I'd start with something that I know my family likes, it's called chorrillana. Basically it's a heaping pile of fries, topped with strips of beef, sautéed onions, and some fried eggs on the top (because those are a must in Chilean cuisine). It's not a very complex or difficult dish but I think that's what's so brilliant about it.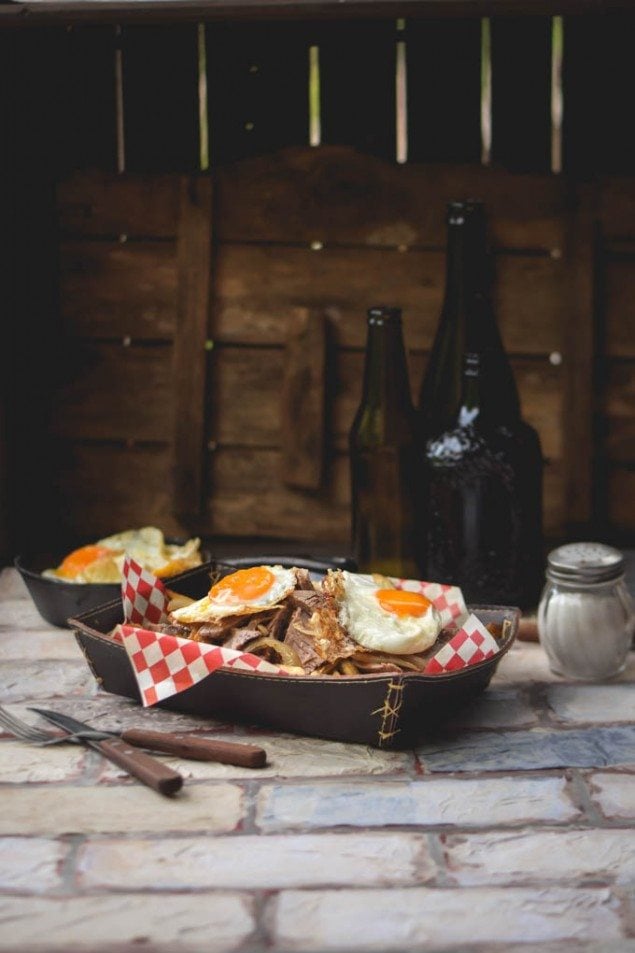 See Also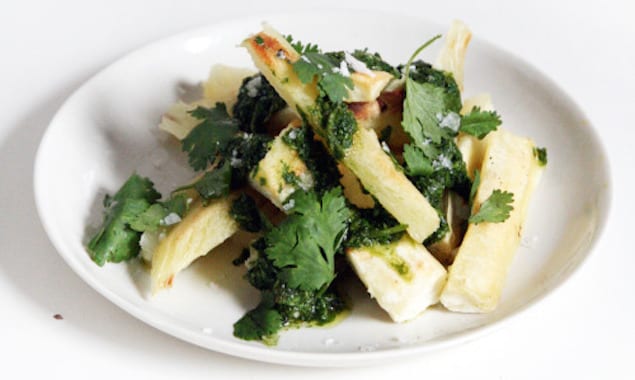 Everyone has their own style of making it here. Some variations scramble the eggs and some of them have things like chorizo sausage added, but I decided to go for minimalism (Oh yeah, that's another goal I have this year; learning to simplify). Actually, I was seriously considering if I wanted to add homemade barbecue sauce, generous amounts of cheese, and some crispy bacon. I still think that it sounds amazing, but after playing my phone-a-Chilean card and consulting the counsel of my Chilean boyfriend, I changed my mind. I asked him what he thought of my idea and he sort of implied it wouldn't go over with the locals. Haha, I also asked him if they'd kick me out of the country for messing up a perfectly good chorrillana and you know what, he didn't argue! So yeah, I chickened out. Hey, but it's definitely happening next time!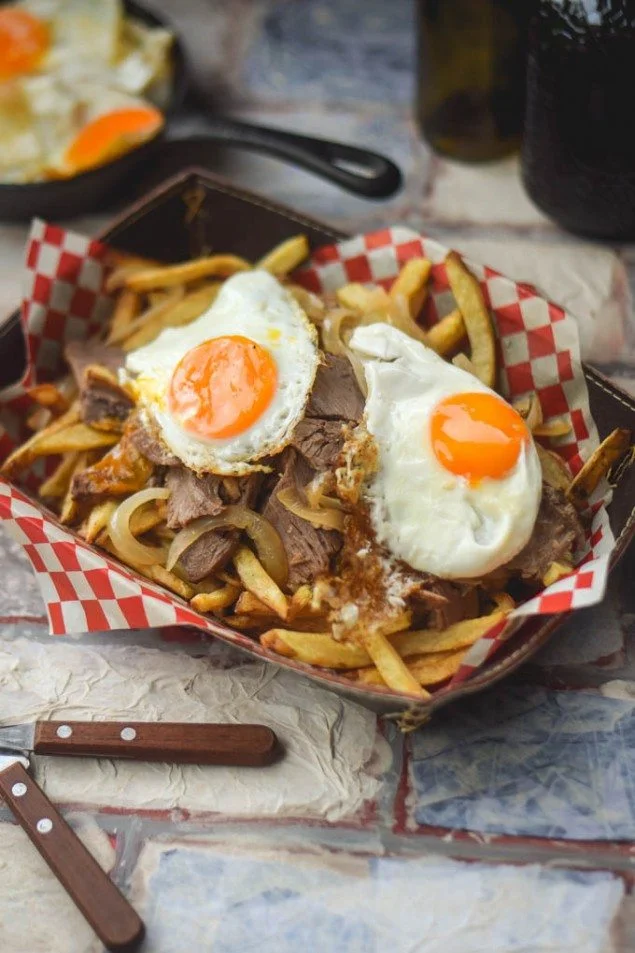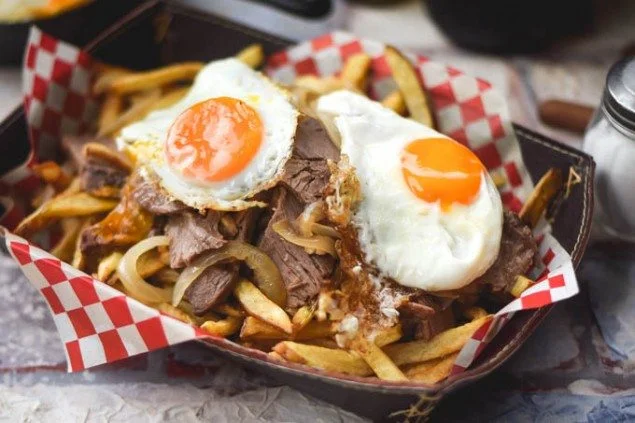 Chilean Chorrillana Fries
Tori Cooper
Chorrillana is a favorite Chilean dish of French fries loaded with beef, caramelized onions, and fried eggs. It's a perfectly comforting dish to share with friends.
Ingredients
Steak Marinade:
3

cloves

garlic

minced

2

tablespoons

worchestershire sauce

2

tablespoons

soy sauce

2

tablespoons

sugar

1/4

cup

white wine vinegar

2

rib-eye

New York strip, or filets mignon steaks (8 to 10 ounces each), trimmed
Fries:
6

medium potatoes

washed and sliced into french fries.

sea salt and black pepper to taste

oil for frying

2

medium onions

thinly sliced

1

tablespoon

oil

1

tablespoon

red wine

1

tablespoon

oil

4 - 6

large eggs

sea salt and black pepper to taste
Instructions
Combine the ingredients for the steak marinade in a stainless steal bowl or a glass baking dish and stir together well. Place the steaks in the mixture and then pour in enough water to cover the steaks and turn them both over once to make sure and coat them in the marinade.

Place in the fridge for a minimum of 1 hour and up to 48 hours. The longer you can let it marinade the better.

Soak the cut potatoes in large bowl of water for about 30 minutes. While they soak, heat 1 tablespoon of oil in a large skillet over medium low heat. Remove the steaks from the fridge and place them in the pan. Cook on each side for 5 to 6 minutes until the center is completely done. Remove from pan and place in a seperate dish, then cover to keep warm. Add another tablespoon of oil to the pan and add the onions. Saute for 2 to 3 minutes until browned then pour in the red wine and season to taste with salt and pepper. Turn off heat and pour the onions out into the dish with the steaks.

Now for the fries, heat at least 4 inches of oil in a large dutch oven or deep fryer until it reaches 375 degrees F (180 C). While the oil heats, drain and rinse the fries then pour them out onto a clean kitchen towel and pat dry. Once the oil is hot, fry the fries in 2 or 3 batches for 4 to 5 minutes each until they start to get soft. Drain and remove each batch from the oil to cool for about 5 minutes as you rotate the batches. After all the potatoes have been fried once and then cooled off, begin frying each batch for a second time for an additional 5 or 6 minutes until golden brown and crispy. Drain and remove from oil and dump them onto a plate lined with paper towels. Season to taste with salt and pepper and place them on either a large serving platter or divide between individual plates.

Slice the steaks into thin strips and add back to the pan along with the onions and place over medium high heat just long enough to warm. Scoop the meat/onions onto the fries and return the pan to heat. Now add another tablespoon of oil to the pan and crack in the eggs. Fry for 2 to 3 minutes until the whites are completely cooked, or until the eggs reach your preferred doneness. Add them to the top of the meat and season the whole thing to taste with more salt and pepper. Serve immediately.
Tori Cooper
Tori is a food blogger with a passion for what she does. She shares all her recipes, photography, and bits about her life living in Patagnia Chile on her blog, Gringalicious.