Chicken and Vegetable Soup with Pasta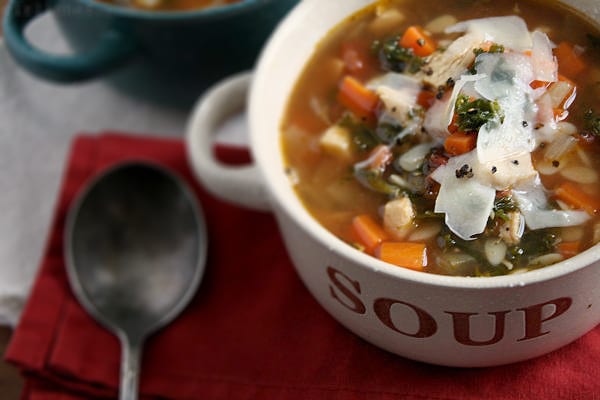 Try this chicken and vegetable soup with pasta to keep you warm during the harsh winter months.
By Heather Schmitt-González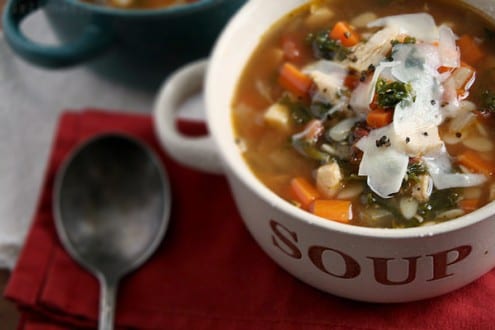 Soup is timeless. Vegetables and proteins, however?  They're not.  Timeless, that is.  They go bad. Which is another great thing about soup – it's ability to take in all of those extras hanging out in your fridge.  And your pantry.  Have a couple of carrots looking lonely? Maybe a random bunch of kale hanging out in the crisper?  I know you have half-used packages of pasta hanging out. Sounds like dinner to me.

Chicken and Vegetable Soup with Pasta
A quick and easy soup to keep you warm in the winter.
Author:
Heather Schmitt-González
Ingredients
olive oil
1 large onion, chopped
2 medium carrots, chopped
4 fat cloves garlic, minced
1 sprig fresh thyme
~4 c. stock or broth (chicken, veggie, garlic, or beef)
1 (14.5 oz) can fire roasted, diced tomatoes
½ c. pastina (any sort of little pasta - I used melon seed)
2 big handfuls kale, large stems removed and chopped
1-1½ c. cooked, shredded chicken (from ~2 breasts)
Parmesan cheese
salt
freshly ground black pepper
Instructions
Heat a good glug of olive oil in a Dutch oven over medium-high heat. Add onion, carrot, garlic, and the sprig of thyme. Add a pinch of salt and pepper. Sauté until veggies have begun to soften, ~5 minutes.
Add stock or broth and the tomatoes with their juices, bring to a boil. Add pasta and kale, bring back to the boil and simmer for another 5 minutes or so. Stir in chicken and continue cooking until heated through.
Discard thyme sprig. Taste and adjust seasoning with salt and pepper, as needed.
Serve with a few slivers of fresh Parmesan and a few cracks of black pepper.
Heather Schmitt-Gonzalez
Heather Schmitt-Gonzalez is a Michiana-based food writer with a fondness for garlic, freshly baked bread, stinky cheese, dark beer, and Mexican food—who believes that immersing herself in different cultures one bite at a time is the best path to enlightenment.