Versatile and delicious, Chicken pecks its way to the top of our picnic order. See why this juicy tender bird is essential for our baskets.
Chickens are underappreciated. Every picnic I attend there is no bird in sight, only blocks of cheese and thinly sliced pork. I drink the wine, pick at some cheese and leave the picnic unfulfilled. Where's the chicken?!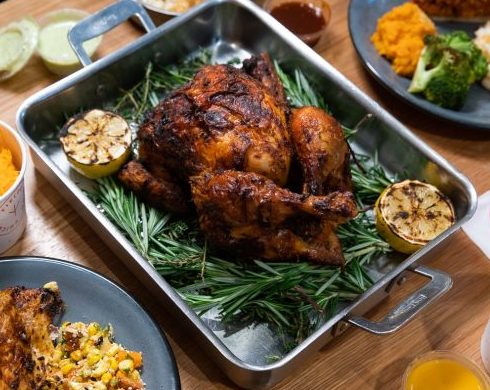 My chicken infatuation started at a young age, every morning the roosters in my backyard acted as my alarm clock and later stewed on a bed of rice for Sunday lunch. I grew up in Trinidad, a very tiny island in the Caribbean. Most islands value a chicken's worth because they are affordable, versatile, shareable and freaking delicious.
Hence it is the preferred source of meat and what Caribbeans cook for every lime. Think of a lime as a gathering at the beach, house or park similar to a party or picnic. Whereas a conventional picnic has blocks of pungent cheese, a Trinidadian picnic has juicy tender chicken. Be it stew, barbecue, fried or oven roasted. No melted cheese and grapes in sight. I prefer a chicken thigh stewed or oven roasted chicken. Served alongside creamy coleslaw, a bit of rice, pigeon peas and salad.
When thinking about what to order at your next picnic opt for a juicy tender chicken over the pungent cheese.
To confirm the pecking order for your next picnic, fellow Chicken Enthusiast and Fields Good Chicken Director of Culinary, Dan Jackson shares his thoughts on the bird.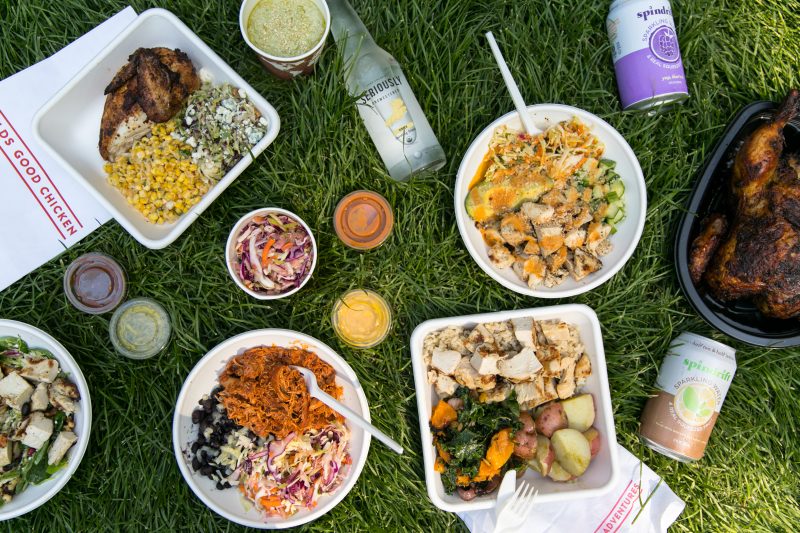 What makes chicken ideal for picnics?
Chicken is versatile and delicious. It maintains its flavor at room temperature and pairs really nicely with pretty much everything!
What would you recommend pairing oven roasted chicken with for picnics?
Whether you're picnicking in the park or in your living room, we love to pair our chicken with seasonal sides. Right now, I recommend our Green Beans with shaved Brussels Sprouts, carrots, and date vinaigrette, Beets & Blue with cabbage, almonds, and blue cheese, and definitely a few pieces of our gluten-free cornbread. If you're eating with kids, our Mac & Cheese with cauliflower pureé is nutrient-dense and delicious. 
All of our sides work well together, and a few of my favorite combinations include: Roasted Sweet Potatoes and Mac & Cheese, Beets & Blue with Quinoa, and our Smashed Potatoes with Green Beans. For something sweet, I love Greyston Bakery's Brown Sugar Blondie. The beauty of oven roasted chicken is that you can mix-and-match sides based on your tastes – perfect for date night, a meal with the family or roommates, and beyond! Having a nice selection of veggie-based sides also allows any vegetarians or vegans in your group to enjoy, too! 
What is so special about oven roasted chicken?
FGC's oven roasted chicken is healthy, flavorful, and versatile. We never fry our birds, and we've developed brining and cooking techniques to achieve crispy skin and juicy meat that goes perfectly with a variety of sides. It's a crowd pleaser! We source our chickens from family farms in Pennsylvania's Amish Country. Our birds are antibiotic-free and humanely-raised.
Tips to get juicy roast chicken!
The ideal roasted chicken has crispy skin and juicy, tender meat. Experiment with wet and dry brines, cook your bird on high heat, and invest in a meat thermometer (so helpful so you never overcook your chicken!). It's also very important to allow at least 10 minutes for the chicken to rest after cooking, so when you carve into it the juices don't run. Resting the bird allows the juices to redistribute back into the meat, so you avoid dry chicken!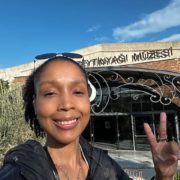 Alyssa Holder
Alyssa Holder is a writer specializing in food and travel topics since 2015.