Sun-dried tomato cream sauce that is a touch sweet, pairs perfectly with chicken meatballs.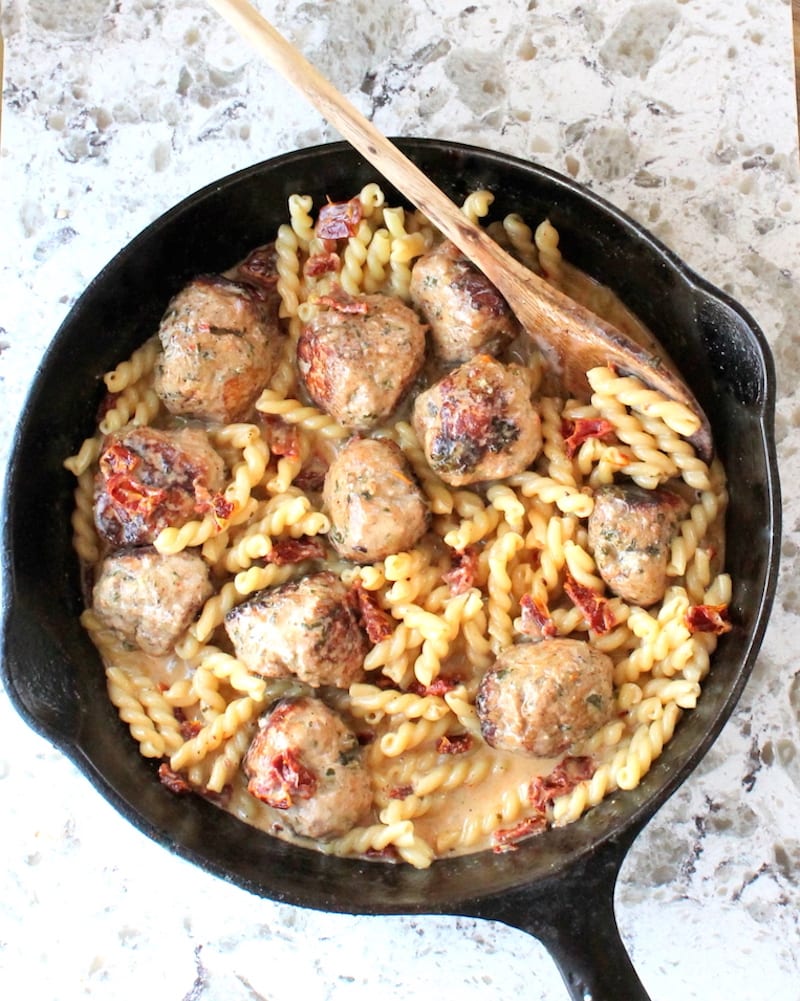 Oh man you guys this sauce. It's pretty much the best thing ever, err at least this month.
I originally saw the recipe over at Closet Cooking. I have made it quite a few times, and poured it over many different things, chicken, fish, shrimp pasta, rice. Basically you name it. I swear this is one of those sauces that I could eat for life and not get bored, though it may add some inches to my waistline. It's seriously that good.
This time around I wanted to try it with meatballs, because meatballs are like my favorite thing right now. Combining two of my favorites in one dish is usually a good idea. In this particular case it was an amazing idea!
See Also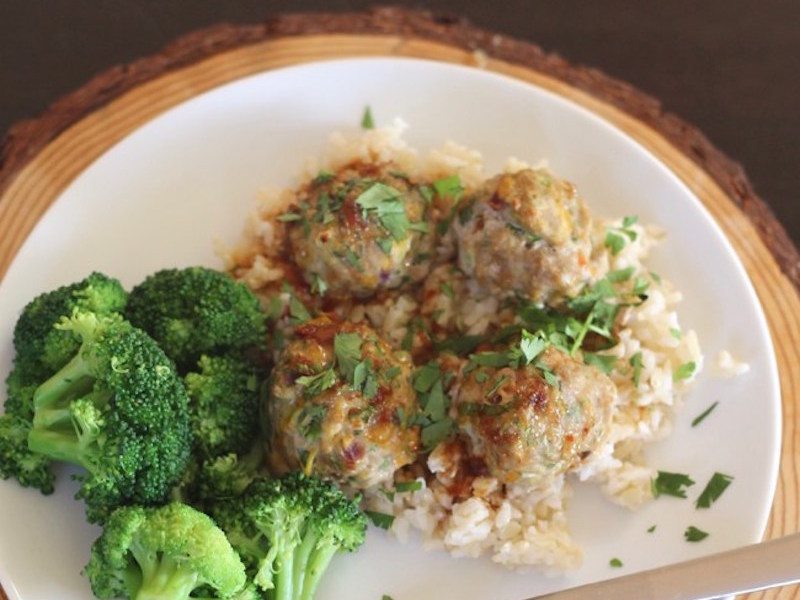 These tender and flavorful meatballs were only amplified by the delicious, creamy sauce and sweet little bits of sundried tomato. Of course I served this tossed together with pasta, because again we are talking favorites here.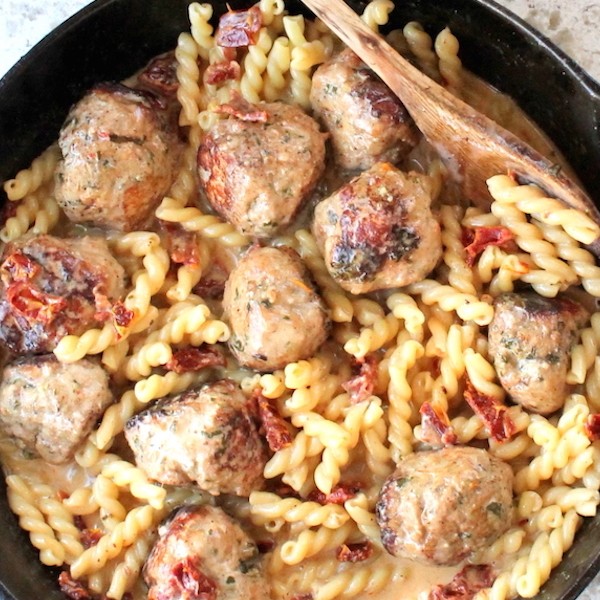 JC Carter
Ingredients
16

oz.

short pasta

1

lb

lean ground chicken

¼

teaspoon

salt

¼

teaspoon

Pepper

¼

teaspoon

Oregano

1

tablespoon

basil chopped fine

¼

cup

unseasoned bread crumbs

1

egg white

1

tablespoon

oil

2

tablespoons

unsalted butter

3

cloves

of garlic

minced

1

cup

of chicken broth

½

cup

whipping cream

1/3

cup

oil packed sundried tomatoes

chopped

¼

cup

grated parmesan

Salt and pepper to taste
Instructions
Cook pasta according to package instructions and set aside.

In a large bowl combine the chicken with salt, pepper, oregano, basil, bread crumbs, and egg white.

Use your hands to mix well and then form balls about 2 inches in diameter.

In a large skillet, heat oil over medium high heat. Add meatballs and cook for about 6 to 8 minutes, while turning frequently. They should be browned on all sides and cooked through.

Remove the meatballs from the pan and set aside.

Add the butter to the pan and let it melt. Add the garlic and cook until it becomes fragrant, about 1 to 2 minutes.

Add the broth and use a wooden spoon to scrape the browned bits from the bottom of the pan.

Stir in the sundried tomatoes, cream and parmesan.

Bring to a boil, and then reduce to a simmer and cook for about 3 minutes or until the sauce thickens.

Add salt and pepper to taste.

Return the meatballs to the pan tossing well to coat. Remove from heat and stir in the pasta. Serve immediately.
JC Carter
I am a blogger from upstate NY who believes in celebrating a healthy lifestyle. I enjoy spending time outdoors, crafting, cooking, gardening, and entertaining.