This chicken liver paté is a quick and easy appetizer to make a day ahead of a dinner.

By Jess Lacey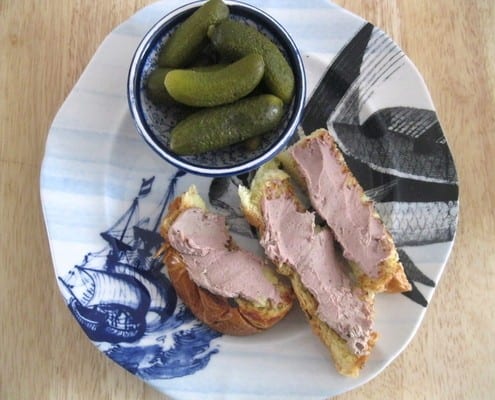 I have loved chicken liver paté since I was a small child while resolutely remaining in denial about what it is actually made of, as I have a fairly visceral horror of all innards and offal, despite liking the taste of quite a few. Thus making this paté for the first time involved some inner conflict between my disgust at actually handling livers and my desire to see how easy this was to make (though I could have done without knowing exactly how much butter is involved).
This was not helped by the fact that when I went to buy the livers, the woman at the checkout gave me a look of undisguised disgust before enquiring as to what I was planning to do with them. This resulted in my explaining the nuances of a recipe I had yet to make to three attentive and slightly repulsed checkout ladies.
This recipe is an amalgam of various recipes, ideas and techniques, but it did create a very smooth, rich and creamy paté.
A quick and easy appetiser to make a day ahead of a dinner.
Ingredients
7oz (200g) chicken livers
8oz (225g) butter
1 large banana/Echalion shallot
1 tablespoon sherry
1 tablespoon cream cheese
½ teaspoon nutmeg
1 teaspoon Dijon mustard
Instructions
Finely chop the banana shallot.
Trim the livers of any membrane or green coloured parts.
Melt 25g of butter in a large frying pan until it is foaming slightly and add the shallot.
Cook for 3-4 minutes until softening and a little coloured.
Add the chicken livers and fry for 5-7 minutes until there is no pink showing on the outside (though mine still had a little bit of blood coming out)
Puree the livers with the onion and remaining ingredients (reserving another 25g of butter) until smooth.
Season well.
Push through a sieve with a wooden spoon to get a very smooth consistency.
Pour into ramekins (this makes 2-3 large ramekins worth) and leave to cool.
Melt the remaining butter and set aside to cool for 2-3 minutes.
Scoop off the solid crystals at the top of the butter to get to the clarified butter below.
Pour over the pate to create a seal and leave to cool before refrigerating for 24 hours to set.