Rice paper rolls are very versatile and are great packed for lunch.  These chicken and mango rice rolls are light, refreshing and easy to make.   
By Josephine Chan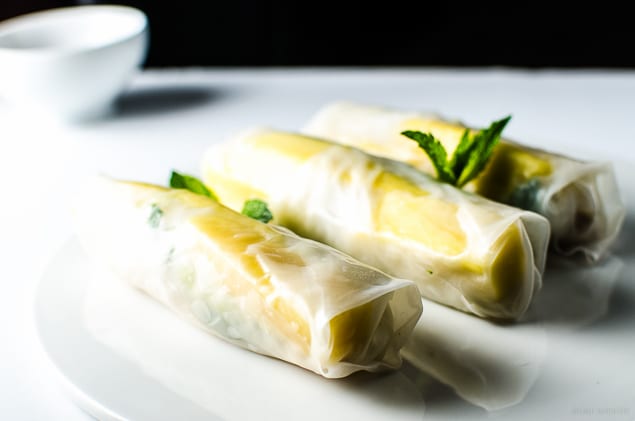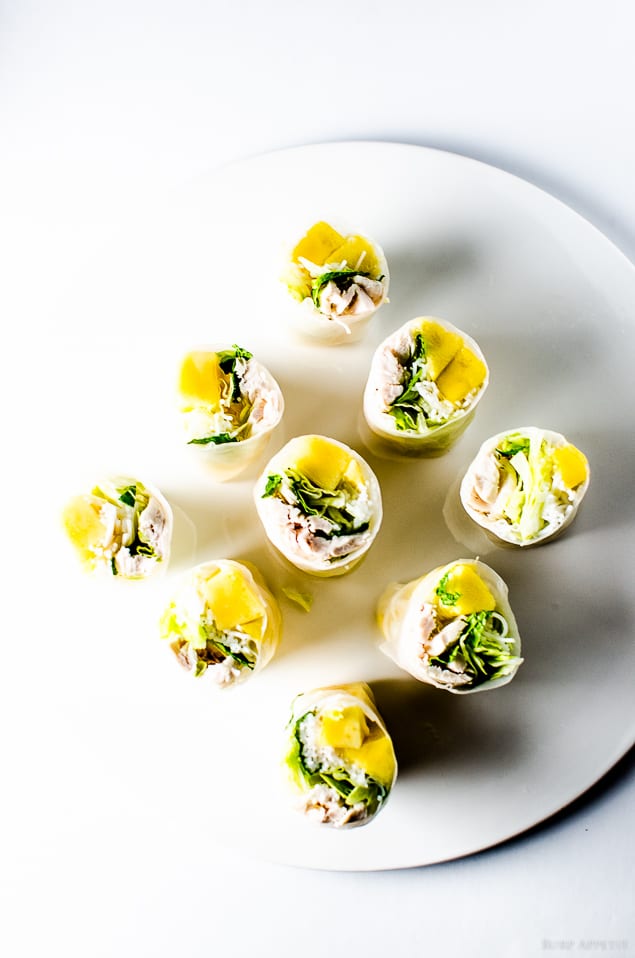 Some time ago, the mere thought of making rice paper rolls made me scared and daunting.  That's because they break easily and difficult to roll (they turn soft after a while).
So, after a few mishaps of really really un-good looking rolls, I found a few simple tips that I'd like to share with you:
1) Rice paper comes in sizes. Buy the large one.
2) Do not soak the rice paper until soft. Instead, soak for about 5-6 seconds, remove and place on a clean surface. The rice paper will continue to soften while you roll.
3) When rolling, keep them tight by pushing the edges back while rolling forward.  This keeps ingredients intact when you have your first bite of goodness.
Sounds good?  Now, let's try to get some rolls out, shall we …
My lil' one adores rice paper rolls.  It makes a good lunchbox meal and because there are no boundaries, you can go wild with just about anything in them.  She would choose what she wants in her rice paper roll and she would roll them herself :)  I like to make it fresh because from experience, rice paper rolls don't keep well after 3-4 hours – the rice paper will start to harden and the ingredients will begin to dry up (even with refrigeration).
In this recipe, I used poached chicken breast as a healthy choice of protein and paired it with sweet mango slices, rice vermicelli, fresh lettuce, mint leaves and crunchy cucumber sticks.  Drool.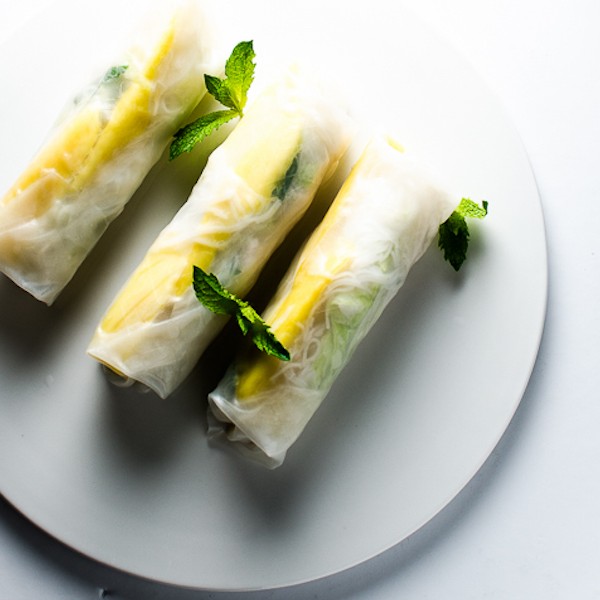 Chicken & Mango Summer Rolls
Josephine Chan
Let your creativity run wild with these rice paper rolls. I adore the combination of chicken & mango for its light, fresh and sweet flavours.
Ingredients
1

skinless

free-range chicken breast fillets (100g)

1

tsp

black peppercorns

1

spring onion

scallions, roughly chopped

1

slice

of ginger

1

tsp

sea salt

6

large Vietnamese rice paper

Iceberg lettuce

washed & shredded

Mint leaves

washed & shredded

Rice vermicelli

soaked in hot water for 5 mins and drained

12

mango slices

6

cucumber sticks
Nuoc cham dipping sauce
1

tsp

rice vinegar

3

tsp

sugar

1 1/2

tbsp

fish sauce

1/2

red chilli

chopped

1

garlic clove

crushed

1

tbsp

freshly squeezed lime juice
Instructions
In a medium pot, add peppercorns, ginger, spring onion and salt. Then fill sufficient water to cover the chicken breast. Bring to boil over high heat. Once the water is boiling, gently place the chicken breast into the boiling water. Heat off and cover with a lid. Leave the chicken to cook in the pot for 45mins. Remove and set aside to cool. After that, shred them to pieces.

Now, set up the work station. Place each ingredient – shredded iceberg lettuce, mint leaves, rice vermicelli, mango slices, cucumber sticks and shredded chicken – in separate plates. Then fill up to a third of a large flat-bottom plate with warm water, and place that on your left hand side. Position a clean board in front of you and a clean hand towel on your right hand side. There, ready, set, roll … Take 1 piece of rice paper, gently submerge the rice paper into warm water for 5 seconds. Place on the clean board. Put a few shredded chicken on top, centred and covering about a third of the bottom of the rice paper. Add shredded lettuce and mint leaves on top of the chicken. Then place 1 cucumber stick and 2 mango slices towards the centre of the rice paper, spreading evenly towards the side.

Fold 3.5 cm of the right and left side of the paper over the filling. Then, take the bottom part of the paper and fold towards the ingredients. Continue to roll tightly until the cylinder is complete. Set aside.

To make the dipping sauce, mix all ingredients together. Serve with rice paper rolls.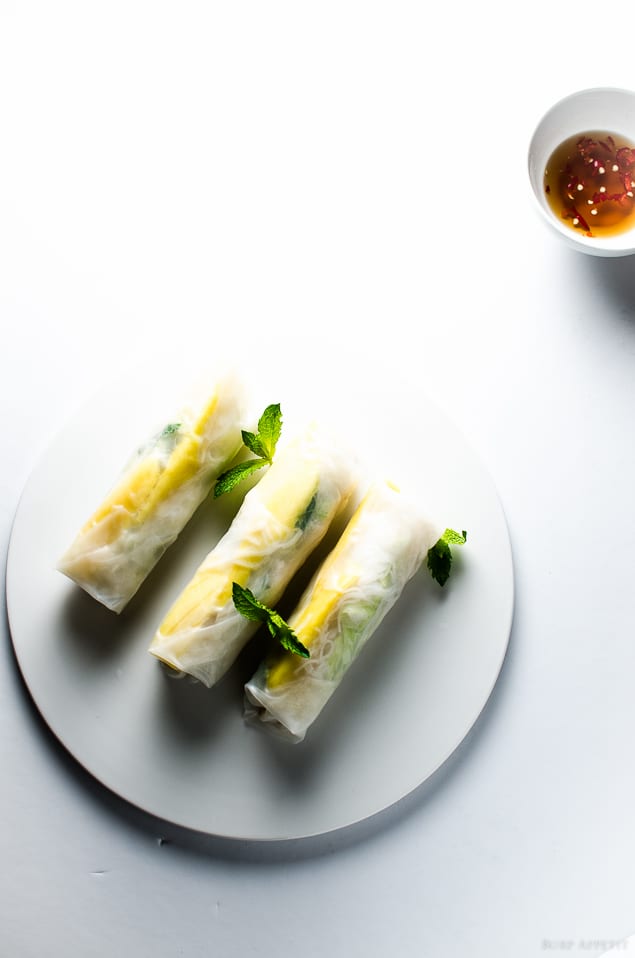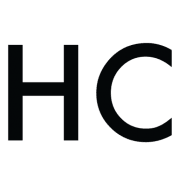 Josephine Chan
Josephine is a Melbourne-based food blogger with a passion for food and photography. She loves to cook recipes that remind her of her childhood and ignite the classic flavours she has loved from her home in Malaysia. Follow her journey through her blog, Burp! Appetit where she explores and experiment with home-style cooking from Malaysia, Asia and rest of the world.