This is a cookie cake, but not just any old cookie cake – a four layer chocolate chip cookie cake with buttercream filling, and it's fabulous. Soft cookie layers with sweet, smooth frosting combine for a dessert for all ages.
By Erin Mahoney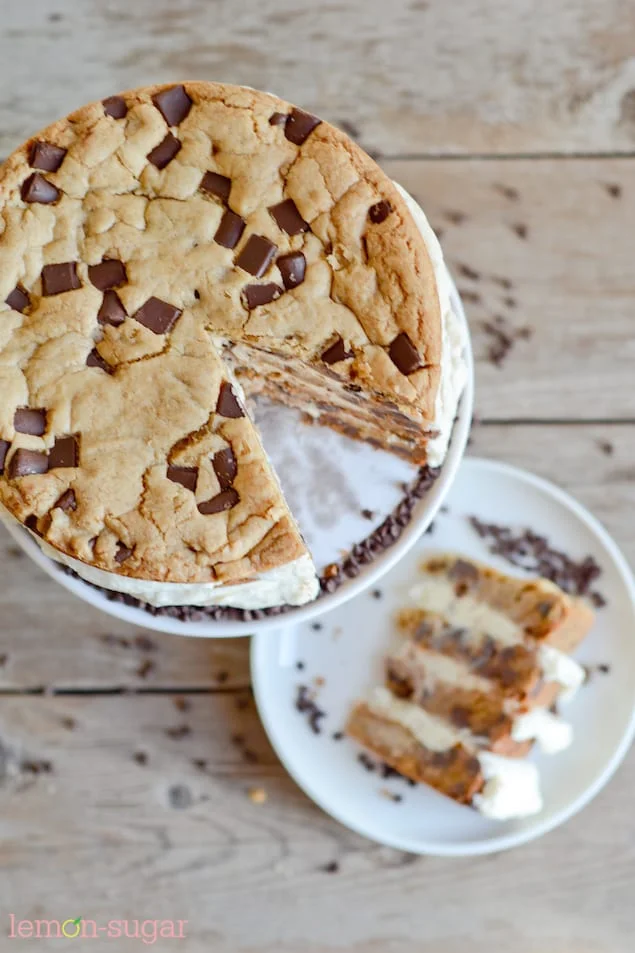 It's just what it looks like – a cookie cake. But not just any old cookie cake – a four layer chocolate chip cookie cake with buttercream filling, and it's just fabulous. The cookies are perfectly soft and just the right thickness, and it's just the right combination of sweet and sweeter.
Ok, it's very sweet. But better than any cookie cake you'll ever find at the grocery store. Promise.
Plus, it's actually very easy. I happen to have four round cake pans so I was able to bake them all at once (instead of in a couple of batches) and that made it even quicker.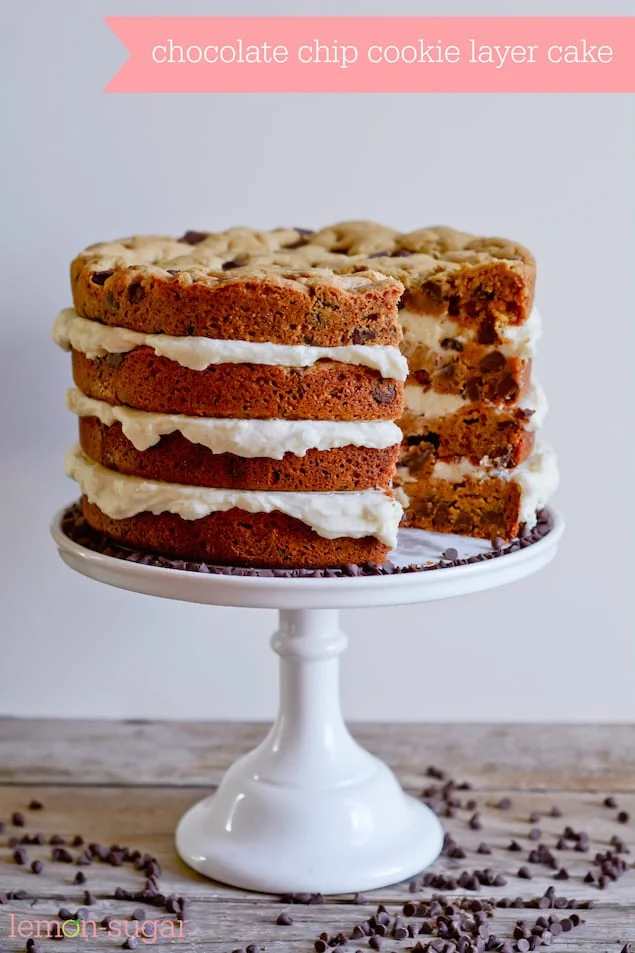 The cookies will get hard on you if you don't keep them covered properly, so be sure to keep the cake under wraps until you're ready to serve it. Use a long, sharp knife to cut it – and get your milk ready, you'll need it.
I used a combination of chocolate chips and chocolate chunks – and it was perfect. I even sprinkled some extra chunks across the top layer for aesthetic reasons. I actually considered drizzling the whole thing with chocolate ganache, but figured that would be too much.
This cake is adorably rustic, and would be a fantastic birthday cake for a cookie-lover. A couple of tall candles or a cute flag bunting would be so fun atop this tower-o-cookie-goodness, and you would totally look like a superstar hostess. I love this particular cake stand, and it left just enough room to sprinkle a bunch of mini chocolate chips around the edge to hide the cardboard cake round.
As far as supplies go, I used 8-inch round cake pans, a cardboard round to put under the bottom layer (for easy transport) and parchment circles to prevent the cakes from sticking. Everything else should be part of your traditional kitchen supplies.

Chewy Chocolate Chip Cookie Cake Tower
A classic, favorite dessert, the chocolate chip cookie makes a perfect layer cake. This rustic dessert is beautiful, impressive and delicious, but also very easy! Enjoy! Recipe source: [Kelsey Nixon|http://www.kelseyskitchen.com/desserts/chocolate-chip-cookie-layer-cake-step-by-step-instructions.html]
Recipe Type:
Baking, Dessert
Ingredients
Cake
4 cups all purpose flour
1 and ½ teaspoons salt
1 teaspoon baking soda
3 sticks unsalted butter (1 and ½ cups), melted
2 cups light brown sugar, packed
1 cup granulated sugar
2 large eggs
2 large egg yolks
4 teaspoons vanilla extract
4 cups TollHouse chocolate chips or chunks
Frosting
3 sticks (1 and ½ cup) unsalted butter, softened but still cool
6 cups powdered sugar
¼ cup heaving whipping cream
1 teaspoon vanilla extract
Instructions
Cake:
Preheat oven to 325 degrees (F).
Prepare four (8-inch) round cake pans with cooking spray and parchment. Set aside.
In a very large mixing bowl, combine the flour, baking soda and salt.
In another large mixing bowl, whisk together melted butter, brown sugar and granulated sugar until combined.
Add whole eggs and yolks one at a time, whisking after each addition until completely combined.
Add vanilla, stir to combine.
Using a large rubber spatula, fold the we ingredients into your large bowl of dry ingredients.
Continue to fold the mixture until all of the flour is absorbed, but do not over mix.
Stir in the chocolate chips.
Evenly divide the batter among the four baking pans, and use your fingers to press the batter and spread it to the edges of the pan.
Bake for 20-28 minutes or until the tops are just golden brown. Avoid overbaking - you want the middle to be soft.
Remove from oven and cool on wire racks until cookies are completely cool.
Prepare frosting.
Frosting:
In the bowl of a stand mixer, beat softened butter until light and fluffy.
Add powdered sugar, cream and vanilla, and beat until completely incorporated and smooth. Add more milk if needed.
Assemble the cake by placed about a cup of frosting between the bottom three layers.
Cover with plastic wrap and refrigerate until the frosting sets, then remove from the refrigerator.
Erin Mahoney
Erin Mahoney is a food blogger from the Kansas City area. With a day job in the TV business and two little girls at home, this busy Mom spends her very limited free-time experimenting in the kitchen. While her culinary efforts tend to fall on sweet treats and comfort foods, her focus is on real, from-scratch food for her family and friends. Her blog, Lemon Sugar, is full of whimsical recipes and anecdotal stories that will warm your heart and make you hungry.