Cherry Vanilla Pound Cake with Rosemary Glaze and Pistachios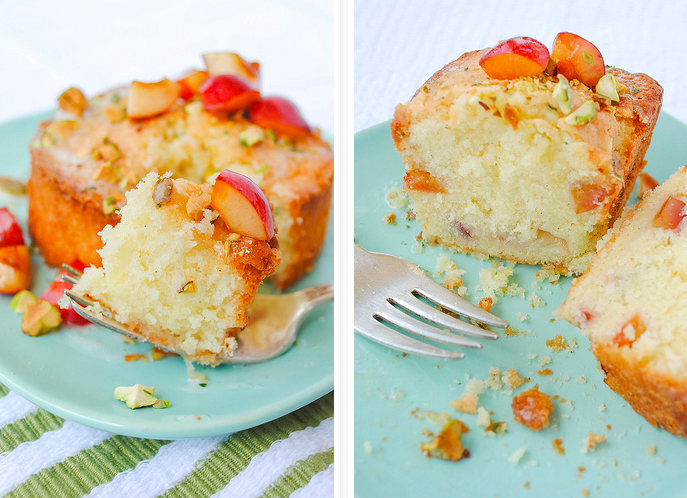 This vanilla cake is soft and moist yet hearty and has a tender outer crisp. It marries rather perfectly with the sweet cherries, the frangrant piney hint of rosemary, and the nutty sweetness of pistachio.
By Natasha Steinberg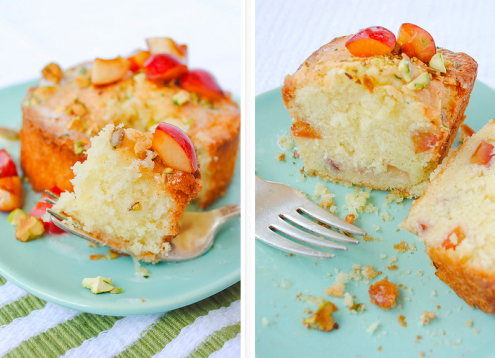 And you know what else is great about it? It's even better the next day. More moist. And the next. More tenderly crisp. Plus, it's quite a pretty thing.
Cherry Vanilla Pound Cake with Rosemary Glaze and Pistachios
This vanilla cake is soft and moist yet hearty and has a tender outer crisp. It marries rather perfectly with the sweet cherries, the frangrant piney hint of rosemary, and the nutty sweetness of pistachio.
Author:
Natasha Steinberg, base pound cake recipe adapted from Bo Friberg
Ingredients
3 eggs, at room temperature
3 egg yolks (60 ml), at room temperature
½ Tbsp. vanilla extract
½ Tbsp. water
227 g unsalted butter, at room temperature
255 white sugar
½ vanilla bean, scraped
½ tsp. salt
200 g cake flour, sifted
8-10 oz. cherries, pitted and chopped into ½-inch chunks
rosemary glaze (recipe follows)
handful of pistachios, shelled and chopped
Glaze
1 cup powdered sugar
1½ Tbsp. whole milk
2 Tbsp. rosemary, finely chopped
Instructions
Cake
Position rack in the center of the oven and preheat to 350 degrees F. Grease loaf pan(s) or ramekins, making sure to grease well in the corners and edges. Set aside.
In a small bowl, lightly mix together eggs, yolks, vanilla extract, and water until eggs are just broken up. (If egg mixture is not at least to room temperature, place it on top of the preheating oven for a few minutes to warm it a bit.)
In the bowl of a stand mixer fitted with the paddle attachment, beat butter for a minute or two. Slowly add the sugar and beat until light and fluffy. With the mixture running on low, add the egg mixture very slowly over the period of a few minutes. Beat in the salt. Toss the cherries with a handful of flour to evenly coat. Fold the remaining flour into the butter-egg mixture in three additions. Fold in the cherries. Pour into prepared pan(s)/ramekins. Bake for about 1 hour for loaf pan, 30 minutes for mini loaves/ramekins, until skewer inserted in the top comes out clean.
Let cake cool enough so that you can handle it, and remove from pan(s)/ramekins to cooling rack. Once cooled completely, drizzle with rosemary glaze and top with pistachios.
Glaze
Whisk together all ingredients and let rosemary steep for at least 5 minutes (longer steeping = stronger rosemary flavor). I actually used more milk to thin the glaze out a bit, so feel free to alter the amounts to get your desired consistency. I also placed the mixture in a small food processor to break up the rosemary even further and bring out the flavor more, but you don't necessarily have to do this. Strain the glaze through a fine mesh strainer to get rid of any larger rosemary bits (it's ok if there are still small pieces of rosemary).
Natasha Steinberg
Natasha is a love-and-matriarch-taught maker of sweet things. She is passionate about using local and seasonal ingredients and making simple, satisfying sweets that make even the least of sweet tooths swoon. Although she is a native Texan, she currently resides in Atlanta where she is finishing up law school and documenting her sweet adventures through photos, recipes, and stories on her blog at tartletsweets.blogspot.com.