This indulgent, flourless, dark chocolate torte is paired with a sweet cherry compote to be quite the rich, seductive dessert.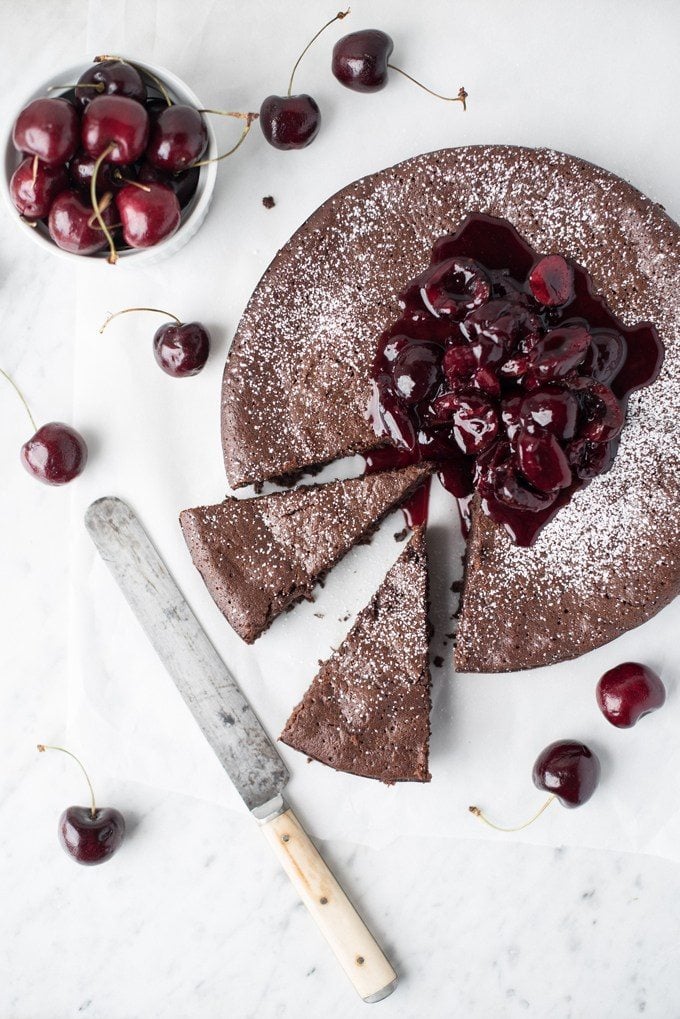 I have died and gone to heaven. Keith has made me a dark chocolate torte and all is right in the world.
I have never been one of those women who craves chocolate. I do know them. They sit next to me at work, pass by me on the subway, and confide in me over cocktails. They believe that chocolate is a cure-all: it decreases irritability, satisfies hunger, and stimulates the senses. I do not disagree with these women. I partake in my share of chocolate from time to time, but I do not have a weakness for it. Or I didn't. Until now.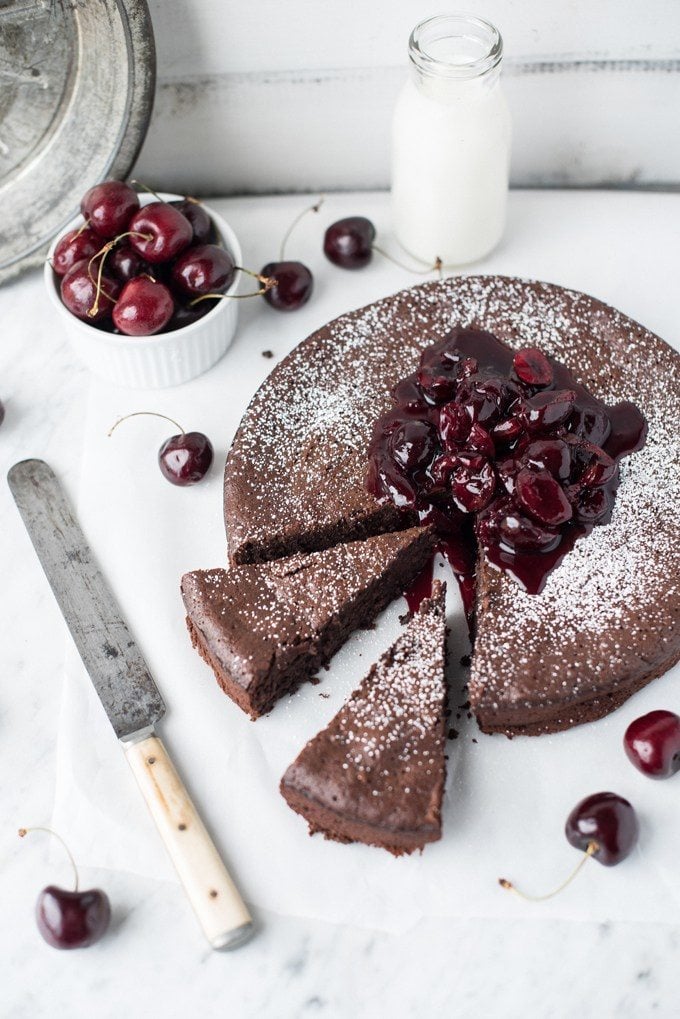 Keith has been talking about making something chocolate for a while. I honestly didn't think much of it. I would nod my head and say: "Sounds good! Can't wait!", and return to whatever I was doing. Then one afternoon I came home to the most delightful smell of rich chocolate, wafting through the entire house. He was baking a flourless chocolate torte, just for me.
I don't know if it was this particular dessert or the fact that my handsome man made it from scratch, but I am a changed woman. After all these years I can finally relate to my friends who tell me chocolate has transcending powers. The literal "cherry on top" made it even more apparent. My superman has done it again.
Click here for the cherry compote recipe.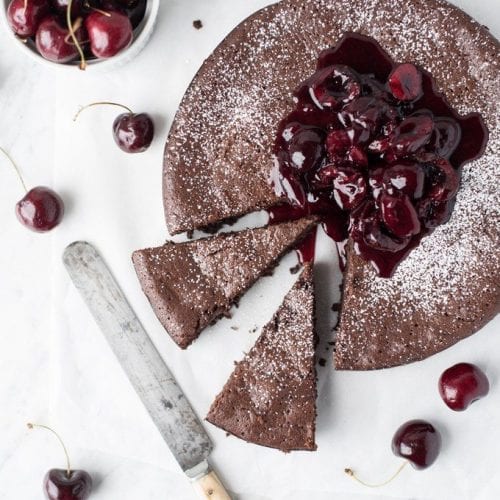 Cherry Compote and Dark Chocolate Torte
Superman Cooks
This indulgent, flourless, dark chocolate torte is paired with a sweet cherry compote to be quite the rich, seductive dessert.
Ingredients
1¾

sticks unsalted butter

12

ounces

bittersweet chocolate chips

6

large eggs

¾

C

sugar

divided

Pinch

Salt
Cherry Compote
Click the link above for the recipe.
Instructions
Preheat oven to 350 degrees

Butter the sides and bottom of a 9 inch springform pan

Using a double boiler, place a heat proof bowl over a pan of simmering water making sure the bowl is not touching the water. Melt chocolate and butter and stir until smooth and combined.

In a separate large bowl, combine eggs, ½ C sugar and salt and mix with hand mixer until pale and thick, about 6-7 minutes.

Fold half of the egg mixture into the chocolate mixture until combined.

Add remaining egg mixture and fold until well combined.

Pour batter into spring form pan and place in oven and bake until top no longer looks wet and a toothpick inserted comes out mostly clean (about 35-45 minutes).

Remove from oven and allow to cool completely before removing from pan.
To prepare the topping:
Click the link above.

When serving, pour cherries over cake and dust with powdered sugar.
Keith Jackie
We met on a warm summer evening. His square jaw and engaging smile reminded me a bit of Clark Kent. We share a passion for life: music, baseball, and especially food. He makes me feel like I can fly. Welcome to our exploration of food, recipes and ideas that celebrates our life together. He creates the recipes and prepares the food, and I am the documentarian. My superman can cook! Check out our site, Superman Cooks.