Earthy mushrooms pair perfectly with Emmental cheese, and a few simple flavorings like salt, pepper, garlic, and thyme compliment the dish nicely.
By Faith Gorsky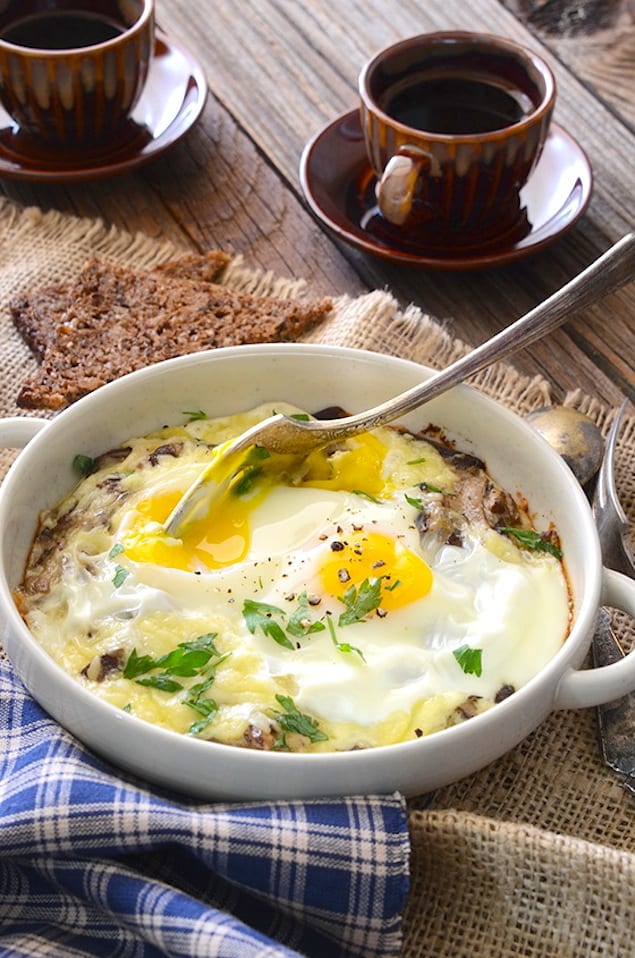 Cheesy Mushroom Baked Eggs for Two
Recipe inspired by Baked Eggs with Mushrooms and Parmesan from Kalyn's Kitchen.
Ingredients
2 tablespoons unsalted butter
3½ oz (100 g) shiitake mushrooms (or any mushrooms you like), wiped clean and coarsely chopped (about 1½ to 2 cups)
1 pinch sea salt
1 pinch black pepper
1 large clove garlic, crushed
¼ teaspoon dried thyme leaves or ¾ teaspoon minced fresh thyme leaves
1½ tablespoons heavy cream
1½ oz (40 g) Emmental cheese (or any Swiss cheese you like), shredded (about ⅓ cup)
2 large eggs
2 teaspoons minced fresh parsley leaves, for garnish
Toast, for serving (optional)
Instructions
Preheat oven to 400F.
Add the butter to a medium skillet over medium heat; once the butter is melted, add the mushrooms and a pinch of salt and pepper. Cook until softened, but not browned, about 6 to 8 minutes. Add the garlic and thyme and cook 2 minutes more, stirring constantly.
Pour the mushrooms into an individual-sized oven-safe gratin dish and sprinkle the cheese on top. Make 2 wells and crack the eggs into them.
Bake until the cheese is melted and the eggs are cooked how you like them (I like mine with set whites and runny yolks, which takes about 10 minutes).
Sprinkle the parsley on top, and serve immediately.
Faith Gorsky
Faith Gorsky is the writer, recipe developer, photographer, and food stylist behind the blog An Edible Mosaic. Her recently-released first cookbook, An Edible Mosaic: Middle Eastern Fare with Extraordinary Flair (Tuttle Publishing), is a collection of authentic Middle Eastern recipes handed down to her from her husband's family during her extensive time spent in the Middle East. Faith loves to travel, especially to places steeped in rich culture and history.