Cheesecake Filled Waffles with a Berry Drizzle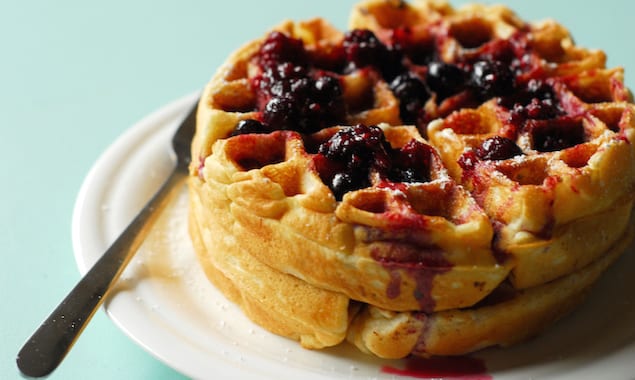 Fluffy waffles are hiding a delicious cheesecake center and then topped with a maple syrup that has be spruced up with lemon and summer's frozen berries.
By Chelsea Miller
I made the brunch to end all brunches. Cheesecake Stuffed Waffles with Berry Syrup.
The bad news is that since this is so easy to make, I'm going to be tempted to make it frequently, which means so much running and exercise.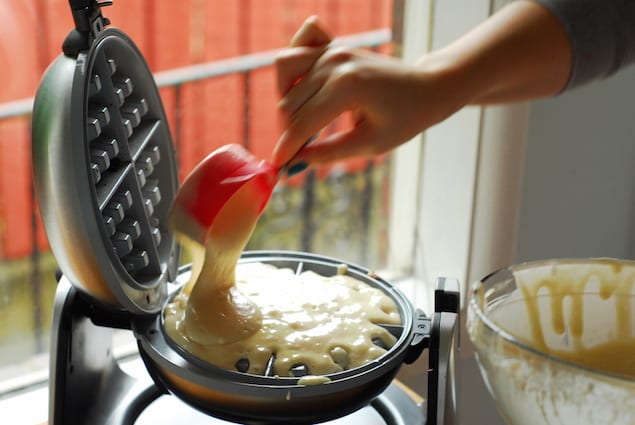 Start out with an excellent waffle maker.
Then you're going to need to make standard waffle batter and a little cheesecake batter. Then just layer them into your preheated waffle iron! Waffle batter first… Then some cheesecake batter… Then more waffle batter… Then let 'em cook! Before I started the waffles, I added frozen mixed berries (raspberries, blueberries, and blackberries) to a small saucepan with a bit of lemon juice over low heat and let them slowly break down. Then I added maple syrup and took the mixture off heat to cool.
And, of course, poured that (chunky) liquid gold all over the cheesecake stuffed waffles.
See Also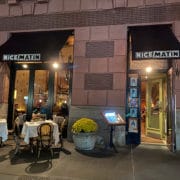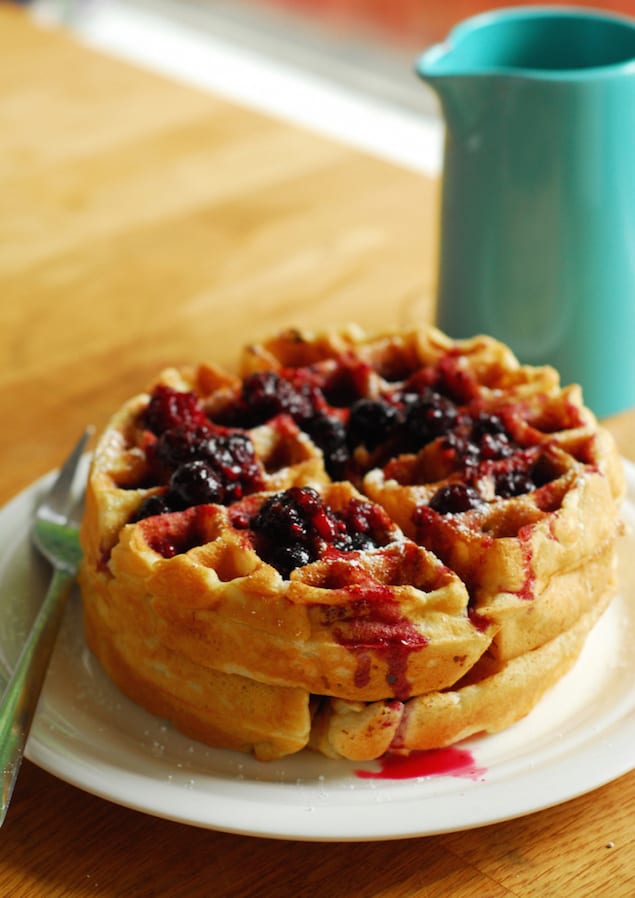 The berry syrup soaks into the waffles in the yummiest, most perfect way. The cheesecake filling isn't overwhelming and we all already know how perfect berries and cheesecake are.
This recipe was mostly an excuse to find a way to eat cheesecake for breakfast. But the waffle component was even more wonderful than I expected it to be. The whole thing came together in the most perfect way.

Cheesecake Filled Waffles with a Berry Drizzle
Fluffy waffles are hiding a delicious cheesecake center and then topped with a maple syrup that has be spruced up with lemon and summer's frozen berries.
Recipe Type:
Breakfast, Brunch
Ingredients
Waffles:
Your favorite Waffle batter for 7-8 servings (use boxed or homemade!)
4 oz cream cheese, room temperature
¼ cup sour cream, room temperature
1 tbsp milk
½ whisked egg
2 tbsp sugar
Berry Syrup:
1 cup frozen mixed berries (I used blueberries, raspberries, and blackberries)
1 tbsp lemon juice
⅓ cup maple syrup
Instructions
In a small saucepan, add the frozen berries and lemon juice over medium-low heat. Let cook for about 15 minutes, or until berries have broken down. Stir in maple syrup and set aside.
While the berry syrup is cooking, start the waffles. In a medium bowl, whisk together the cream cheese, sour cream, milk, egg, and sugar. Set aside.
Prepare the waffle batter according to your package instructions. Preheat waffle iron.
When waffle iron is ready, add about ? cup waffle batter, then ¼ cup cheesecake batter, then ? cup waffle batter to the iron. Close the iron and let cook according to waffle iron instructions.
Repeat until batter is gone and all waffles are cooked.
Top waffles with berry syrup and a little powdered sugar, if desired.
Chelsea Miller
I am a Portland native, University of Oregon graduate, traveler, restaurant worker, and lover of all things food back in Portland, Oregon after an extended stay in Cape Town, South Africa.