Filled with acorn squash, spinach, ricotta and feta cheese, this savory pie is wrapped in phyllo for a flaky crust you'll love.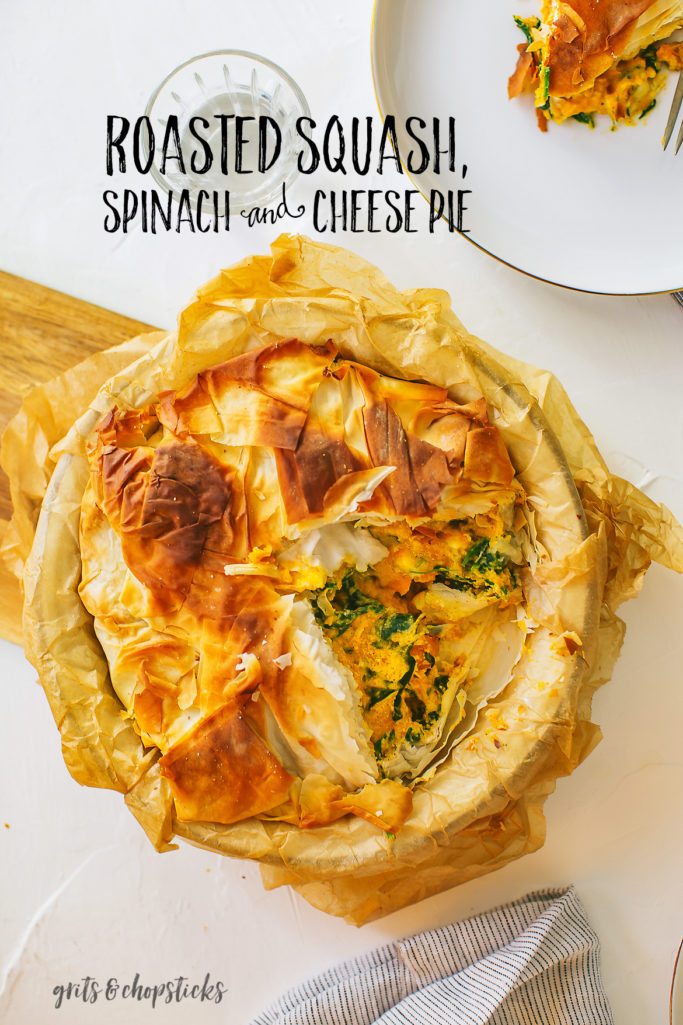 Earlier this week I opened my fridge and saw a random assortment of food about to go bad. Does this happen to you? Come on, level with me. You had plans to make that gourmet meal, but then life happened, and the next thing you know it was takeout three nights in a row, and now there's sad cauliflower looking back at you whenever you go to get the milk.
Well, that happened to me, but then I put my head together on what I could make, and, BOOM! This roasted squash, spinach and cheese pie happened! Wanna see?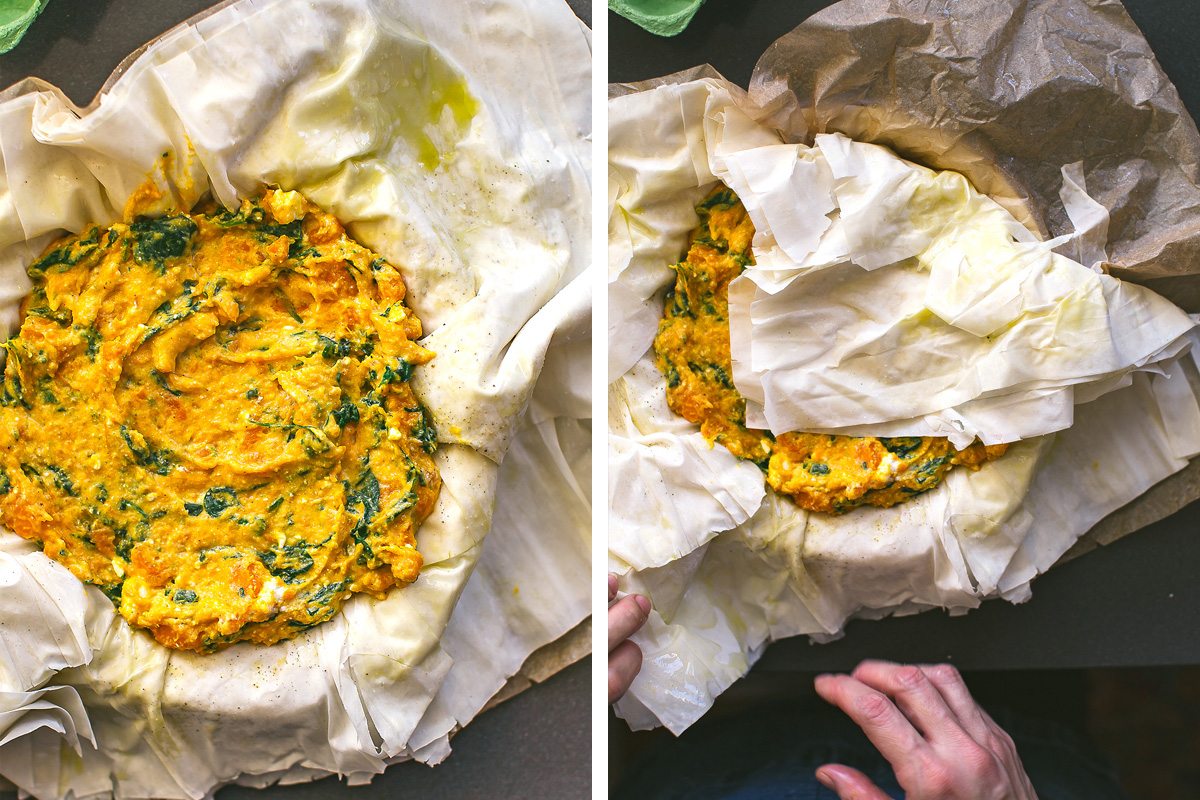 I make a spinach and feta pie as a part of our regular meal rotation ever since I found a recipe from Jamie Oliver that makes it possible to assemble the pie in under 30 minutes (check out his helpful instructional video here). My filling is completely different, with roasted acorn squash, a touch of spinach, feta and creamy ricotta cheese to make a rich, filling one-dish meal.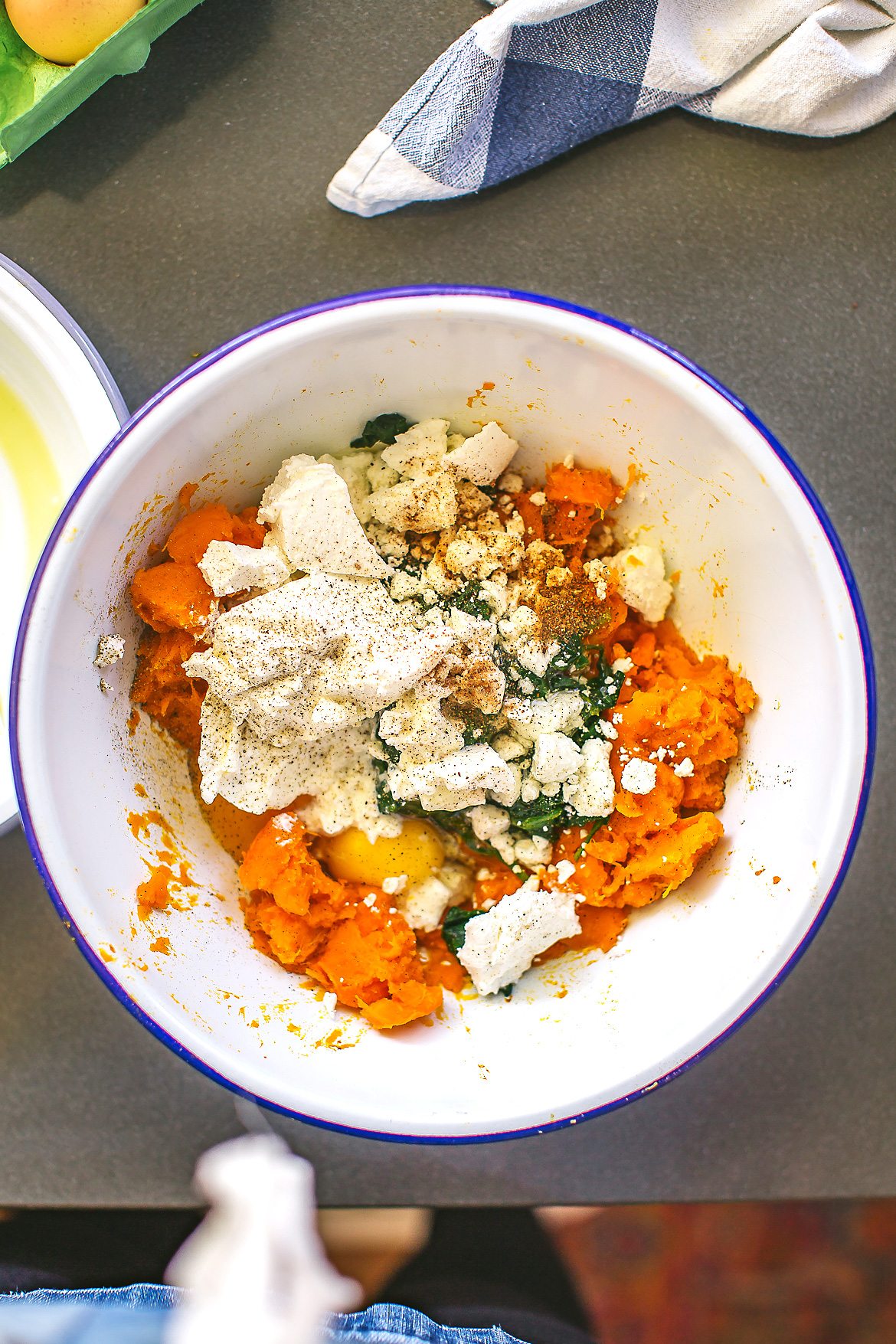 Because you have to roast the acorn squash for at least 20-30 minutes, this isn't a 30 minute meal. To cut down on weekday prep, you could roast the acorn squash on the weekend. After it cools, refrigerate it stored in a gallon Ziploc bag until you're ready to assemble the pie. The same is true for the spinach, although sauteeing a bag of spinach takes less than five minutes. But I get it. Sometimes even five extra minutes during the week is a luxury.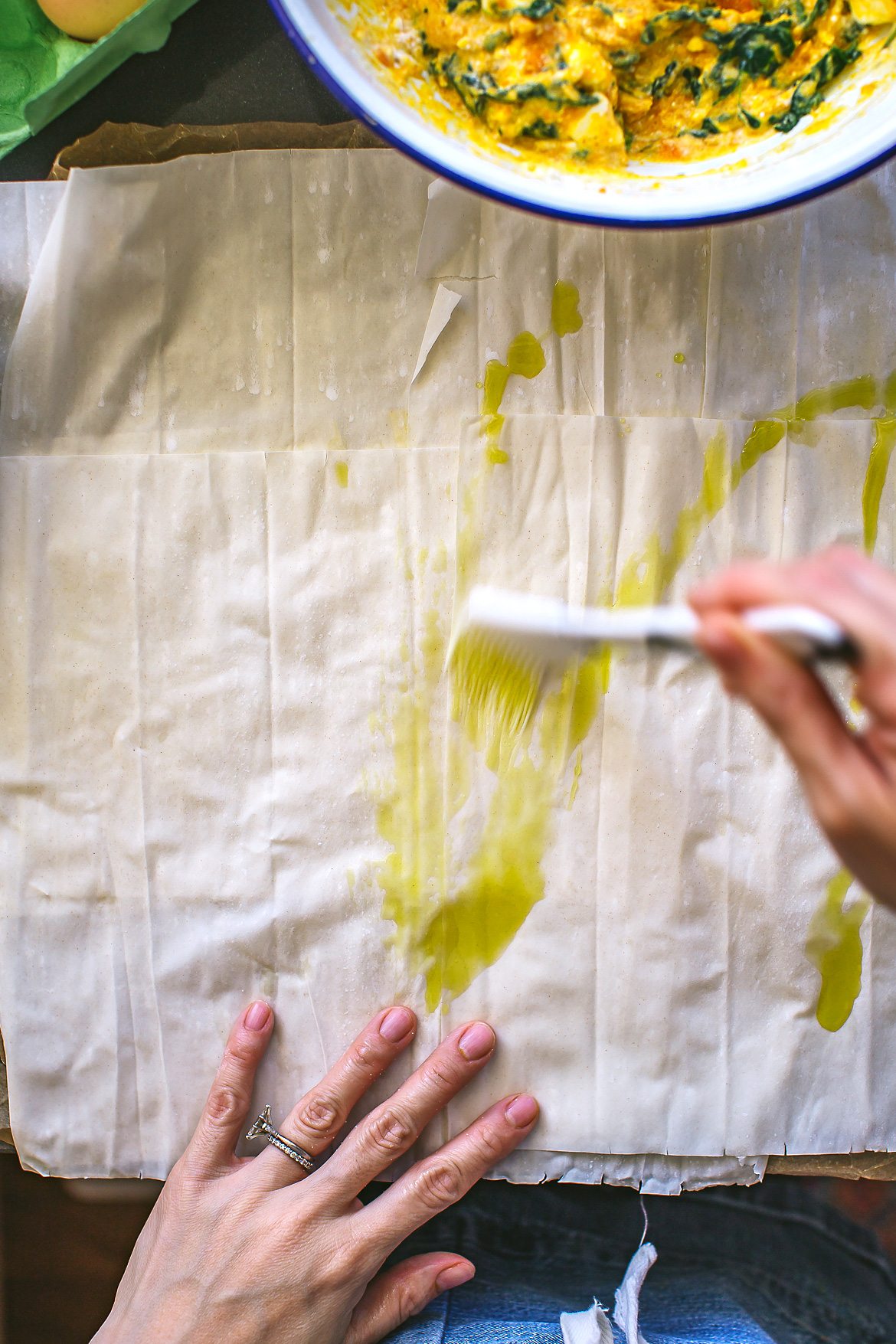 As for the crust, this pie recipe just requires prepackaged phyllo pastry (or "filo," as its spelled in the UK). I used to be intimidated by working with phyllo, but it's really not hard when you're using it to make this roasted squash, spinach and cheese pie. Just in case, I've got a few tips for you.
First, phyllo comes rolled up in a stack of translucent rectangular sheets. To make sure you can work with it properly, defrost the phyllo overnight in the refrigerator. If you're short on time or just plain forget (like I often do), you can take the phyllo out from the freezer and let it sit on your kitchen counter for around an hour. If the phyllo is too cold, you won't be able to unroll it without the delicate sheets cracking. If you let it sit out on the counter and get too warm, the butter in the pastry might melt out of it, leaving a hot, oily mess.
The other key to making the phyllo come out with that flaky, fall apart crust is to generously brush olive oil between the layers. The olive oil crisps up the phyllo as it's baking, keeping your pie from becoming a soggy pile of mush. No one wants soggy mush.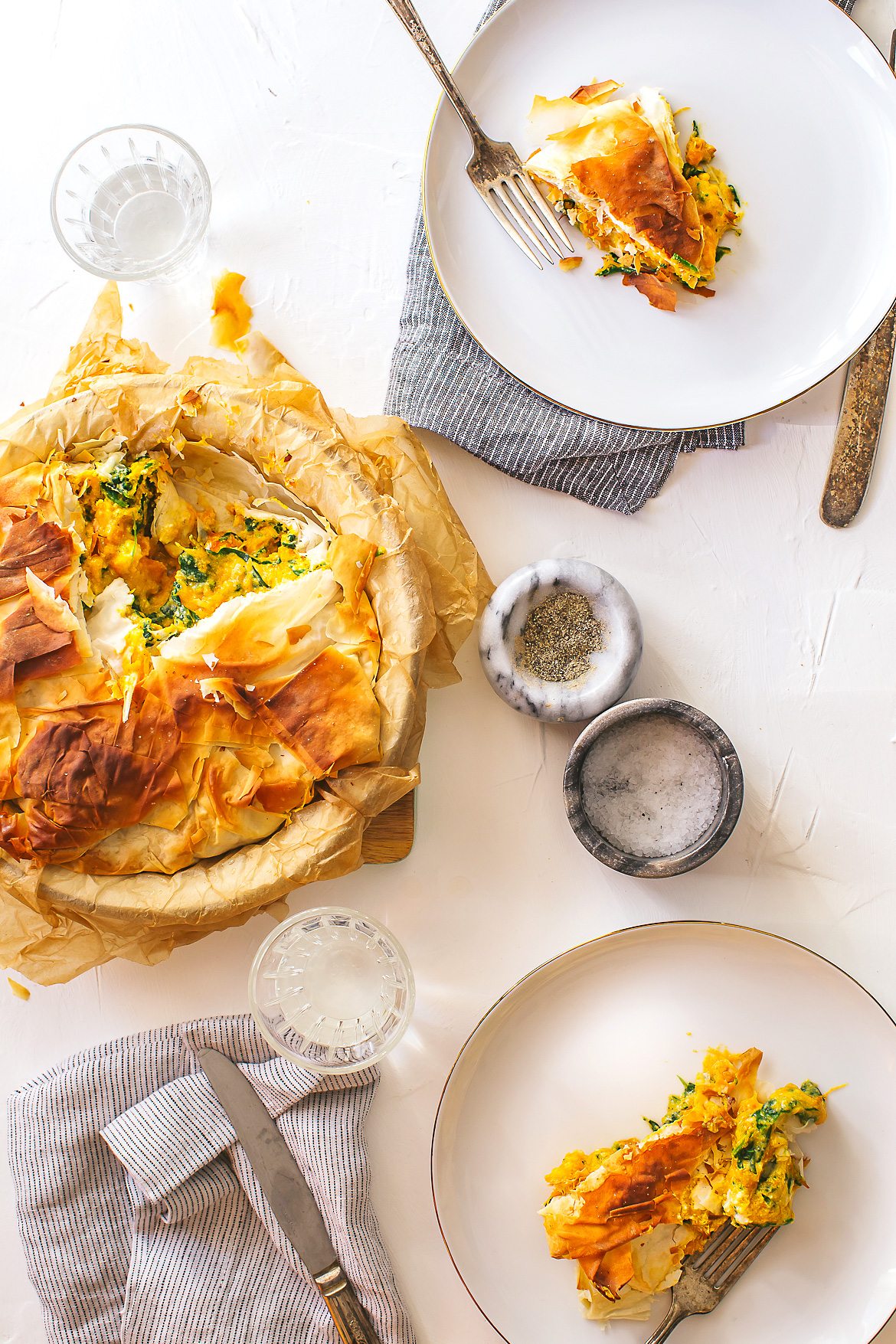 As for the filling, I used acorn squash in this recipe because it's what I had on hand, but I'd use it in this recipe again as opposed to butternut squash, which might seem like the logical choice for a pie like this. Butternut squash is too sweet for a savory pie dish — I think your taste buds will end up wondering whether you're eating dinner or dessert, or some weird combination of both. This pie should definitely fall into the savory category. Save your sweet tooth for something legit, like chocolate cake.
Great. Now I'm craving chocolate cake.
Print
Cheese, Squash and Spinach Pie
Prep Time:

30 minutes

Cook Time:

1 hour

Total Time:

1 hour 30 minutes

Yield:

6

servings

1

x
1

medium acorn squash

2 tablespoons

olive oil (plus more for brushing on the phyllo)

1

bag of baby spinach

1 cup

ricotta cheese

½ cup

feta cheese (crumbled)

2

eggs (slightly beaten)

1 teaspoon

nutmeg

1

package frozen phyllo pastry

½ teaspoon

salt (plus more for seasoning on the phyllo)

1 teaspoon

freshly ground black pepper (plus more for seasoning on the phyllo)
Instructions
Preheat the oven to 400 degrees Fahrenheit (200 degrees Celsius). Wash the acorn squash and cut it in half. Scoop out the seeds and discard, then cut each half in half so that you have 4 wedges. Rub olive oil all over the fleshy (non-skin side) of the acorn squash, then place in a small baking dish (a square one will do) and roast for 25-40 minutes until you can stick a butter knife easily through the pieces of squash all the way through to the skin. Remove the squash from the oven and let it cool. Keep the oven on and put a baking sheet in the oven to heat.
While the squash is cooling, drizzle a little (around 1 teaspoon) of olive oil in a medium sized skillet and heat over medium-high heat. Add the spinach, a little at a time, stirring it with a spatula to let the spinach wither and turn dark green. Remove from the heat and drain the spinach in a colander, pressing down on the spinach with your spatula to get out some of the moisture. Transfer to a bowl and let cool.
When the squash is cool enough to handle, using a spoon, scoop out the flesh of the squash or peel the skin off, whichever is easier. Put the squash in a mixing bowl and mash it with a wooden spoon so that there aren't any big chunks. Add the ricotta, eggs, feta, nutmeg, ½ teaspoon salt and 1 teaspoon pepper and stir to combine so that a nice, rich filling forms. Set aside.
Rip a sheet of oven-safe parchment paper into a rectangle that's larger than a pie dish. Crumple the parchment paper and then smooth it out on the kitchen counter. Rub olive oil all over the surface.
Unroll the phyllo. Lay out the first four sheets so that they overlap in the center and reach to the corners of your large rectangle sheet of parchment paper. Brush olive oil all over all four sheets, then sprinkle with salt and pepper. Repeat with the next four sheets, then again with the last few sheets (you should have 4, but you might have more than that; in that case, make another layer with the last few sheets).
Carefully transfer your phyllo sheets to the pie dish and push the sheets down so that the sheets fill the pie dish. Pour the filling on top. Take one corner of all of the phyllo sheets and fold towards the middle, then repeat with the other corners so that the phyllo completely covers the pie filling. Brush the top with more olive oil.
Put the pie dish on top of the preheated baking sheet in the oven and bake for 30-40 minutes until the top of the pie is golden brown and the bottom is cooked (you can carefully lift a corner of the parchment to check to make sure the bottom of the pie is cooked.
Remove to a wire rack and let cool for 10 minutes before serving.
Ann Kaufman
Ann Kaufman is an emotional food enthusiast who writes about food at Grits & Chopsticks. When she's not writing about food, she's caring for her two young children, lawyering and thinking about her next meal.