Castagnaccio is traditional Italian cake made from chestnut flour, olive oil, nuts and dried fruit.
By Tamara Novakovic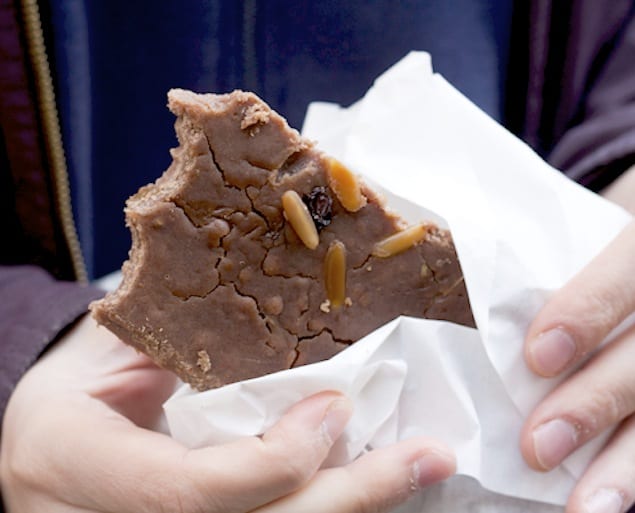 I tried my first castagnaccio in Siena, Tuscany. It is their typical dessert, often eaten as a snack with a cup of espresso. This rustic cake is an acquired taste.  It is dense and rich, since the batter contains no raising agent, and subtly sweet. All the sweetness comes from dried fruit, generally raisins. There are variations where rosemary sprigs are also added to the batter.
Castagnaccio is best served with a cup of espresso or sweet wine like vin santo.

Castagnaccio - Italian chestnut cake
Rustic cake from the heart of Italy
Ingredients
13 oz (375 g) chestnut flour
1 pint (570 ml) water
2 oz (50 g) extra virgin olive oil
2.6 oz (75 g) pine nuts
5 oz (125 g) raisins
a pinch of salt
Instructions
Soak raisins in water for an hour, drain them and discard the water.
Into a large boil, whisk 570 ml water with 25 g olive oil and pinch of salt. Gradually add chestnut flour and whisk until it forms into a smooth batter. Add raisins and pine nuts.
Brush baking pan with olive oil and pour the mixture into it. Scatter the remaining half of the olive oil on top of the mixture.
Preheat oven to 375F (190C). Bake for 35 minutes.
Let cool, slice and serve. You can dust with powdered sugar before serving.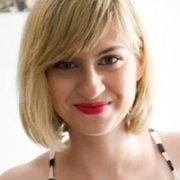 Tamara Novakoviç
Tamara Novakovic is a passionate self-taught cook, food blogger, freelance food writer and photographer behind bite-my-cake.blogspot.com. Her life journey has led her through Faculty of Humanities in Zagreb, Croatia to discovering passion for making cakes. She is currently a weekly food columnist for Croatian newspaper V magazine and food magazine Repete.