Let the ginger and curry warm you through in this hearty carrot and beet curry dish. A simple recipe with rewarding flavors.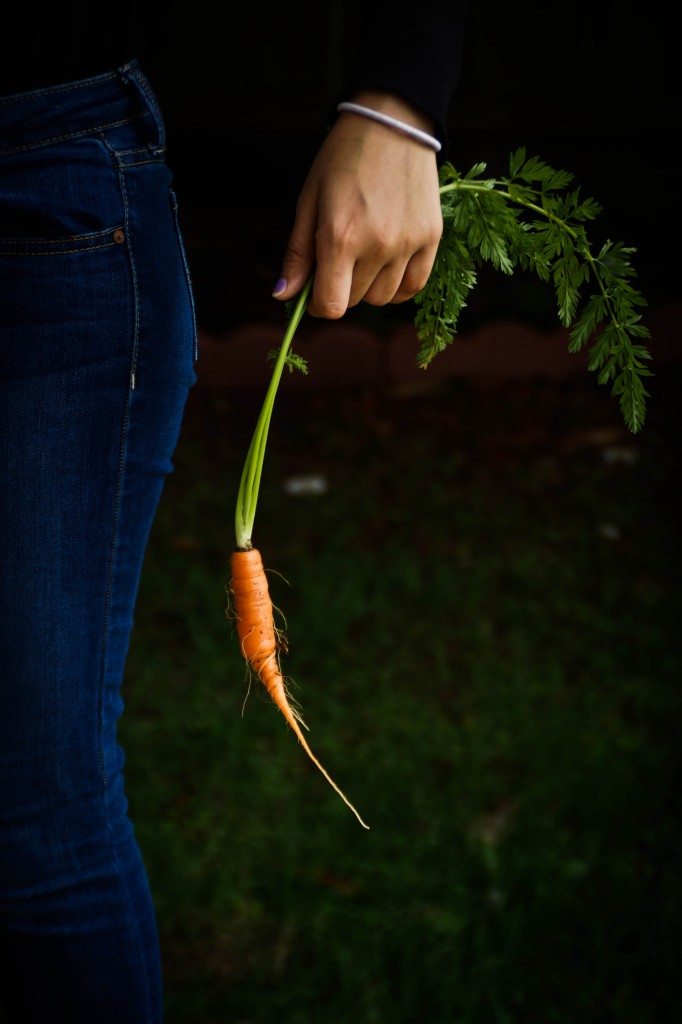 When I was in school, cool winter days would have me wanting a steaming bowl of red light soupy carrot and beet, tender but with a bite – mild in flavors, wholesomely good and fulfilling.
I have recreated this warm hearty dish. It is strange indeed how a little bowl of something so simple can create a wave to sweep up the moments of a significant part of my school life…
Comfort food is always tied with beautiful memories for me. Times that I treasure and will hold on to forever. Sometimes these memories go beyond food, picking up a hundred other drops of nostalgia around it…I want to collect them all and wrap them around me like a knitted old shawl, with every thread speaking of something I knew…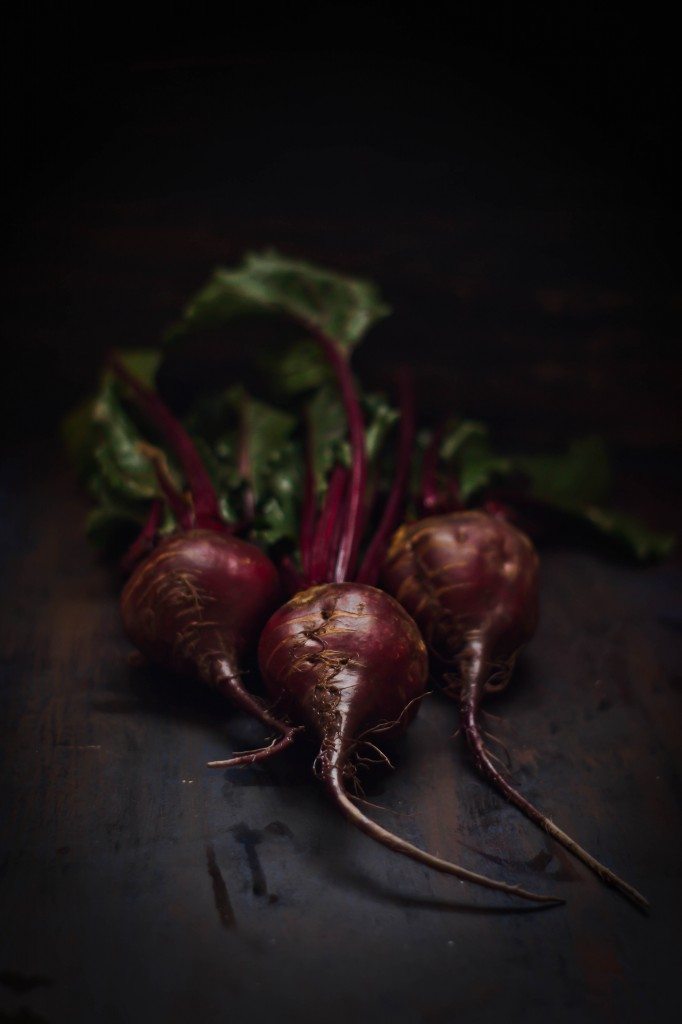 To dip the hot phulkas in a bowl of red, to see the rotis soak up and steep in the beet red was a beautiful sight. This was one of those rare occasions when I wanted a roti, not being too fond of them otherwise. The beets and carrots have a good bite and it seemed like the winter bliss with the slight hint of ginger warming up my inside.
The art of getting lost…
That is what it is for me when I start thinking of the past. A big wave hits the shore as I crave the flavors of a dish, so suddenly, out of no where and then there follows the ripples that makes me completely lose my train of thoughts. I like to remember. I like going back and relishing those beautiful times back home.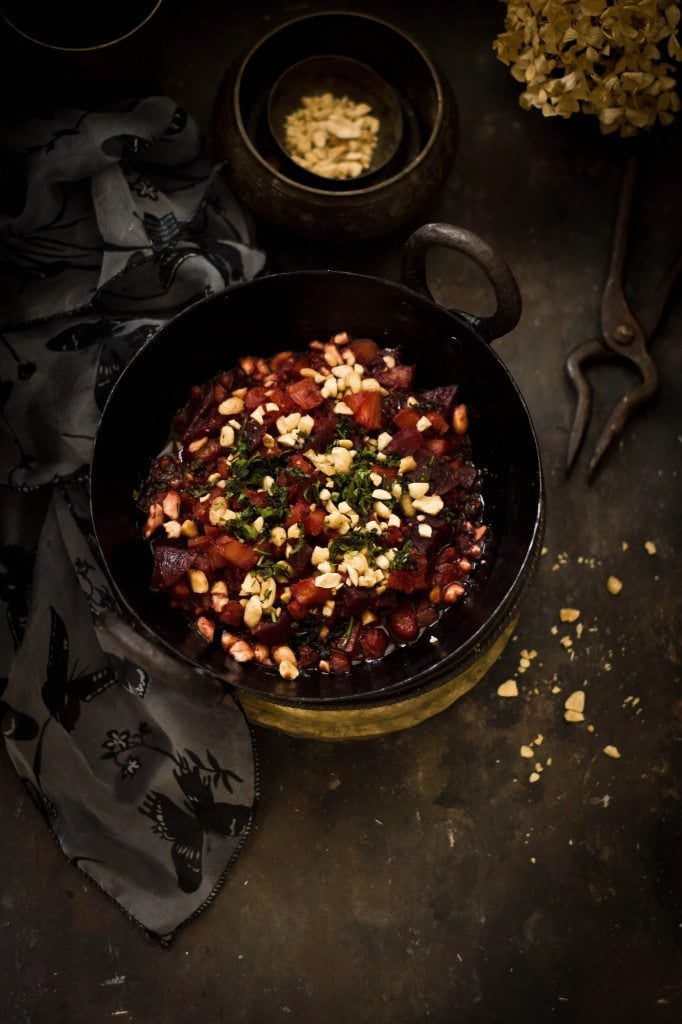 See Also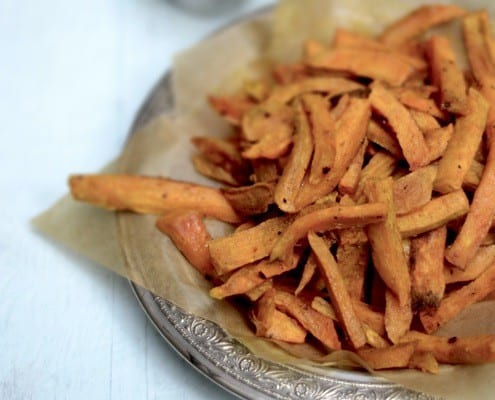 I have grown the "roots" a few times in my home. There is joy in pulling out a carrot from our own yard and washing the dirt off it. Stubby and gnarled they might look, they still will be the best carrots ever.
The farmers market sells beets straight from the soil. Mud smeared bulbs with the leaves ready to be stir fried all for 98 cents a bunch. What a bargain!
This dish is one of the simplest examples of Bengali (or any Indian cooking). There are not really any exact proportions of the vegetables. Neither are the spices mandatory. Cumin or jeera adds a very earthy flavor and the ginger seemed just perfect for that warm feeling during winter. The recipe adheres to the "sattvic" (no onion, garlic or any non vegetarian ingredients included) food. Clean, nourishing and using only seasonal vegetables, the winter time meals would be filled with colors like this!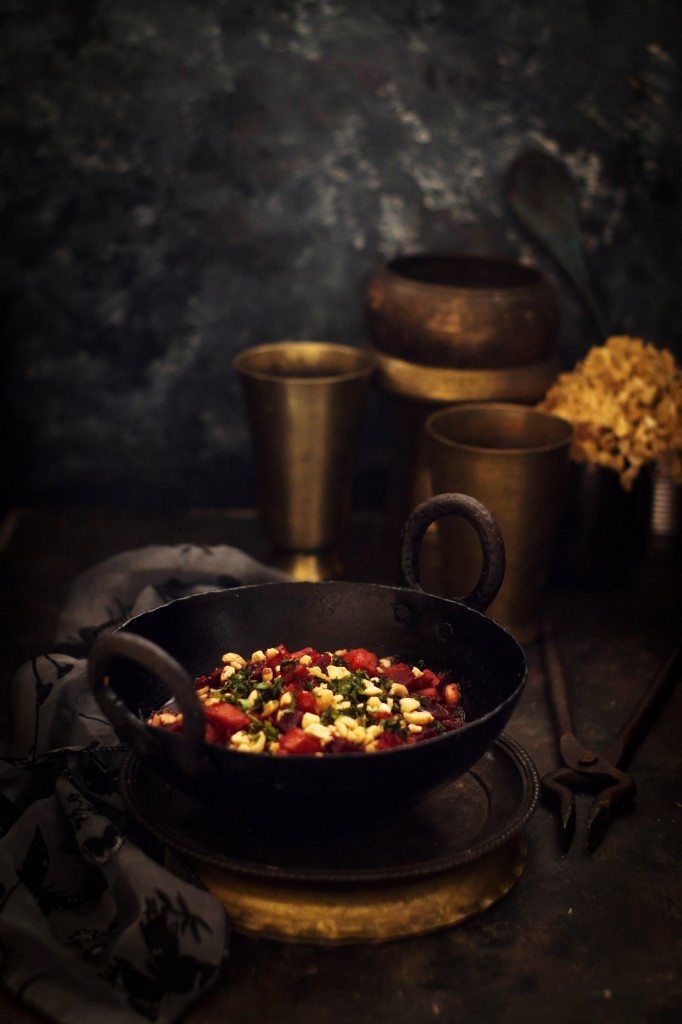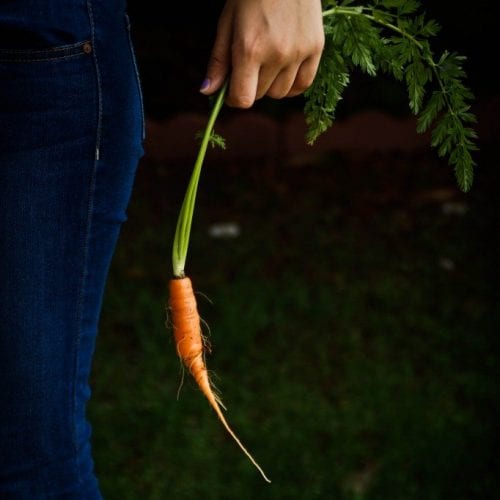 Carrot and Beet Curry
Soma Rathore
Let the ginger and curry warm you through in this hearty carrot and beet curry dish. A simple recipe with rewarding flavors.
Servings
2
to 4 side servings
Ingredients
1

large beet

partially or fully boiled

2

medium size carrots

1

teaspoon

oil

a pinch of hing/asafoetida

1

teaspoon

jeera/cumin seeds

1

or 2 red dry chili pepper

or some red crushed pepper (The whole chilli peppers add flavor without making it too spicy)

1-2

inch

ginger

grated or made to a paste

1/4

cup

toasted peanuts

crushed

Salt to taste

about 1.5 cups of water

more if you want soupy

fresh cilantro

chopped
Instructions
Boil or par boil the beet. It just makes life easier and the final dish to be cooked quicker. I usually pressure cook the beet/steam in the pressure cooker. Peel the skin after it is boiled, and dice the beet.

Dice carrots and set aside. Grate ginger and set aside. Coarsely crush peanuts and set aside.

Heat oil in a pan. Add the hing/asafoetida, dry red chil i pepper and the cumin seeds. When the seeds sizzle and the pepper turns a darker shade, add the diced carrots and beet and add to the pan. Add salt and grated ginger and cook in high heat for a couple of minutes while tossing very frequently.

Add water (and peas if you want) and simmer uncovered or partially covered until carrots are tender. Adjust salt. If you want this to be soupy, you might need to add more water and simmer some more. Gently crush a few pieces of carrots with the back of the spoon to add some texture to the liquid. Finish off with crushed peanuts and fresh cilantro.

Serve with flatbreads or just by itself.
Notes
Peanuts are optional but they do add a crunch and part of the protein. However it can be done without the nuts or substituted with any other nuts or even peas. Green peas taste really good in this dish.
Potatoes and fresh tomatoes can be added to this dish too. If you are using any of these (or both), add them when you add the beets and carrots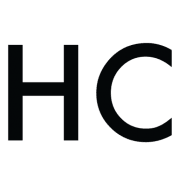 Soma Rathore
I am a recipe developer and food photographer, bringing the creative passions in my life together in my blog eCurry. The blog features authentic home cooked and restaurant style recipes from back home in India and also the ones as we explore and experiment with the world cuisine.