These nachos are not piled on, but are beautiful layered bites with great crunch, flavor, and a healthy dose of meat.
By Emily Stoffel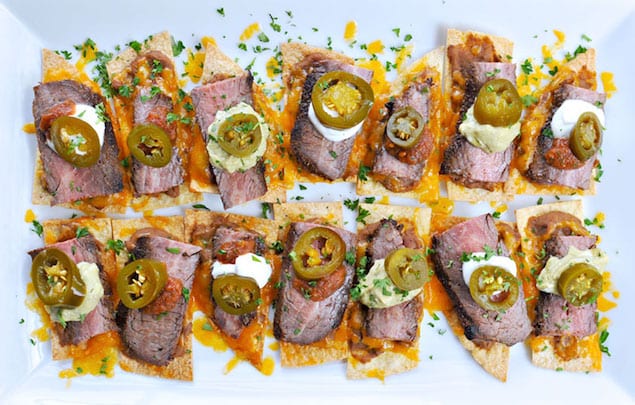 After my last recipe of vegan mole chili, it was time for some meat.
Look at all those layers in these nachos!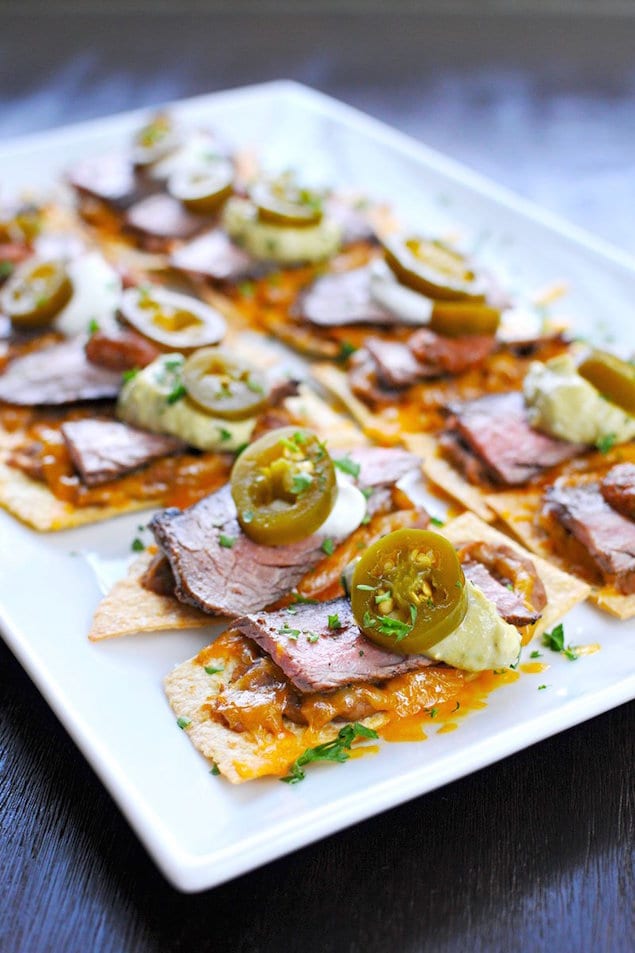 For those of you looking at these nachos and thinking they look nothing like the massive pile of chips and generously assembled (though somewhat hastily applied) fixings that top the menu at sports bars 'round the country, well — you're right. These nachos are not those nachos, nor will these nachos ever be those nachos because what these nachos have on those nachos is, well, everything. But also: appropriately portioned toppings that result in the perfect bite, every single time, no soggy or sadly unadorned chips to speak of.
They are The. Perfect. Nachos.
The first time I had nachos assembled in this fashion was at Cantina Laredo in Columbus, OH. It's a chain restaurant that kinda manages to not feel like a chain restaurant cuz it's moody and Latin and stuffs, but mall food, you know? I was skepty. So when the server was like, "I really recommend the nachos…" and I shot him my best I AM MEXICAN BY MARRIAGE AND YOU ARE OFFERING ME NACHOS look — all nostril-flarey and stuff — he quickly elaborated.
See Also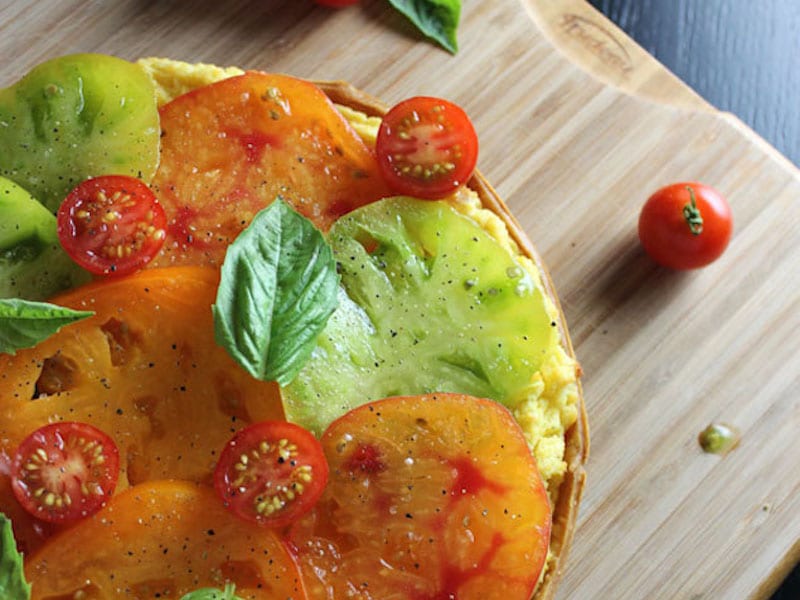 "Oh, they're not, like, normal nachos," he stammered. "They're individually layered with beans and cheese and seared carne asada, and then you can load them up with all the toppings you want. There's about 12 on the plate. It's a pretty big serving."
Because individually topped nachos are THE ONLY nachos that need to exist — definitely ever, and maybe even for all of eternity, if there's a difference. And also: 12 nachos, loaded in this way, were pretty substantial.
Crunchy, salted chip.
Creamy beans.
Melty cheese.
Slice o' steak.
And then all the toppings you can handle. In this case, a restrained dollop of sour cream, our fave salsa, a little guac'd up Greek yogurt, PEÑOS OF COURSE! And cilantro.

Carne Asada Nacho Appetizers
These nachos are not piled on, but are beautiful layered bites with great crunch, flavor, and a healthy dose of meat.
Cuisine:
Mexican Inspired
Serves:
about 2 meal-sized servings or snacks for 4
Ingredients
For the Carne Asada
1.5 lbs flank steak
¼ cup olive oil
1 T soy sauce or coconut aminos
1 T lime juice or sherry wine (see note)
2 tsp coconut sugar
2 tsp chili powder
1 tsp sea salt
½ tsp black pepper
½ tsp cumin
½ tsp Mexican oregano
½ tsp paprika
For the Nachos
2 large tortillas (I like a corn-flour hybrid, but feel free to use GF)
olive oil
sea salt
refried beans (one can is more than enough)
heaping cup shredded colby jack cheese
sour cream or Greek yogurt, guac, salsa, pickled jalapenos and cilantro for serving
Instructions
Combine all carne asada ingredients in a zip-top bag and marinate for at least 30 mins. (It can go as long as overnight in the fridge; just be sure to bring the meat to room temp before cooking.)
Preheat oven to 350F.
Heat a grill or indoor grill pan until smoking hot and sear steak to desired doneness, about 7 mins on the first side and 4-5 mins on the second for medium rare. Allow to rest at least 10 mins.
While steak cooks, brush tortillas lightly on both sides with olive oil, stack, and cut into 8 equal pieces each to make about 16 chips. Arrange on an ungreased baking sheet and sprinkle generously with salt. Bake until golden and crisp, about 10 mins.
Meanwhile, warm beans until creamy.
Slice steak thinly at an angle against the grain. Cut each slice in halves or thirds to fit atop a chip.
Transfer chips to an oven-proof serving platter (or you can totally leave them on the baking tray) and top each with a generous smear of warmed beans. Scatter cheese evenly over all chips. Pop back into oven until cheese is just melted and begins to bubble, 3-5 mins.
Top hot, cheesy chips with sliced steak and nacho fixings of your choice. Enjoy while hot and crispy!
Notes
The carne asada marinade for the steak is probably not the most authentic, but I love the slight sweetness and the great crust that comes from the soy sauce and the coconut sugar blended with all those spices. If you're opting for a quick marinade (an hour or less), the lime juice really brightens things up; however, for longer marinades (several hours or overnight), the acid tends to penetrate the meat almost too much, which is when I opt for the wine. Delicious either way!

This recipe also yields enough steak for approximately two batches of nachos -- or you can use the leftover meat in any number of ways: tacos, burritos, sandwiches, atop a salad, or enjoyed cold out of the fridge standing over the sink. :)

Lastly, note that the timing on this recipe was a bit tricky to quantify. If you don't take into account the (flexible) amount of time during which the steak marinates, the actual cooking comes together in about half an hour.
Emily Stoffel
Emily Stoffel (Em) is the voice behind The Pig & Quill, a food blog featuring original, (mostly) mindful & real food-based recipes -- plus salty scribblings about life, love and all the miscellany that falls into that goofy little crack between the fridge and the cabinetry. When she's not in the kitchen, you can find Em (pretending to enjoy) running, nerding out over marketing, chatting with Momma and planning elaborate vacations that sometimes work out. She lives in the San Francisco Bay Area with her husband, Chris, and their three bicycles.