A buttery crust, toasty caramelized white chocolate and baked blueberries make up this rustic crostata perfect with vanilla ice cream for you summer soirée.
By Graham Blackall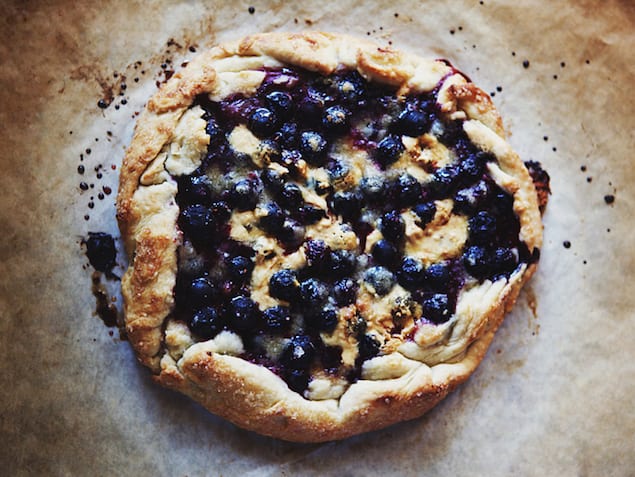 Pro tip: blueberry picking is all fun and games until you realize that you have 8 pounds of berries that need to be tended to immediately. Luckily for me, the solution was an easy one: bake them into practically every single dessert known to man. Within the past week, I've made blueberry muffins, two batches of blueberry brownies, and frozen a good chunk of them.
But the true superstar? This blueberry crostata.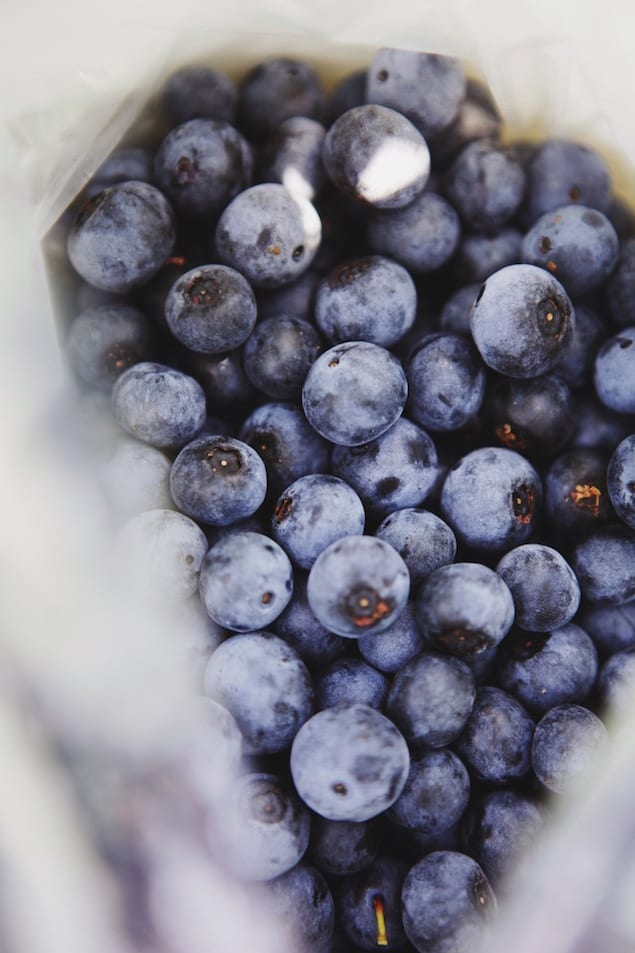 I was feeling extra fancy, so I smeared the inside of the pastry with homemade blonde/caramelized white chocolate. If you've never had blonde chocolate before (a la Valrhona Dulcey), it's a deliciously toasty, caramelized white chocolate that will change your life forever. Don't worry about ordering Dulcey — it's a super simple operation to turn your regular old white chocolate into blonde chocolate at home: a quick roast in the oven, stir and repeat every five minutes for 40 minutes. The outcome is waaaay worth extra time, I promise! Buttery crust, toasty blonde chocolate, the most deliciously juicy local blueberries…. just do it.
Whether you eat it alone or use it as a vehicle for your favorite vanilla ice cream, you need this in your life!
If you want more inspiring, outrageous and of course delicious recipes, head on over to Glazed & Confused.

Caramelized White Chocolate and Blueberry Crostata
A buttery crust, toasty caramelized white chocolate and baked blueberries make up this rustic crostata perfect with vanilla ice cream for you summer soirée.
Recipe Type:
Dessert, Baking
Ingredients
CARAMELIZED WHITE CHOCOLATE
8 oz. good quality white chocolate
for the pastry:
1 cup all-purpose flour
2 tablespoons sugar
¼ tsp salt
½ cup (1 stick) unsalted butter, cold and diced
3 tablespoons ice water
for the topping:
¼ cup all-purpose flour
¼ cup sugar
¼ tsp salt
4 tablespoons unsalted butter, cold
for the filling:
2 cups fresh blueberries
3 tablespoons turbinado sugar, divided
juice and zest of half a lemon
2 tablespoons cornstarch
1 tablespoon butter, softened
Instructions
CARAMELIZED WHITE CHOCOLATE
Preheat oven to 266° F.
Scatter white chocolate pieces onto a baking pan.* Bake the chocolate for 40 minutes, removing from the oven every 5 minutes to stir. (After about 30 minutes, the chocolate will caramelize and gradually turn amber.) Remove from oven and place into a bowl. At this stage, your chocolate might be lumpy and pretty gross looking. Don't worry! Stir vigorously until a liquid resembling melted chocolate forms. Pour into a glass jar and store at room temperature.
BLUEBERRY CROSTATA
Place the flour, sugar and salt into the bowl of a food processor fitted with a steel blade and pulse to combine. Add the butter and toss quickly to coat each cube of butter with flour. Pulse 15 times, until the butter is the size of peas. With the motor running, add the ice water, continuing to pulse but stop the machine just before the dough comes together. Turn the dough out onto a well-floured surface, roll it into a ball and form into a flat disk. Wrap the disk in plastic and refrigerate for at least 1 hour. To make the topping, use the food processor and pule together all ingredients until coarse. Set aside.
Preheat the oven to 450 degrees F. Line a baking sheet with parchment paper. In a medium bowl, combine the berries, sugar, lemon zest, juice and cornstarch and set aside.
Roll the pastry into an 11-inch circle on a lightly floured surface. Transfer it onto the prepared baking sheet. Smear half of the caramelized white chocolate in the center of the pastry. Top with the blueberry mixture, topping, and any extra blonde chocolate. Fold and crimp the edges of the pastry into to the center. Brush with butter and sprinkle crust with the remaining turbinado sugar.
Bake the crostata for 20 to 25 minutes, until the crust is golden and the fruit is tender. Serve warm with ice cream for a killer dessert or at room temperature with a cup of coffee for a killer breakfast.