Caramel and Pecan Topped Shortbread Bars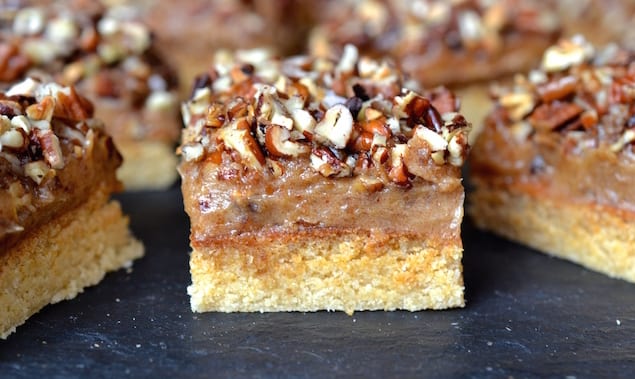 Somehow, these sweet-tooth approved caramel and pecan topped shortbread bars are gluten and diary free, but still wildly delicious. Use nut flours and coconut cream to create this dessert.
By Carmen Sturdy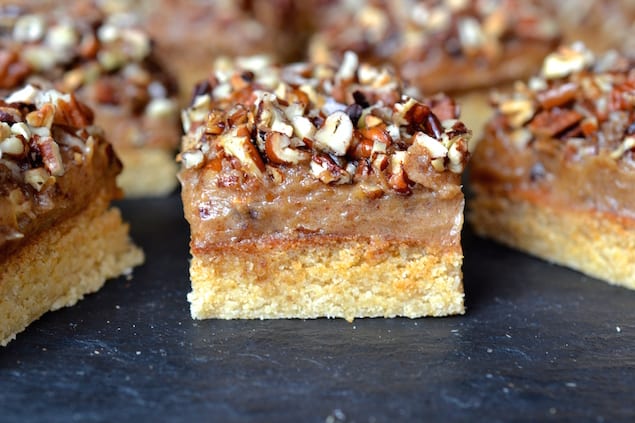 Calling anyone with a serious sweet tooth! You are about to meet your match! I have created lots of recipes for desserts, from lemon curd tarts and strawberry & rhubarb bars to espresso cheesecake, but these pecan and caramel shortbread bars take the cake.
These bars are decadent and super sweet so I recommend cutting them into small slices and storing them in fridge so that the caramel remains firm. I never would have guessed that blended dates could create such a deliciously smooth and creamy caramel like consistency! I topped these bars with chopped pecans, but walnuts or hazelnuts would also work well, just be sure to sprinkle them with salt to cut through the sweetness of the caramel.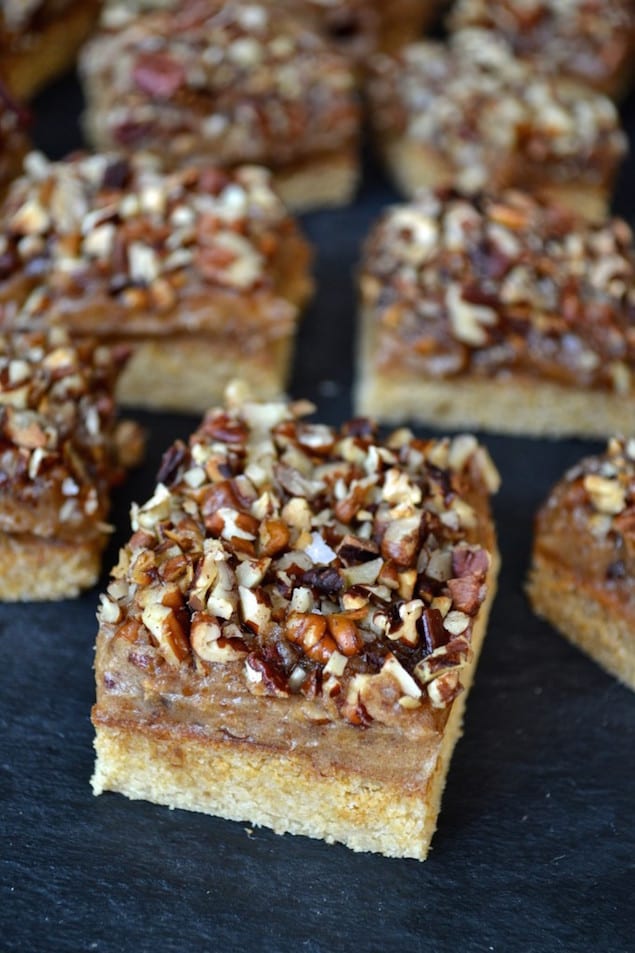 Dates are a low-glycemic index food which means the natural sugars wont significantly raise your blood sugar levels. They are also a great source of fibre with 1 date containing approximately 6% of your recommended daily intake helping to lower cholesterol as well as triglyceride levels, reducing your risk of heart attack and stroke.

Caramel and Pecan Topped Shortbread Bars
Somehow, these sweet-tooth approved caramel and pecan topped shortbread bars are gluten and diary free, but still wildly delicious. Use nut flours and coconut cream to create this dessert.
Recipe Type:
Dessert, Baking
Ingredients
Shortbread Base
1½ cups almond flour
⅓ cup coconut flour
⅓ cup melted coconut oil (or butter)
3 tbsp honey (or other sweetener)
½ tsp baking soda
Caramel Filling
1½ cup dates
1 cup coconut cream
½ tsp vanilla extract
½ tsp salt
¼ cup coconut oil
Topping
1¼ cups toasted pecans, chopped
½ tsp salt
Instructions
Preheat the oven to 150 degrees celsius and line a 9 x 9 inch baking tin with foil
In a mixing bowl combine the ingredients for the base
Empty the dough into the tin and pat down to form a 1.5-2 cm thick base. Place in the oven and let bake for approx 10-12 minutes until it begins to turn a golden brown
Place the dates in a food processor and blend until they form a thick paste, add in the coconut cream (make sure you use only cream and not coconut water), vanilla extract, salt and coconut oil. Blend until smooth.
Once the shortbread has cooled, pour the caramel on top and evenly distribute with a spoon across the base
Toss the chopped pecans with the salt in a bowl and then sprinkle the nuts over the top of the bars.
Place the baking tin in the fridge for approx 20 minutes to allow the caramel to become firm. Cut into small slices and serve.
These can be stored in the fridge in an air tight container for up to 5 days.
Carmen Sturdy
Carmen discovered the Specific Carbohydrate Diet (a diet free from grains, gluten, refined sugar, processed food, lactose and soya) after being diagnosed with an autoimmune disease 2 years ago. She now lives symptom and medication free thanks to the diet. She created Every Last Bite to share healthy recipes and show people that no matter how restricting your diet, you can still enjoy delicious food.