Caramel and Bourbon Peanut Butter Cups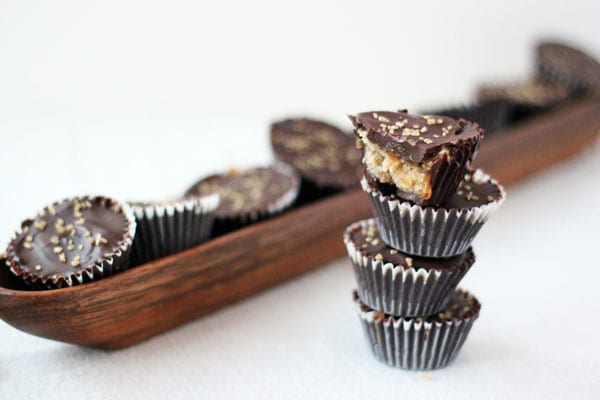 A little treat like this will be rich and satisfying, but won't leave you feeling like a glutton.
By Brittany Everett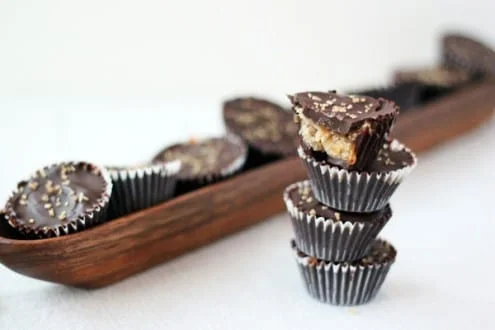 Too often I find myself in this situation: I just finished a swanky meal and the waiter asks if I want to see the dessert menu.
Um, NO. Then I'll want every single thing on it, and there is absolutely no room left in my stomach after the appetizer, entree and two cocktails. It just isn't going to happen. That always makes me sad.
This is why it's nice to have something like these Bourbon Caramel Peanut Butter Cups on hand. Post-Valentine's Day dinner, you don't want to have to be rolled away from the dinner table.
A little treat like this will be rich and satisfying, but won't leave you feeling like a glutton.
Although I guess that depends on how many you eat…

Caramel and Bourbon Peanut Butter Cups
A little treat like this will be rich and satisfying, but won't leave you feeling like a glutton.
Ingredients
2 cups confectioners sugar, sifted
1¾ cups smooth all natural peanut butter
3 tablespoons unsalted butter
¼ cup bourbon
½ teaspoon vanilla extract
1¼ pounds chocolate (bittersweet, semisweet, milk or a combination)
½ teaspoon espresso powder
¾ cup thick caramel
50 mini candy cups (foil is easier to peel off)
gold sprinkles (optional)
Instructions
Combine sugar, peanut butter and butter in an electric mixer fitted with the paddle attachment. Beat on medium-low speed until combined. Add the bourbon and vanilla and mix until combined. Transfer the mixture to a pastry bag or a plastic bag with ½" cut off one corner.
Melt chocolate in a bowl set over a pot of simmering water. Once melted, stir in the espresso powder, turn off the burner and leave the bowl over the pot to keep it warm while you work. Use a small spoon or paintbrush to coat the bottom and up the sides of the candy cups with melted chocolate, and place them on a rimmed baking sheet. Put them in the freezer until set, about 10 minutes.
Take the chocolate cups out of the freezer and use the piping bag to fill them with the peanut butter mixture ¾ of the way full. Next, spoon a little caramel into each cup. Cover the caramel with a thin layer of chocolate. Sprinkle the tops with gold sprinkles if you feel fancy. Return the candies to the freezer until set, about 15 minutes.
Candies can be stored tightly sealed in the fridge or freezer.
Brittany Everett
A graphic designer by day, Brittany enjoys cooking, eating, photographing and discussing food with every other waking moment. She created Kitchenette, a food blog dedicated to making delicious comfort foods from scratch and with love.