California Love – Chocolate and Pretzels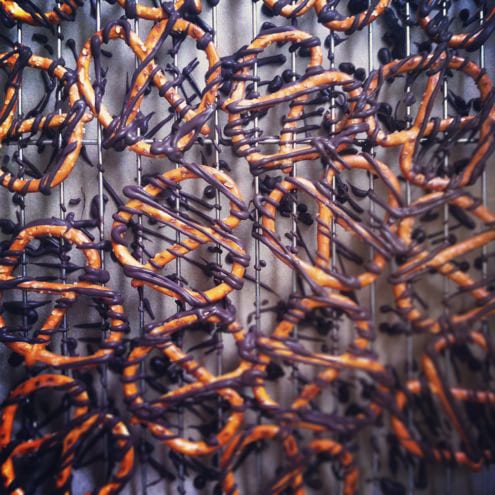 Chocolate covered pretzels is not an inherently difficult recipe to make though it is the perfect example to show why making them is as simple as cooking a steak.
By Olivia Caminiti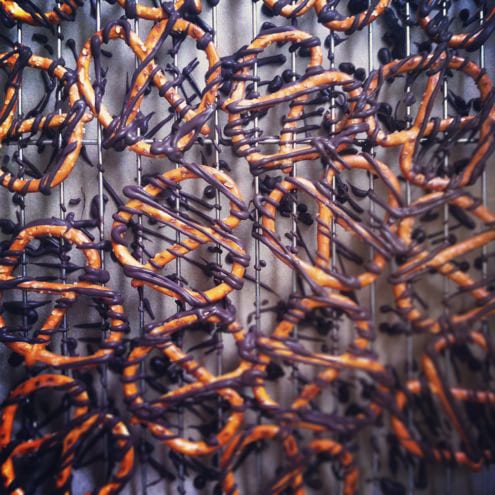 I have learned the definition of being a "good" cook is as follows:
1. We really do eat with our eyes first.
2. Excellent knife skills (and knives) are essential.
3. Learning and understanding methods of treating ingredients; mastering all of them is not required.
4. Use quality ingredients.
See Also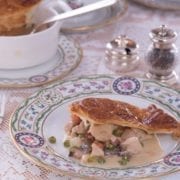 5. Timing… but isn't life about timing in all cases?
Chocolate covered pretzels is not an inherently difficult recipe to make though it is the perfect example to show why making them is as simple as cooking a steak. The tricky part is melting the chocolate so to not burn it. Key word being tricky thus letting you know there are tricks to doing it!
I don't have any Williams-Sonoma, professional line, stainless-steel double boiler I just use my small frying pan over a 3-qt pot. The first trick is NEVER to let the simmering water in the pot touch the bottom of the pan on top, this will make the pan over heat and burn the chocolate. Bring about 2″ of water to a boil and then turn it down to a simmer. Once it is simmering add the chocolate to the pan and keep stirring. When most of the chocolate is melted and there are just a few lumps, turn the heat off and keep stirring till smooth.
The next trick to making these pretzels is perfecting the drizzle. A 99-cent squirt bottle allows your to not waste too much chocolate and have even and controlled lines. Again, it is so true that we eat with our eyes first so spend that extra dollar to make it look like you imagined. Put the chocolate drizzled pretzels in the freezer for a few minutes before stacking them in a tupperware to ensure no smudges and be gentle when removing them from the wire wrack because they will stick a bit.

California Love- Chocolate and Pretzels
Salty sweet recipe that can help a cook understand their capabilities.
Ingredients
60 approx."thin" cross salted pretzels; or favorite pretzel shape
6 oz semi-sweet or dark chocolate, preferred Ghirardelli; rough chopped
non-stick spray
baking sheet
cooling rack
wax paper
squirt bottle
Instructions
Cover a large baking sheet with wax paper and place a non-stick sprayed cooling rack over top.
Place about 20 pretzels across cooling rack so they are not overlapping. Set aside.
Make room in the freezer preferably and if not, in the fridge, to place the baking sheet between batches to harden the chocolate.
Fill a 3 qt. pot with about 2 inches of water and bring to a boil.
Once at a boil, turn the heat to low to simmer and place a small pan on top.
Add chocolate to the pan and stir continuously until there are just a few lumps left. Turn off the heat and keep stirring till all lumps are gone.
Pour melted chocolate into squirt bottle. Drizzle chocolate from the squirt bottle over one pretzel at a time, in a back and forth motion, to cover the majority of the area on the pretezel.
When all pretzels are covered place the baking sheet in the freezer for one minute to harden the chocolate. Remove baking sheet from the freezer, remove pretzels from the rack very carefully, and place them in a air tight storage container.
Repeat with the rest of the pretzels. Run the squirt bottle under hot water in between batches to keep the chocolate smooth.
When all pretzels are finished and stowed away, scrape chocolate drips from the cooling rack onto the wax paper and collect all the drippings off the wax paper in a small container to use on top of ice cream or to decorate a cake!
Enjoy and repeat!
Olivia Caminiti
Olivia's passion for food is rooted in California's Bay Area though now regrowing in Austin, Texas. She mixes with her travel experience, eye for beautiful food and intuition to find the next ingredient to keep a balance in life. See what she incorporates next and check-out her website at oliviacaminiti.com