This cheesecake is a sweet tooth's dream. Baked into a peanut butter cookie crust is a rich butterscotch batter that is topped with a decadent peanut butter mousse.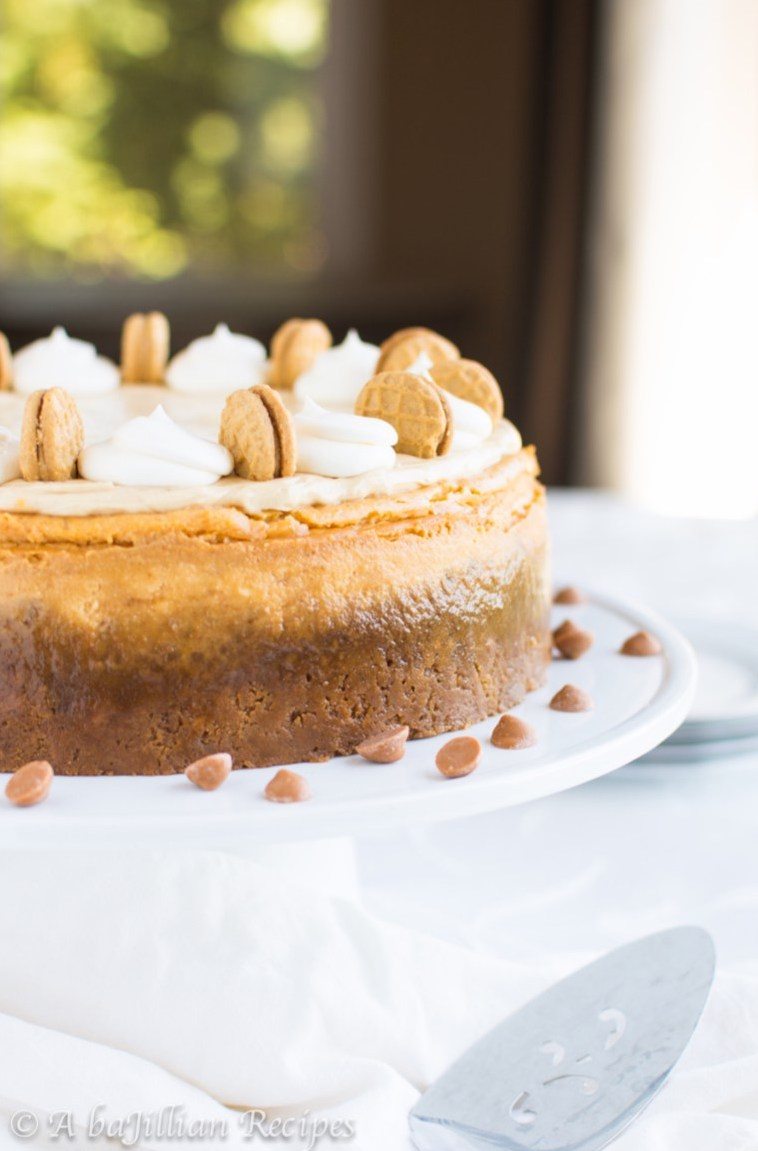 While it's no secret that peanut butter and chocolate are pretty much homeboys when it comes to sweet combos, there's one delicious blend of flavors that I just can't get enough of–peanut butter and butterscotch. Why is this combo so underrated? Moreover, why is butterscotch so underrated?
For instance (prepare yourself for the biggest tangent ever), whenever I give out those Dum Dum lollipops at my work, the kids NEVER choose butterscotch, and if they accidentally do, they scrunch up their noses and say "Ewwww…butterscotch! I want a different one!"
To which I respond, "Tough luck, kiddo. You're gonna lick that sucker, and you're gonna LIKE it!!"
Ok, I don't really say that…but I DEFINITELY think it.
So yeah, why IS butterscotch so undervalued? When I was a kid (still am), I used to LOVE sneaking into my grandma's hard candy stash (all old people have these, FYI), and picking out all the butterscotch ones. Tell me I'm not the only one who did that.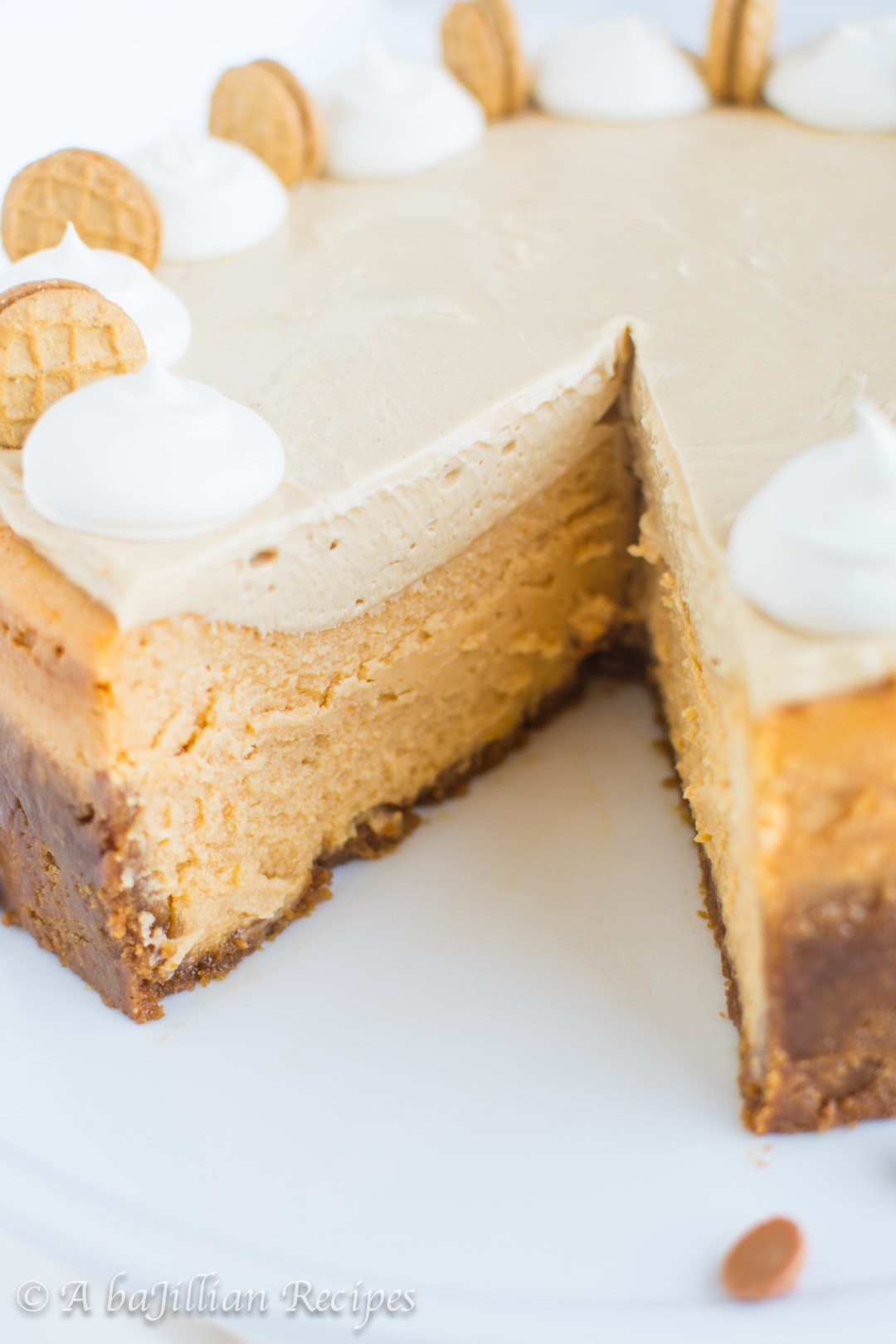 It begins with those addictively sweet and nutty Nutter Butter cookies, AKA the peanut butter version of the Oreo. Crush some up, toss them with a little butter, then press it into the pan for an easy peasy crust.
The cheesecake filling contains a full cup of butterscotch chips, which is melted then added into the batter. Unlike most baked cheesecakes which require at least four packages (32 ounces!) of cream cheese, this batter only requires two. Also, instead of using half Greek yogurt and half sour cream like I have in the past, I used all Greek yogurt, and I really couldn't tell any difference in flavor or texture. Sour cream and Greek yogurt are pretty much interchangeable in this recipe, so it's up to you and what you have on hand.
Remember, less cream cheese and more Greek yogurt means less guilt when you inhale half of the cheesecake in one sitting.
Since the Nutter Butter crust wasn't enough to satisfy the peanut butter quota in this cheesecake, I topped it off with a smooth and creamy peanut butter mousse. Well, it's more like a white trash mousse if I'm being honest.
Just beat up some cream cheese, peanut butter, sugar, and a spot of vanilla, then fold in some cool whip. I didn't even use real heavy cream because I was feeling lazy. However, if your inner Martha Stewart is flaring up, go RIGHT ahead and use the real stuff!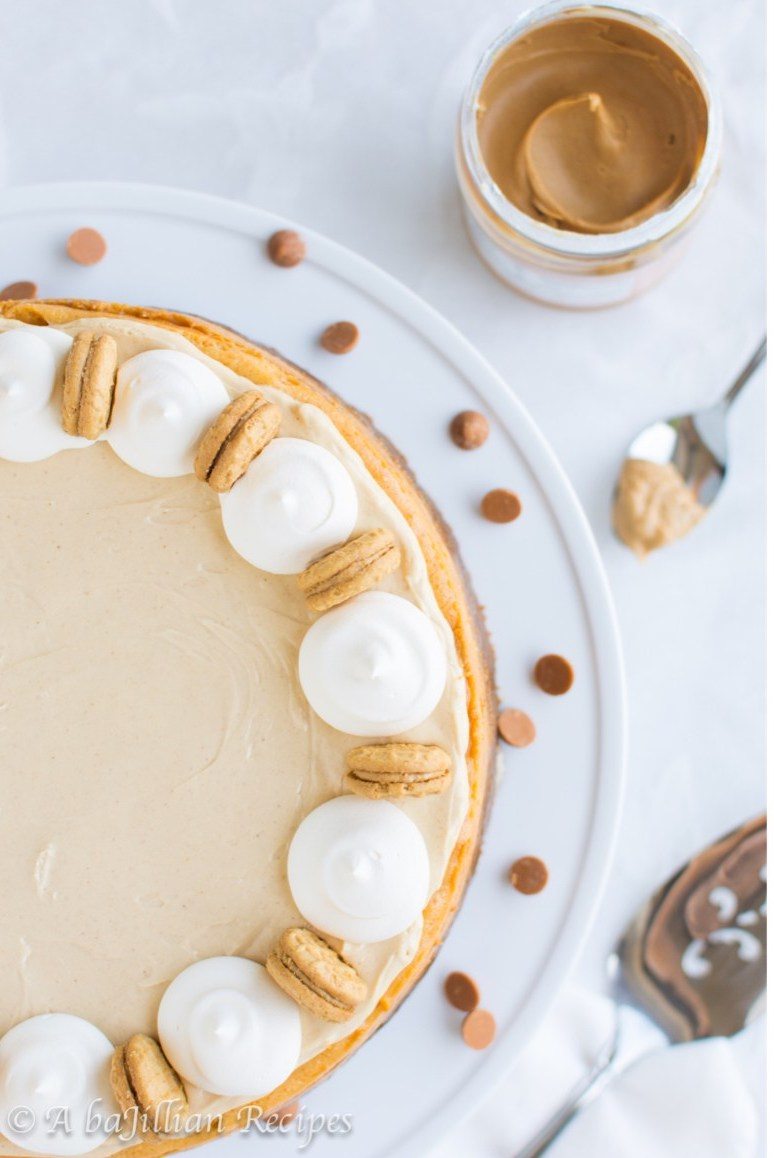 Click here for the peanut butter mousse recipe.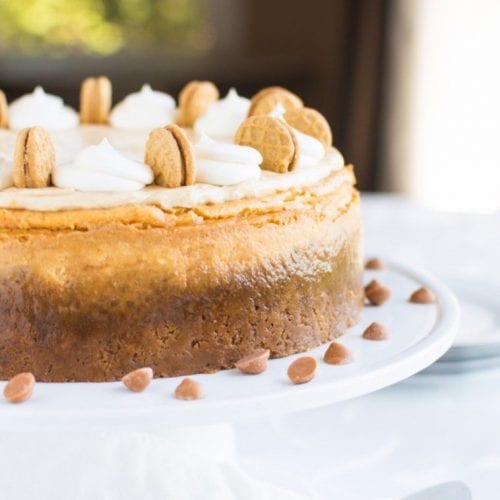 Butterscotch and Peanut Butter Cheesecake
Jillian Hatsumi
This cheesecake is a sweet tooth's dream. Baked into a peanut butter cookie crust is a rich butterscotch batter that is topped with a decadent peanut butter mousse.
Ingredients
Crust:
2

cups

Nutter Butter cookie crumbs

4

Tablespoons

butter

melted
Butterscotch Filling:
1

cup

butterscotch chips

2

8 oz packages cream cheese

1

cup

granulated sugar

1/2

cup

brown sugar

2

and 1/2 cups Greek yogurt

or sour cream

4

large eggs

1

teaspoon

vanilla

Pinch

of salt
Peanut Butter Mousse:
Click the link above for the recipe.
To Garnish:
Whipped cream

or whipped topping

Nutter Butter Cookies
Instructions
Preheat the oven to 275ºF and spray a 9-inch springform pan with nonstick cooking spray.
Crust:
In a medium bowl, combine the cookie crumbs and butter. Transfer mixture to the prepared pan and press evenly into the bottom and up the sides. Chill crust in the refrigerator while you make the filling.
Filling:
Place the butterscotch chips in a small bowl and heat in the microwave for one minute. Remove, stir, then microwave another 20-30 seconds until smooth. Set aside to cool slightly.*

In the bowl of a stand mixer fitted with the paddle attachment, beat the cream cheese and both sugars together until smooth and creamy, about 2-3 minutes. Add the Greek yogurt (or sour cream), eggs, vanilla, and salt and beat just until combined. Add the melted butterscotch chips and stir until smooth.

Pour cheesecake batter into the cooled crust, smoothing out the top. Bake for about 2 hours or until the sides of the cake are set (about 2 inches in) and the center still wiggles.

Once done, turn the oven off and keep the oven door open a few inches. Allow cheesecake to sit in the oven for 1 hour before transferring to a wire rack to cool. Refrigerate for at least 4 hours.
Mousse:
In the bowl of a stand mixer fitted with the paddle attachment, beat the cream cheese, sugar, peanut butter, and vanilla together until smooth and creamy. Add 1/2 cup of the whipped topping and continue beating until lightened. Fold in the remaining 1 cup of whipped topping. Spread mousse evenly on top of completely cooled cheesecake, then refrigerate for an additional 2 hours, or until set.
To serve:
Pipe or dollop whipped cream, as desired. Garnish with additional Nutter Butter cookies. Run a knife around the edge of the pan, and remove the sides. Slice and serve.
Notes
*If melted butterscotch has already started to solidify before adding it to the batter, heat in the microwave at ten second intervals until smooth again.
Jillian Hatsumi
I'm Jillian, the writer, baker, chef, recipe creator, and amateur (very amateur) photographer of A baJillian Recipes. Though I'm not a classically trained chef, I like to think I know my way around a kitchen pretty well. Aside from baking, cooking, and EATING, I also enjoy acting, couponing (I LOVE saving money!!), running, working out, photography, and playing with my little fluffernutter, Olivia. She's a dog, if you're wondering...