This is killer a killer recipe – two ingredients, both grated, squeezed of excess water, and fried in a pan.
By Bryan Picard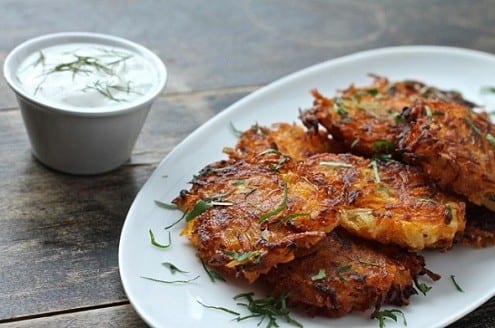 This recipe makes one killer appetizer. It's really simple; two ingredients, both grated, squeezed of excess water, and fried in a pan. The ratio is half potatoes, half whatever other vegetable. I made some with zucchini and some others with butternut squash. Feel free to experiment with anything you have in your own veg box and to size your cakes according to your own meal plan. This recipe will make around 8 large or 16 small cakes. Cook for 6 minutes on each side for larger cakes and 4 minutes on each side for smaller ones. For an extra punch throw together a lemon-dill yogurt sauce, which, just so you know, also tastes great with fish.
Butternut Squash Potato Cakes
Recipe Type:
Appetizer or Side
Ingredients
3 medium potatoes (500g)
½ butternut squash (500g)
salt + black pepper
Instructions
Grate the potatoes and butternut squash. Put in a large bowl and season with salt. Let sit for about 5 minutes to let the moisture out.
Transfer them in a colander and squeeze them with your hand to get the water out. Do this until there's almost no more water dripping.
Heat up 2-3 tablespoons oil in a large pan. Form a patties about 1.5? in diameter and slide them in the hot oil. Put 7-8 at a time.
On medium-high heat, cook the cakes about 4-5 minutes on each side. Season with salt and pepper.
Set the cakes on a plate or in a warm oven while you fry the rest.
Fry the rest.
Eat.
Bryan Picard
Bryan Picard is a wild and homegrown food enthusiast. He lives in the Maritimes in Canada and has worked the kitchens as a cook and chef for the past ten years. He writes on his blog The Bite House.