Sponsored Post: Whether you are hosting a wine party or looking for the perfect pairing for your dinner party menu, we've teamed up with Sonoma-Cutrer to provide wine inspiration for your next gathering.
Happy Hours are best when served at home. Take advantage of togetherness this season and host a happy hour with friends, wine and this butternut and apple flatbread.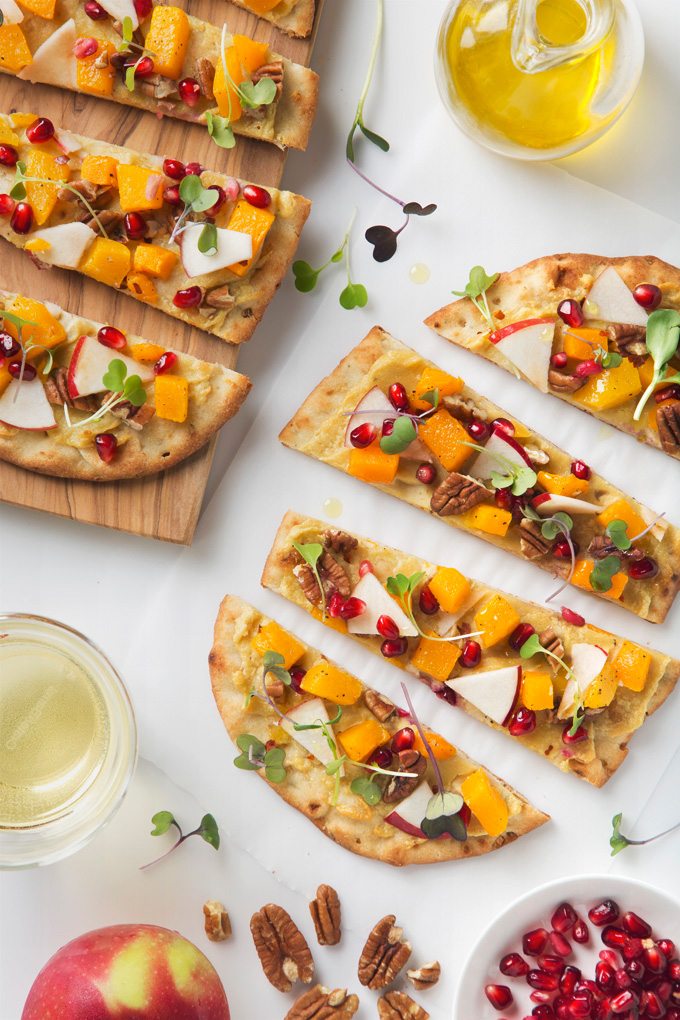 Last Spring, Aaron and I decided to start doing more happy hours at home. It's such a simple but lovely way to connect, especially when life gets busy. Over the summer we hosted friends outside in our small backyard, and this past weekend we put together a very pretty (but still very casual) holiday wine party spread.
I used to get all worked up about hosting, thinking that it had to be this big, elaborate production with everything made from scratch and our house in tip-top shape. Nowadays I'm a lot more relaxed—an appetizer platter using what's in season, a simple homemade recipe, and a couple of great wine options. That's really all it takes to make guests feel taken care of and happy.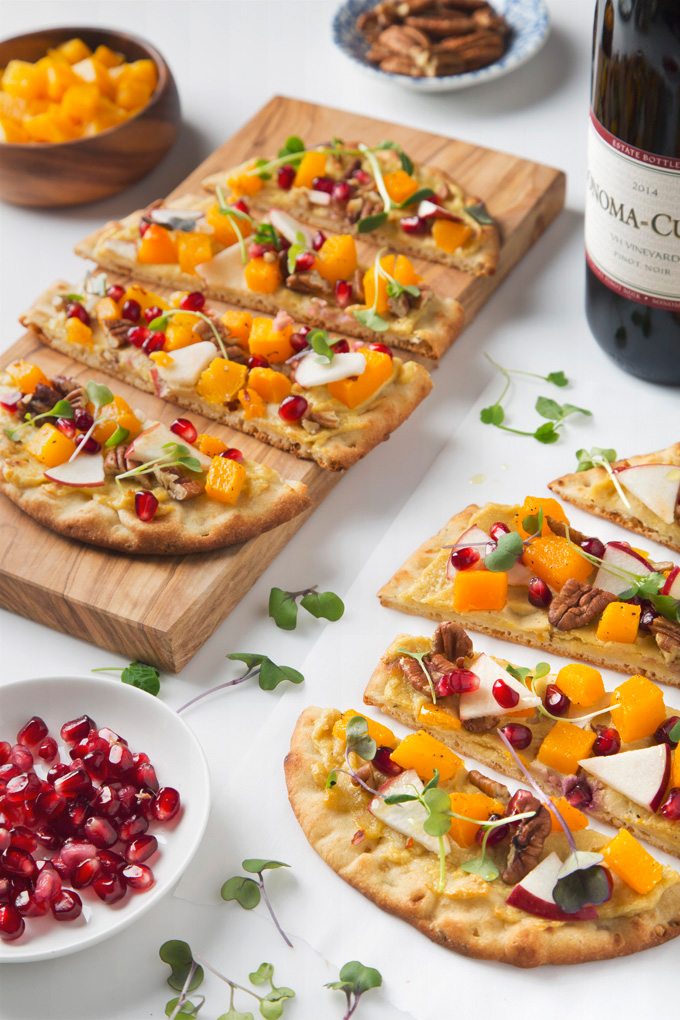 Since this is a wine party, let's start with the wine! Aaron usually prefers reds and I usually prefer whites, and depending on what you're serving, I think it's generally a good idea to have one of each on hand. I ordered a couple of bottles from Sonoma-Cutrer, a beautiful Sonoma-based winery with award-winning but still affordably priced wines. The first was their 2015 Vine Hill Pinot Noir which they describe as having an "intense boldness" (perfect for Aaron) with flavors of dark berry fruit, sweet oak spice, vanilla, and caramel. It recently won gold in the 2017 San Francisco Chronicle Wine Competition and for good reason—we all loved this wine.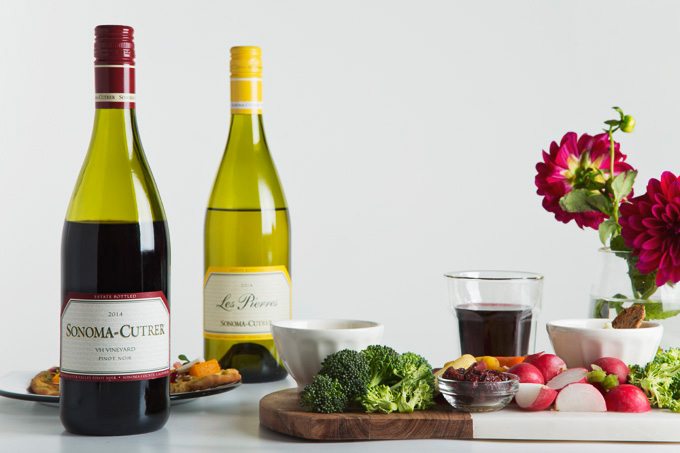 The second was their Les Pierres 2014 Chardonnay. This one is bright and citrusy with a little minerality, along with flavors of lemon, grapefruit, peach, oak spice, and just a hint of cedar. Similar to their Vine Hill Pinot Noir, it's also won several awards in addition to scoring a 92 on Wine Enthusiast.
For my appetizer spread, I tried to source as much produce as possible from our local farmer's market, which included colorful carrots, broccoli, and radishes, along with roasted almonds, dried cranberries, some seedy crackers, and a store-bought nut-based cheese.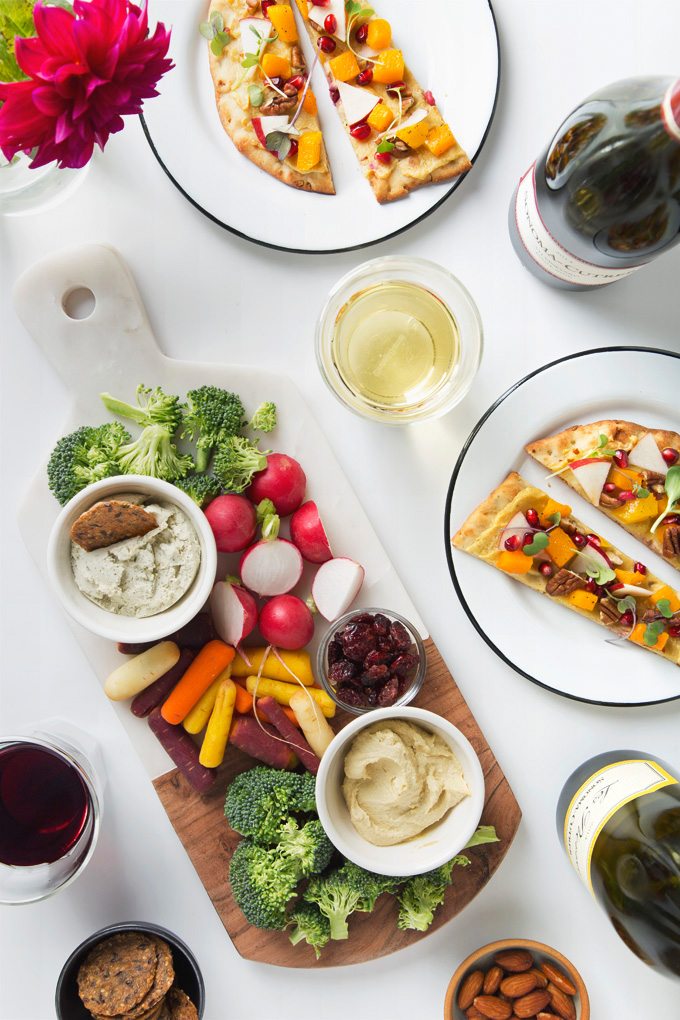 I made a batch of cashew cheese a day in advance that I served with my appetizer platter, and then I also used it to make a simple Apple and Butternut Squash Flatbread. This vegan flatbread was extra easy to make because I used pre-made naan as the base and the cashew cheese is a five minute recipe. From there, I added roasted butternut squash (again, I bought it already chopped to make life easy), sliced apple, chopped pecans, pomegranate seeds, and a few micro greens, mostly for color. It was SO good! Our friends raved about it and kept asking for the recipe, and it couldn't have been easier to assemble.
If you're interested in trying Sonoma-Cutrer wines, they ship to all but a handful of states and delivery is speedy. I placed my order on a Monday and it promptly arrived on Wednesday. If you're local though, might I suggest a tour and tasting at their tasting room in Windsor, CA? Based on my Google Map search, their vineyard looks stunning.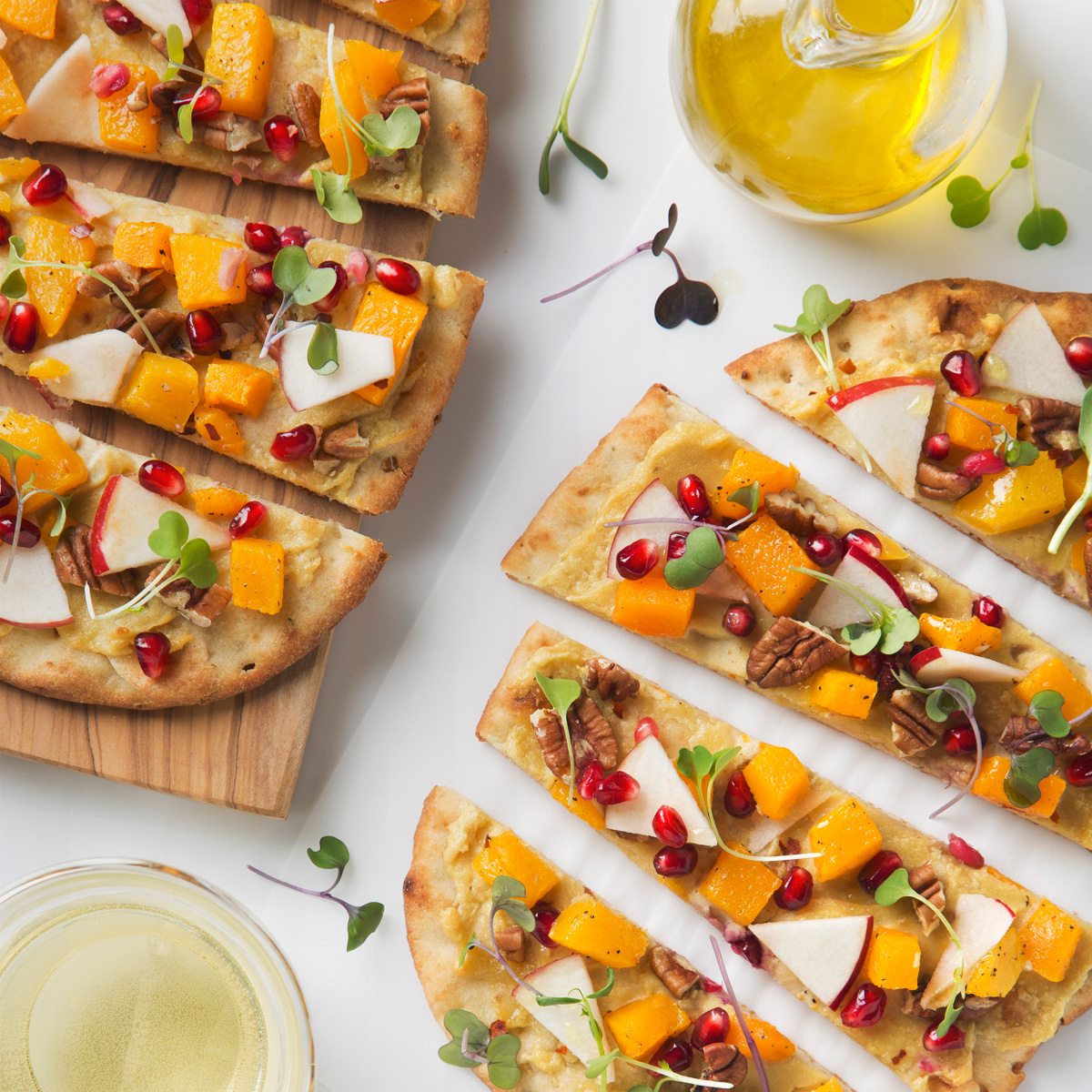 *It doesn't feel right to share this post and not acknowledge the wildfires that have devastated parts of Sonoma and Napa in the last month. Having spent time living in both San Francisco and Sonoma, and making weekend trips to Napa, Aaron and I are deeply saddened. This is a part of the country that we hold very near and dear to our hearts, and our thoughts go out to everyone who's been impacted. ?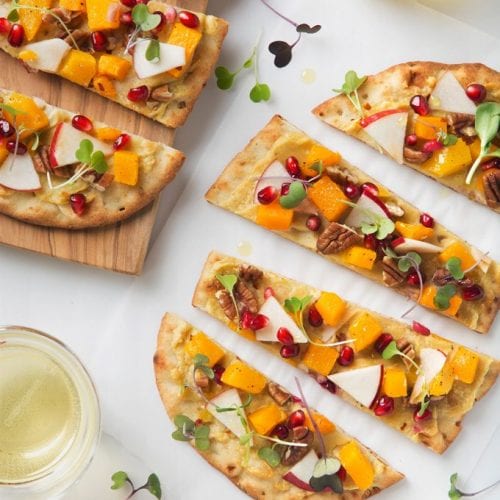 Butternut and Apple Flatbread with Sonoma-Cutrer Wine
Amanda Maguire
Ingredients
for the cashew cheese:
1

cup

raw cashews

soaked 2 hours (or overnight), rinsed and drained

1/4

cup

filtered water

juice from 1 lemon

about 2 tablespoons

2

tablespoons

nutritional yeast

1

tablespoon

apple cider vinegar

2

teaspoons

white miso

2

teaspoons

extra virgin olive oil

sea salt

to taste
for the flatbreads:
1½

cups

cubed

1/2-inch size butternut squash

extra-virgin olive oil

for drizzling

sea salt and pepper

3

plain vegan naan flatbreads

1/4

cup

chopped pecans

few pinches of red pepper flakes

½

small apple

very thinly sliced

juice of 1/4 lemon

1/4

cup

pomegranate seeds

handful of micro green
Instructions
Make the cashew cheese: Add all of the ingredients to a high-speed blender. Process until smooth and creamy. Taste and adjust seasoning if necessary. Refrigerate for at least 1 hour.

Preheat the oven to 425°F. Line two large baking sheets with parchment paper.

On one baking sheet, toss the butternut squash cubes with a drizzle of olive oil and season with salt and pepper. Place on the middle oven rack and bake until tender, about 15-20 minutes. Remove the butternut squash and reduce the oven temperature to 400°F.

Place the naan bread on the second baking sheet and spread each with a layer of the prepared cashew cheese. Divide the butternut squash between the pieces of naan. Top each with a third of the pecans and a small pinch of red pepper flakes. Bake for 7 to 10 minutes, or until the naan is golden brown and crispy.

Place the apple slices and lemon juice in a small bowl and toss to coat. Top the baked flatbreads with the apple slices and sprinkle with the pomegranate seeds and micro greens. Drizzle with a small pour of olive oil, then slice into appetizer size portions.
Notes
Be sure to check the ingredients on your naan. Some contain dairy. If you can't find vegan naan near you, feel free to use pita bread or pre-made pizza crust—whatever makes your life easier!