Buttered Beans and Mexican Chorizo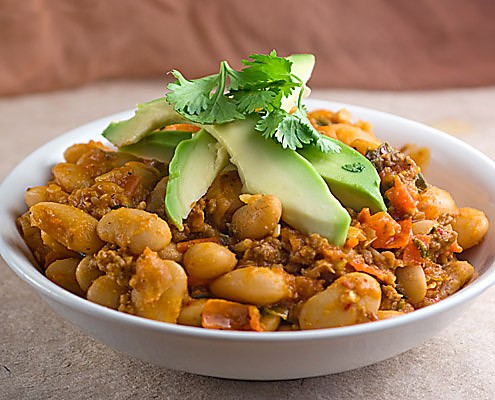 Turn ordinary buttered beans into an exotic dish full of flavor with this recipe from Nancy Lopez-McHugh.
By Nancy Lopez-McHugh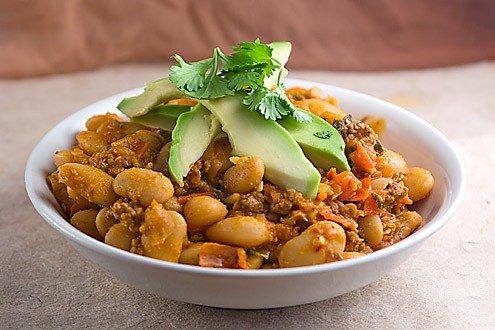 I have to admit that my first memory of tasting butter beans was at a holiday meal at my in-laws. I fell in love with them and knew that this simple and creamy beans would become a favorite. While this recipe is not the way I ate them at my in-laws it is still just as delicious.
These beans came together as a result of cleaning out my pantry and using up small extras in the refrigerator. Don't ask me why but those clearing out occasions seem to yield very good results. I can't really qualify these as a traditional Mexican dish but the main flavor does come from a Mexican ingredient. Maybe we can just call them a fusion dish.
The beans can be served on the side or even enjoyed as a meal on its own. The ingredients are few but all together make a delicious combination. Please make sure to use Mexican chorizo, if you need a recipe for it look here.
Using cured Spanish chorizo will result in a different flavored dish, though I'm sure delicious nonetheless.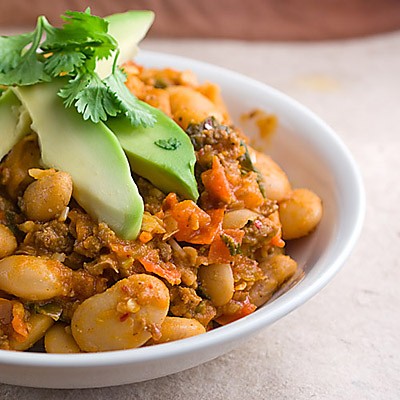 Buttered Beans and Mexican Chorizo
Turn ordinary buttered beans into an exotic dish full of flavor.
Author:
Nancy Lopez-McHugh
Recipe Type:
Main, Side Dish
Ingredients
1 can, 15 oz or 425 g, buttered beans
150 g or 5 oz of Mexican chorizo*
3 garlic cloves, minced
1 extra small onion, finely chopped
1 large tomato finely chopped
1 tsp chile powder or paprika
salt to taste
pinch black pepper
freshly chopped cilantro
1tbsp corn or sunflower oil
Optional Toppings:
avocado slices
freshly chopped cilantro
Instructions
Drain the beans and set aside. Heat the oil and cook the chorizo, Note if using commercial chorizo remove from casing other wise use homemade chorizo. Once chorizo is cooked drain all of the oil.
Next add the onion and cook for 5 minutes then add tomato, chile powder, salt and pepper. Continue to cook under low heat until the tomatoes have broken down completely. Taste and adjust seasoning if necessary. Add a handful of freshly chopped cilantro to the ingredient and mix well, cook for another 2 minutes.
Top with avocado slices and cilantro leaves. Serve as a side dish or even as a meal.
Nancy Lopez-McHugh
Nancy Lopez-McHugh is a food blogger, photographer and published author. Most recently she has published "Yummy Pics: A Food Blogger's Guide To Better Photos".