Canada's poutine meets Buffalo, New York's Buffalo chicken to create Buffalo Chicken Fries and we are never looking back.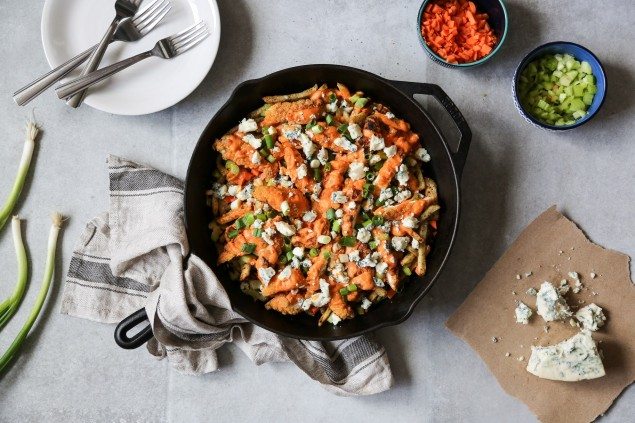 Hands down, these buffalo chicken wing poutine are the way to go when it comes to an appetizer. I'm a classic (boneless, please) buffalo wings girl though and through. But I can never have wings without having fries on the side. I mean, if you're going to indulge, you might as well freakin' indulge, am I right or am I right?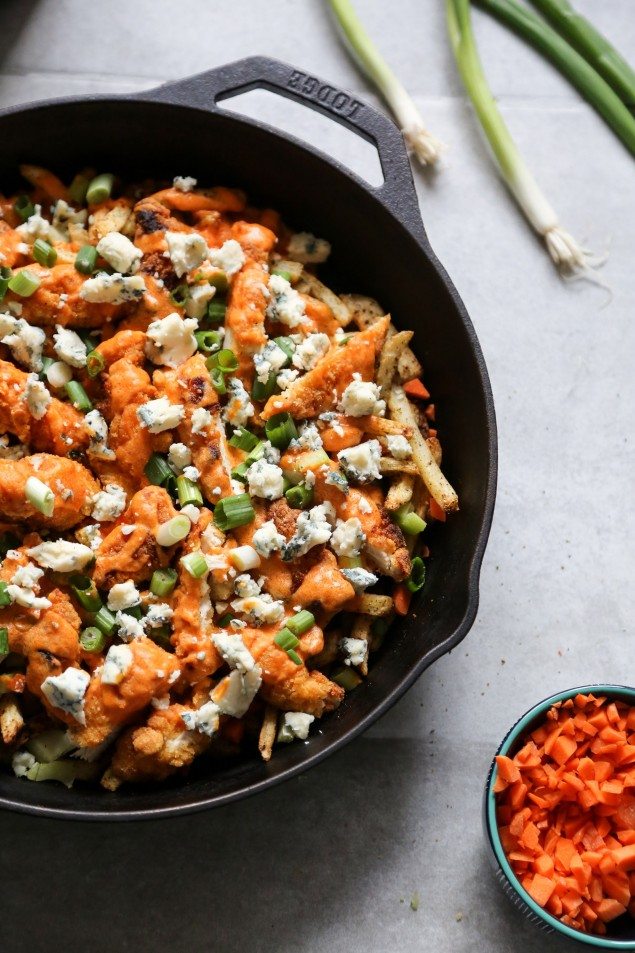 Everything you love about classic wings is right here, piled high on top of ranch-flavored fries and smothered in a hot sauce gravy (because, well, why the F not?!). It also makes plenty for sharing (I know you may not want to, but for the sake of your health, promise me that you will).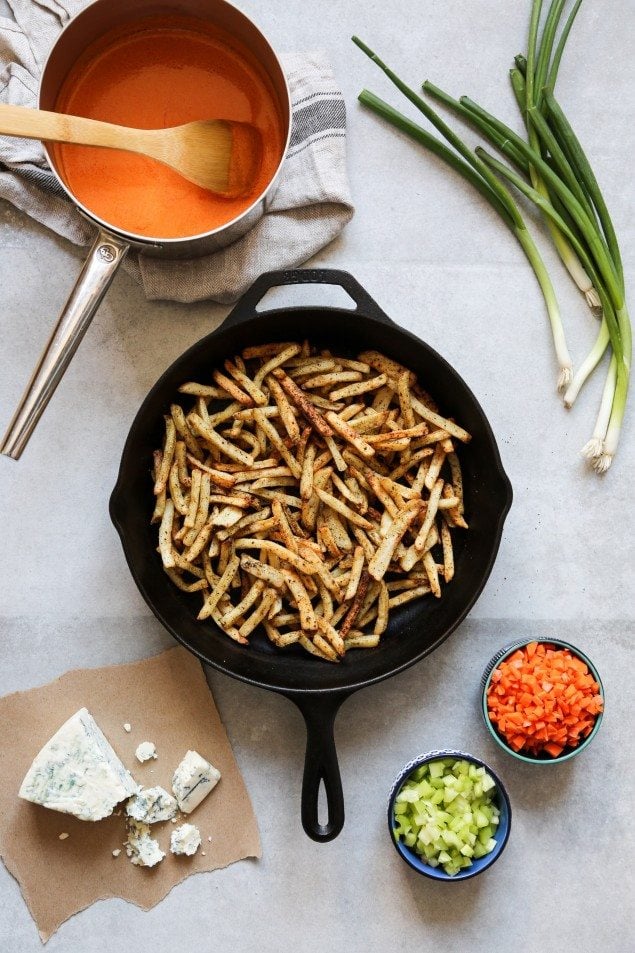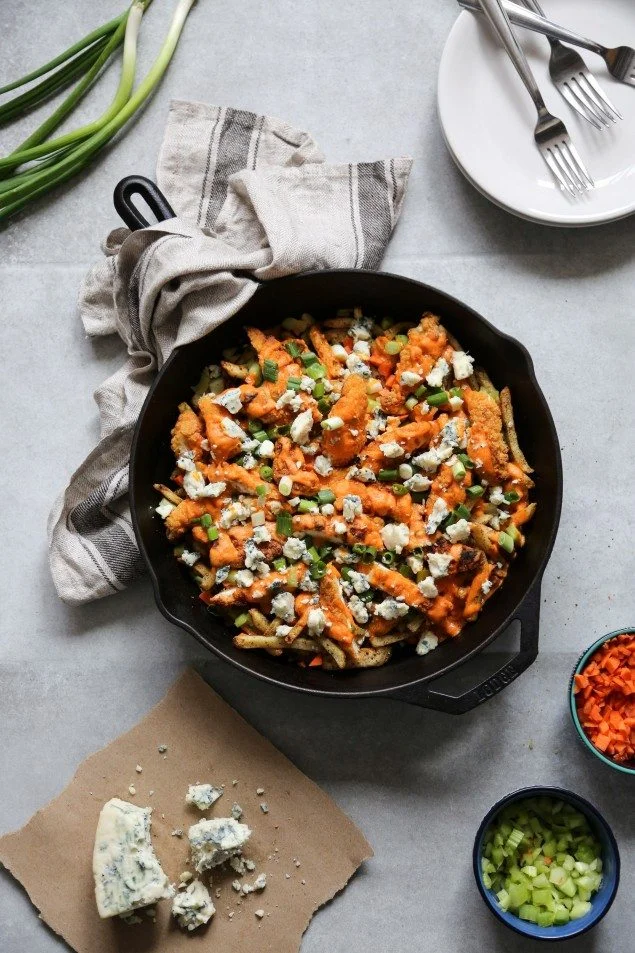 Get more decadent recipes here.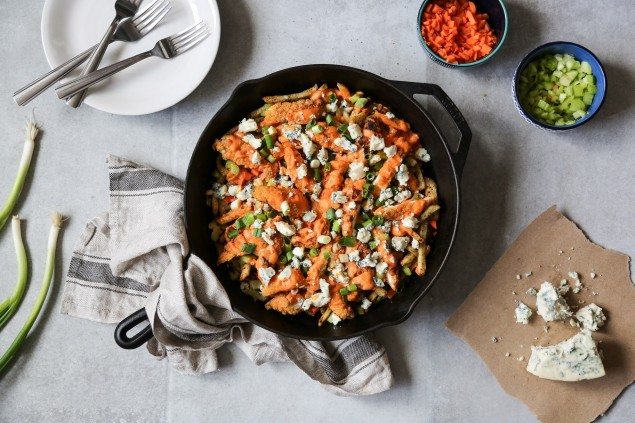 Buffalo Chicken Fries
Alyssa Ponticello
Canada's poutine meets Buffalo, New York's Buffalo chicken to create Buffalo Chicken Fries and we are never looking back.
Ingredients
1 1/2

pounds

frozen french fries

2

tablespoons

ranch seasoning/ranch dressing mix

4-6

breaded chicken strips/tenders

6

tablespoons

butter

1/4

cup

all-purpose flour

1

cup

milk

you can also use chicken broth or beer for a slightly different flavor

1/2

cup

hot sauce

1/2

cup

finely chopped carrots

1/2

cup

finely chopped celery

3

green onions

sliced

1/2

cup

bleu cheese crumbles
Instructions
Preheat oven to 450 degrees.

Toss the french fries with the ranch seasoning (I simply snipped a corner off the french fry bag, added the seasoning and then gave the bag a good shake.). Spread the fries in a single layer on a baking sheet and pop them into the oven. Place the chicken on a separate baking sheet and place that in the oven, as well. Bake for 15 minutes, then give the fries a toss and flip the chicken pieces over. Continue baking another 15-25 minutes, or until everything is well down and super crispy (you especially want the fries to be super crispy so they hold up well to the gravy).

Meanwhile, in a saucepan set over medium heat, melt the butter. Then, gradually whisk in the flour, the milk and lastly, the hot sauce. Immediately remove from the heat and set aside.

To assemble the poutine, place the fries in a skillet (or serving dish of your choice). Toss on the chopped veggies. Next, add on the chicken (which you can cut into smaller pieces first, if you prefer). Pour on the gravy and finish with a sprinkle of bleu cheese. Serve immediately.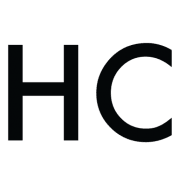 Alyssa Ponticello
Hi! My name is Alyssa and I'm a full-time blogger and creative entrepreneur based in Brooklyn. You can find me on my site, Runway Chef, inspiring people to create beautiful lives by intertwining food, fashion & travel into scrumptious style for everyday life. When I'm not blogging, you'll most likely find me in the kitchen with my husband, aka Mr. Runway Chef, or planning my next getaway.