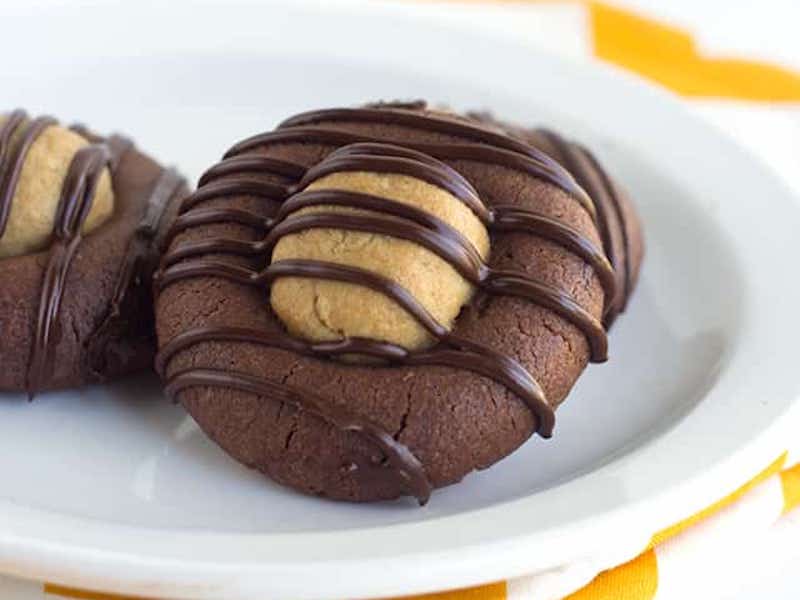 These buckeye cookies have a rich, chocolate base with a sweet peanut butter center and a chocolate drizzle on top. It's the perfect sweet and chewy cookie.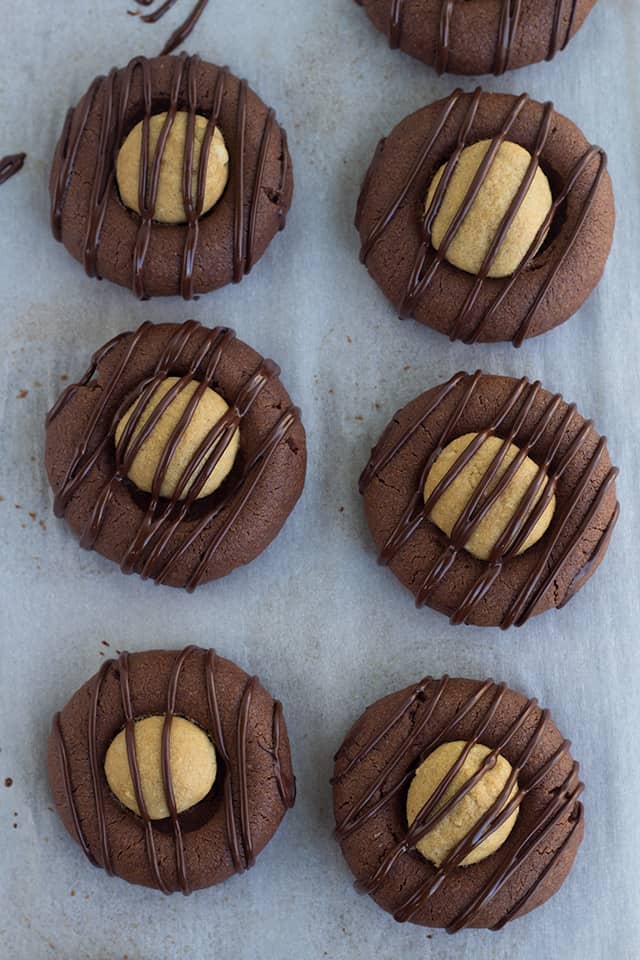 I love peanut butter and chocolate together. It's kind of my thing. I could make thousands of recipes using it and probably will eventually. Just give me a little time. Though, I do have a pretty good head start on it already. I think one of my favorites is my chocolate peanut butter layer dessert.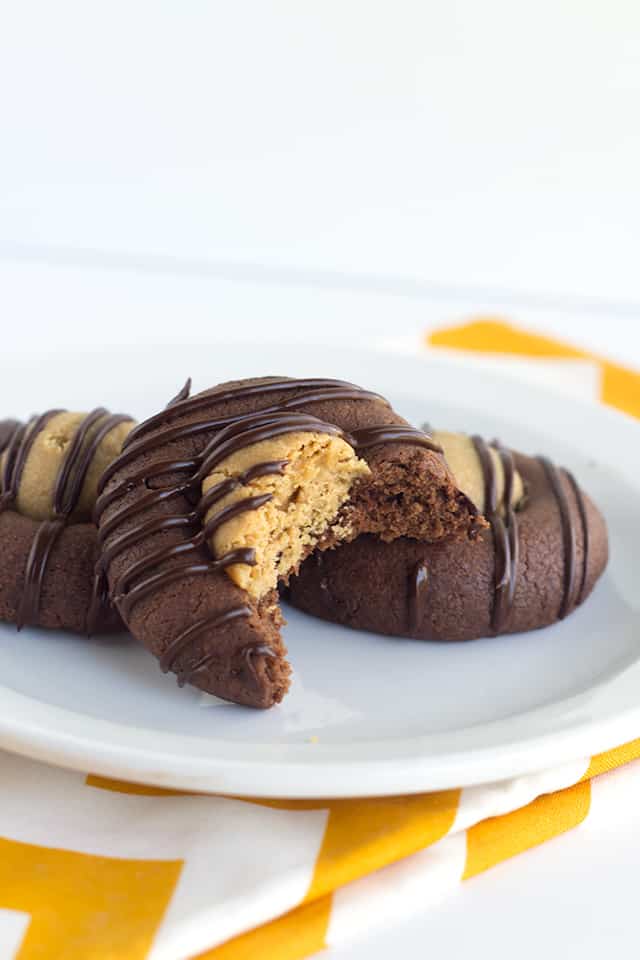 So this is just one of the recipes that you'll find in my Easy Homemade Cookie Cookbook. There are 160 delicious cookie recipes in it. This is one of the several chocolate peanut butter recipes that I've been able to sneak in the book. You're welcome, friends!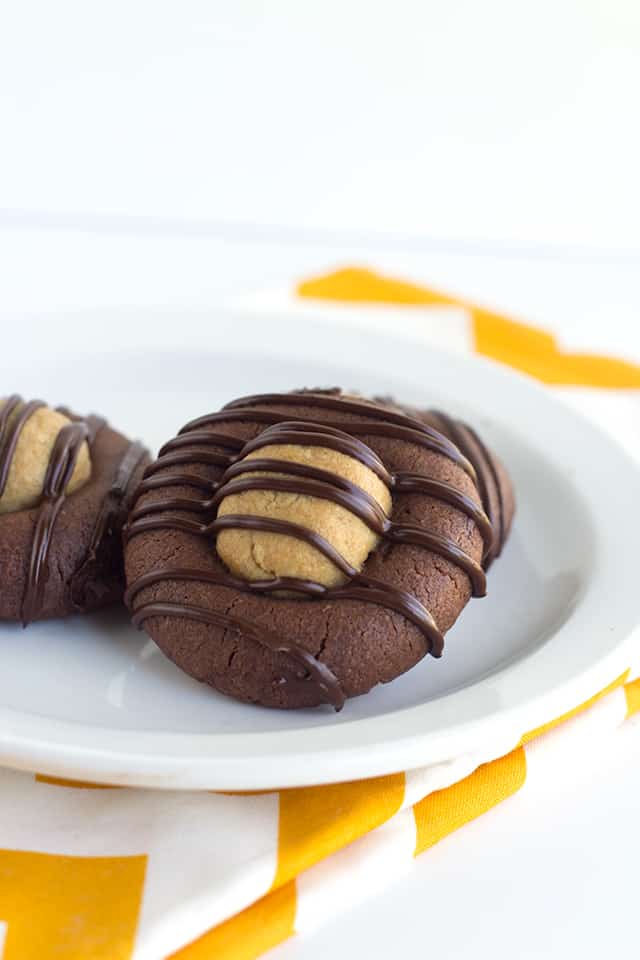 See Also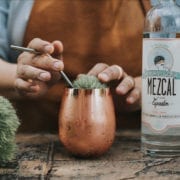 Do you want to see more of what I have in the book? You're in luck! I've also shared my lemony lemon bars and chocolate crinkle cookies from the book on my blog too.
1. When making these cookies, it's important to make the peanut butter balls as big as the thumbprint hole you've created. The chocolate cookie isn't going to puff up or cover any of the edges that aren't covered by the peanut butter balls.
2. When I say flatten the cookie balls out, I don't mean flat like a pancake. I mean so it's still very thick but the top and bottoms of the dough ball are flat.
3. If the dough cracks when you put a thumbprint hole in it, you can press the dough between your two palms and work it until it's more pliable. Then roll it in a ball again and press your finger in to form the thumbprint. This should reduce most of the cracking.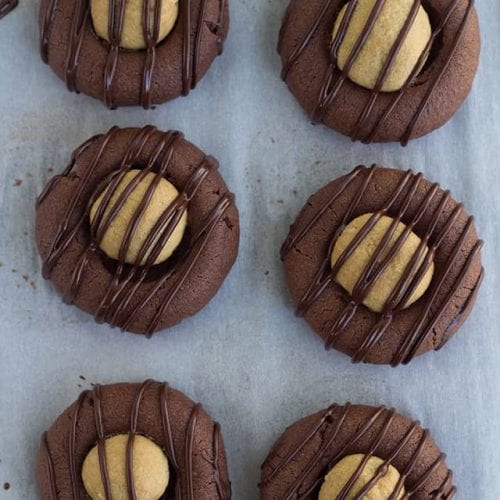 Buckeye Cookies
Miranda Couse
Ingredients
Chocolate Cookies
1

cup

2 sticks butter, room temperature

1

cup

granulated sugar

1

large egg yolk

1

tsp.

vanilla extract

2

cups

all-purpose flour

1/2

cup

unsweetened cocoa powder

1/2

tsp.

salt
Peanut Butter Filling
1/2

cup

creamy peanut butter

1/2

cup

powdered sugar

1

tsp.

vanilla extract

4

oz.

semi-sweet baking chocolate

chopped
Instructions
Filling
In a small bowl, add in the peanut butter, powdered sugar, and vanilla extract. Stir with a spatula until smooth. Set aside.
Cookies
Preheat the oven to 350 degrees. Line a cookie sheet with parchment paper.

In a medium bowl, whisk together flour, cocoa powder, and salt. Set aside.

In a large mixing bowl, add in the butter and sugar. Beat until light and creamy.

Add the dry ingredients and beat until the dough comes together.

Using a medium cookie scoop, scoop the dough into balls and drop them 2 inches apart on the

prepared cookie sheet. Flatten the top of the dough balls, but don't squish them like pancakes. You just want the top and bottom to flatten out slightly and the center still very thick.

Using the back of a 1/2 teaspoon measuring spoon, make an indentation in the center of each dough ball. You can also use your finger.

Scoop about 1 teaspoon of the peanut butter filling and roll it between your palms. Pop it into the whole that you formed. Be sure to fill your thumbprint completely because the cookie won't puff up and cover up any of the edges. Repeat with all cookies.

Place into the oven and bake for 15 minutes or until the edges of the cookie are firm.

Remove from the oven and let sit on the baking sheet for 5 minutes then transfer to the cooling rack.

Once the cookies are cooled completely, melt the baking chocolate for the drizzle. Do this by adding the chopped baking chocolate into a microwave-safe bowl. Microwave for 30 seconds and stir. Repeat microwaving for 30 second intervals and stirring until the chocolate is smooth.

Add the chocolate to a sandwich bag and cut a small corner out of the bag. Drizzle the chocolate on the cookies by quickly moving your hands back and form while applying even pressure to the sandwich bag with the melted chocolate. Let the chocolate cool down and harden.
Miranda Couse
I'm Miranda. I'm a self-taught baker, recipe developer, writer, and photographer behind the blog http://cookiedoughandovenmitt.com. When I'm not satisfying sweet teeth, I can be found spending time with my family, reading cookbooks, attempting crafts and crocheting.