Bucatini all'amatriciana is the quintessential Italian classic. Simple, elegant and all around delicious. Perfect.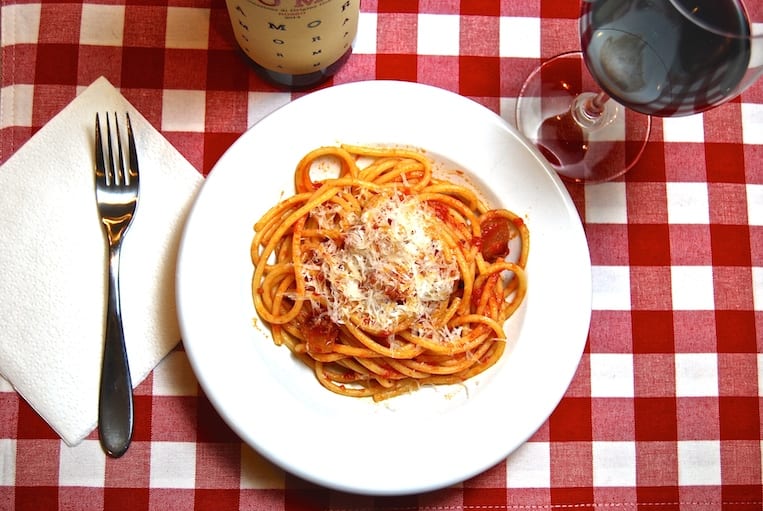 Bucatini all'amatriciana is a classic dish that dates back to the time of the Romans. Ironically, there is a debate around whether l'amatriciana even originates in Rome.
Some maintain that it comes from the city of Amatrice, located near the border between Lazio and Abruzzo. There are also variations on its name – some dropping the "a" and simply calling it matriciana, as was the case in Stefano's childhood home in Rome. Regardless of it's history, it's a Roman classic now, on the menu of every traditional osteria and trattoria in the Eternal city.
If you want authentic Bucatini all'amatriciana, then there are a few rules that simply cannot be broken:

No onions and no garlic. Don't you dare. Actually, some do use one or the other, but the original recipe calls for neither.
Use guanciale, not pancetta. Guanciale is an Italian cured meat prepared from pork jowl or cheeks. Its name is derived from guancia, Italian for cheek. This is why you don't need onion or garlic – you get all the flavor you need from the guanciale. Check your local Italian deli for guanciale, or order it online.
The only acceptable pasta to accompany l'amatriciana are bucatini, spaghetti or rigatoni. We're not sure why this is important, but it is. Bucatini are our favorite – a thick spaghetti with a hollow center, known as the buco or hole.
Top with pecorino, not parmigiano.
Bucatini all'amatriciana
Bucatini all'amatriciana is the quintessential Italian classic. Simple, elegant and all around delicious. Perfect.
Author:
Cara Quinn & Stefano Follega
Ingredients
Guanciale
Whole canned tomatoes (approx. 1 kg or 28 oz), preferably San Marzano
Olive oil
Half a glass of dry white wine
Red chile pepper flakes
Salt
One package (approx. 500g or 16 oz.) bucatini. (Or, substitute spaghetti or rigatoni)
Pecorino
Instructions
Dice the guanciale into pieces of approximately .5 cm (1/4 inch) thick, 2.5 cm (1 inch) long. Set aside.
Fill a medium size pot with water, and put on heat to bring to a boil.
Pass the canned tomatoes through a food mill to eliminate seeds and pulp. If you don't have a food mill, blend the tomatoes in a blender to render it smooth and free of chunks.
Add a few tablespoons of olive oil to a large skillet over medium heat. Once the oil is hot, add the guanciale. After a few minutes, add red pepper flakes to taste. When the guanciale takes on a golden brown color, add half a glass of white wine, and let it cook off.
Add the tomatoes, and salt to taste. Let cook for 10-15 minutes until the sauce thickens and takes on a deep red color.
In the meanwhile, when the water boils, toss a handful of salt into the water and add the bucatini. Cook to al dente according to the directions on the package.
When cooked, drain the pasta well, and then add it to the skillet with the sauce. Stir together over low heat. Serve hot with pecorino grated on top.