A hot and pungent Brussels Sprout Salad with authentic Thai flavors and egg.
By Caroline Phelps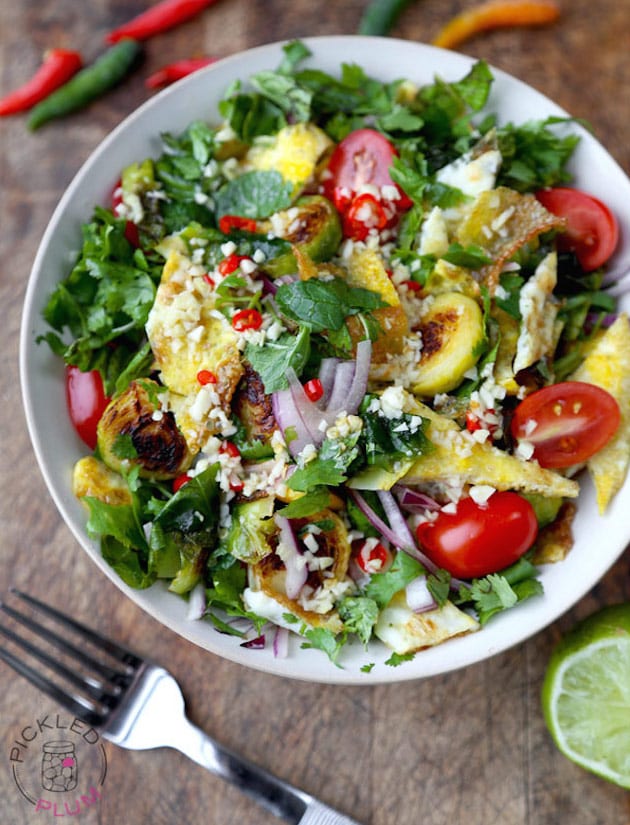 After living in Bangkok off and on for about a year and tasting so many different flavor combinations, I was convinced only Thai people could make excellent Thai food – it looked so complex and intimidating! But as long as I lived somewhere in Asia I was able to find good, solid Thai food. And as I traveled around I dug deeper and deeper into Asian cuisine and their superb preparations. I was spoiled with amazing food every single day!
If you told me a few years ago that I would be able to whip up something like this Thai egg and Brussels sprout salad, I would have called you crazy.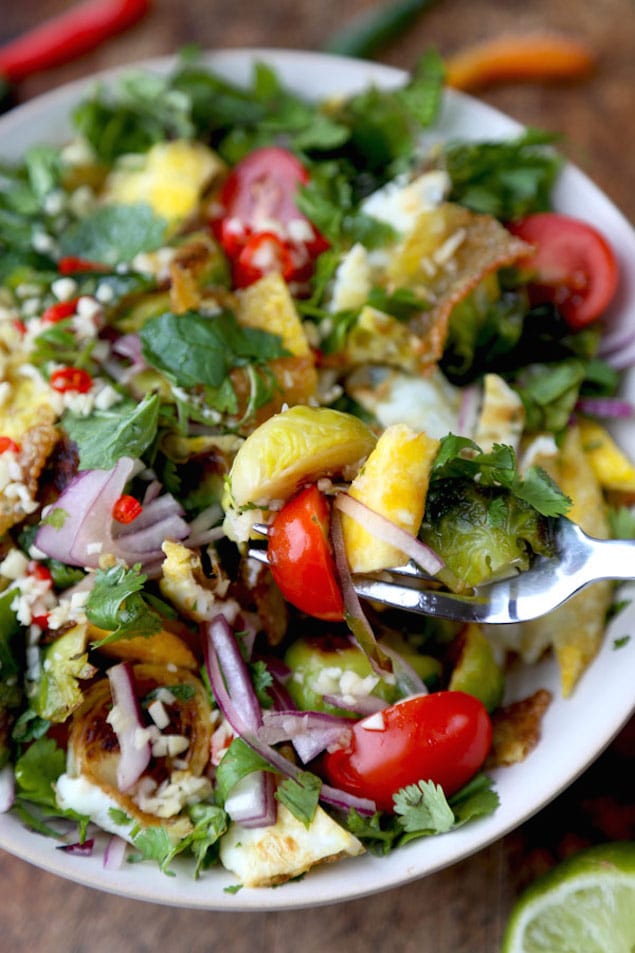 This recipe for Thai egg and Brussels sprout salad popped into my head after seeing family and friends devour my Brussels Sprouts with Maggi Seasoning dish at our last gathering.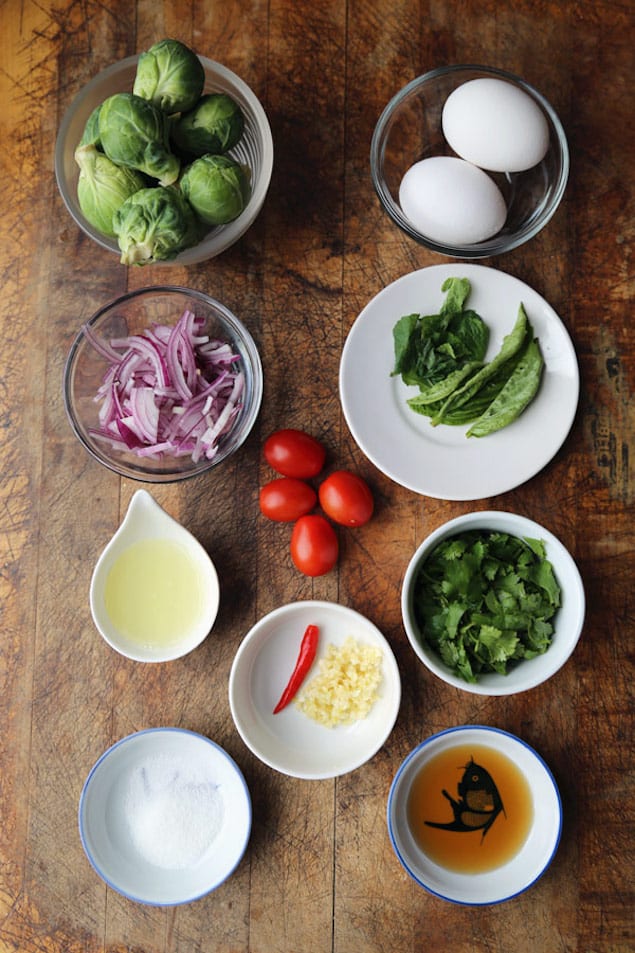 With that in mind I added a fried egg, some fresh herbs and made a quick dressing with Thai chiles, garlic, fish sauce, sugar and lime juice. I wanted to add a nice pop of color so I dropped a few cherry tomatoes and just like that, a Thai egg and Brussels sprout salad was born. Hot, pungent and salty with hints of sweetness from the cherry tomatoes and red onion… This salad has it all. It's also pretty filling yet is still light and refreshing!
If you are looking for a completely unique way to present Brussels sprout to your dinner table, look no further – this recipe has your name written all over it. And if I can make Thai food like this, believe me, you can too!

Brussels Sprout Salad with Thai Spices
A hot and pungent Brussels Sprout Salad with authentic Thai flavors and egg.
Ingredients
½ pound Brussels Sprouts (about 15, medium size)
2 tbsp vegetable oil
2 large eggs
4 cherry tomatoes, sliced in half
½ small red onion, finely sliced
½ cup cilantro, roughly chopped
¼ cup mix of fresh basil and mint leaves, roughly chopped
For the Dressing:
2 garlic cloves, finely chopped
2 tbsp fresh lime juice
1 tbsp fish sauce
1 tsp granulated sugar
1 Thai chili, finely chopped
Instructions
Bring a medium size pot of water to boil.
Sliced Brussels sprouts in half and add to the boiling water. Cook for 5 minutes, drain and set aside.
Whisk the eggs in a small bowl.
In a medium size pan over high heat, add oil and eggs and fry for on each for about 2-3 minutes, until the omelet is golden brown.
Transfer the omelet on to a plate and add Brussels sprouts to the pan. Fry for 5 minutes, until they are lightly charred. Turn off the heat and transfer the Brussels sprouts on to a plate.
Slice the omelet into bite size pieces and set aside.
Mix all the ingredients for the dressing in a bowl and stir well, until the sugar has dissolved.
Put all the ingredients for the salad in a mixing bowl, pour the dressing over and toss well.
Transfer to a serving bowl or plate and eat warm or cold.
Caroline Phelps
I live in Brooklyn with my husband and adorable orange cat but I'm originally from Montreal, Canada. I'm of mixed heritage; my mother is Japanese and father French Canadian. I started a food blog back in 2010 as a way to keep track of all the recipes I was creating in my kitchen. Since then my recipes have been featured in Bon Appetit, Today, The Cooking Channel, The Kitch and Huffpost to name a few. Blogging is a lot of work but I love what I do. I now have over 350 recipes and I am also growing my YouTube channel with video recipes.