PARTNER POST: Let Pomì's premium quality, Italian tomatoes bring the fresh and healthful taste of Italy to your cooking, no matter the cuisine.
A comforting Italian dish, this tomato seafood stew, or Brodetto di Pesce, is a perfect winter dish soaked up with a good loaf of bread.
Brodetto di pesce (seafood broth) is an authentic, Italian dish. A delicious selection of seafood is cooked in a tomato broth flavored with wine and garlic. It's comfort food for seafood lovers.
San Francisco has their cioppino, but did you know Italy has their own versions? Depending on what region they are from, they are all called different names. Today's recipe is from the home of Pomì tomatoes, the region of Emilia Romagna (and one of my favorite places to visit). They call it brodetto di pesce. Not quite soup or a stew, it's more like something in between.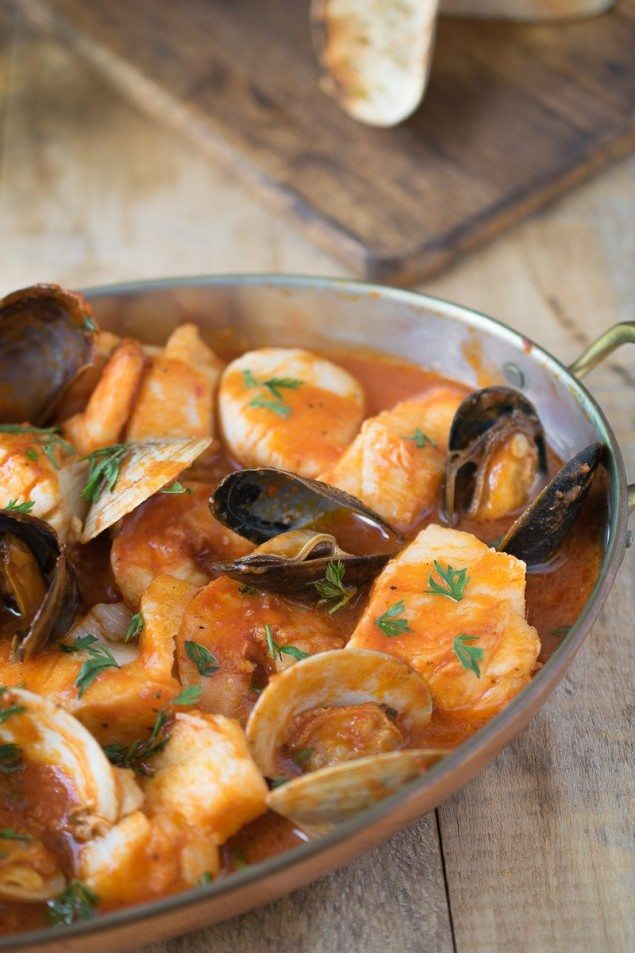 I am excited to be working with Pomì tomatoes for this recipe to introduce their new organic line of tomatoes and brodetto di pesce is a delicious way to showcase this popular seafood dish.

We are in the midst of the holiday season and for Christmas Eve in my house we celebrate the feast of the seven fishes to honor my husbands Italian heritage. For Christmas Eve, Italian-Americans practice a partial fast serving seafood instead of meat. The seven fishes are usually spread over many courses and this brodetto di pesce would be one of the courses using five of the fishes.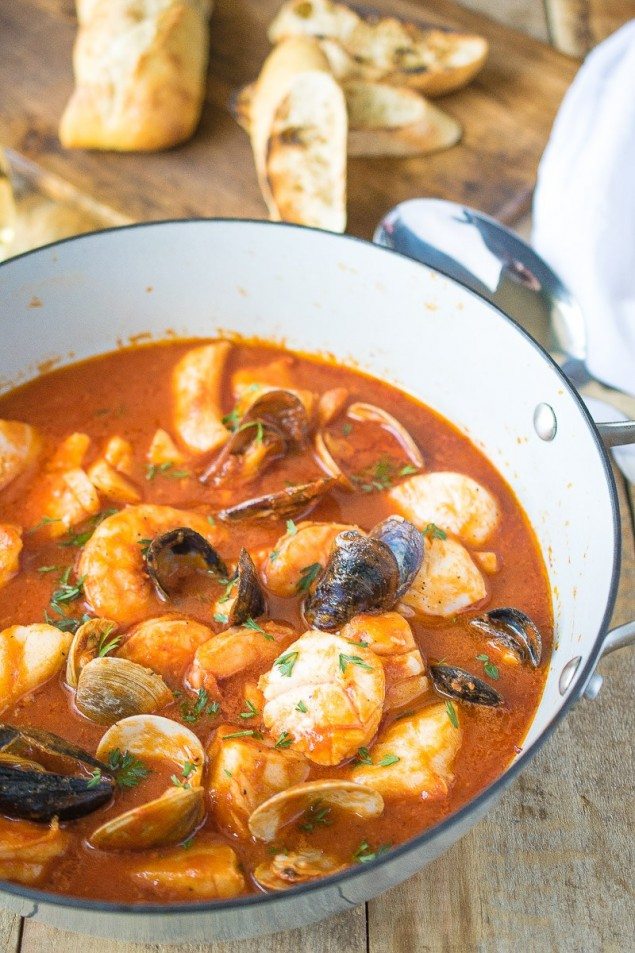 My favorite aspect of this dish (besides eating it) is how quickly it comes together. After you have gathered the ingredients, there's only 10 minutes of cooking time because seafood cooks quickly so this is perfect for entertaining. I made this dish in a large cast iron pan that I bring to the table to the pan so everyone can help themselves. Don't forget lots of bread to soak up the delicious tomato sauce.
For more healthy and easy recipes, click on the image above for their FREE cookbook!

Brodetto di Pesce: Tomato Seafood Broth
A comforting Italian dish, this tomato seafood stew, or Brodetto di Pesce, is a perfect winter dish soaked up with a good loaf of brea
Ingredients
1 tablespoon olive oil
3 cloves garlic, finely chopped or grated
¼ teaspoon red pepper flakes
¾ cup Pinot Grigio or any dry white wine
8 ounces Pomi organic strained tomatoes
Salt
Pepper
1½ pounds assorted seafood clams, mussels, shrimp, scallops and firm fish (I used seabass). Scrub the shellfish well.
2 teaspoons fresh parsley, chopped
Crusty bread for serving
Instructions
To a large, heavy dutch oven or saucepan, add the oil over medium-low heat.
Add the garlic and red pepper flakes, cook for 1 minute without browning.
Pour in the wine, stir and allow the wine to reduce slightly.
Stir in the strained tomatoes, salt and pepper. Turn up the heat to medium and bring to a simmer.
Add the clams and mussels and stir, cover the pan and steam for 5 minutes until all the shellfish are open.
Season the shrimp, scallops and seabass evenly with salt and pepper, then add to the pan. Stir to coat in the sauce and cook for an additional 5 minutes.
If any of the shellfish do not open, discard them.
Serve warm garnished with parsley and bread.