Situated just outside of Cleveland, Ohio, you will find Flour restaurant. A traditional Italian eatery opened by Chef Paul Minnillo and Matt Mytro, Flour is keeping things real while leaving the all too trendy term "rustic" in the past. The sleek dishes that emerge from their kitchen, run by Chef Matt Mytro, are memorable and truly unique. Believe me, their chorizo stuffed dates, cozily wrapped in pancetta will haunt your tastebuds long after you have left.
http://flourrestaurant.com/
http://flourrestaurant.com/
Originally known for their pizzas, Flour goes beyond the staple pie and serves fresh pastas, gnocchi, and authentic secondi dishes like their mouth watering porchetta alla romana. Another favorite is their braised Certified Angus Beef® brand short ribs plated alongside truffled potatoes and black cipollini onions which take Italian comfort food to a whole new level.
Although Matt Mytro did not grow up in an Italian household where he learned the secrets of the culture by spending afternoons with Nonna, he did become inspired early on in his career. His mentor helped him appreciate the wide and varied influence of Italian food that eventually brought him to run the successful kitchen at Flour. Staying true to Italian culture, Chef Matt seriously focuses on the ingredients he cooks with. Bringing a modern twist to classic flavors allows the restaurant to create composed dishes, rather than relying on a rustic feel that can leave an expectant diner underwhelmed.
Bringing even more Italian authenticity to Ohio, Chef Paul Minnillo has created an impressive cured meat selection from his surroundings. Rather than sourcing back to Italy, Flour aims to keep things a bit closer to home. Traditional sausages and salumi come from their friends, Salumeria Bilellese in New Jersey. The family are descendants from Italy's Piedmont region and they have be making mouthwatering meats since 1925.
Every chef has a favorite flavor or ingredient that seems to change by the week, or even the day. Matt Mytro's current "it" ingredient that he has been experimenting with is a chili that hails from the Calabri region of Italy. This long, narrow peninsula located in the southern region and has a mild climate and an economy that is largely dependent upon agriculture. The chili pepper that comes from Calabri is unique, just like each area of Italy and the foods that come from every region. We can understand why Chef Matt has fun cooking with the well-balanced Calabrian pepper. "I love their spicy […] earthy properties which provide a well-rounded flavor, without overpowering a dish." At Flour, Matt uses the chili not only in the memorable chorizo stuffed dates but also to make a simple chili butter. The butter balances the heat of the pepper and allows it to be swirled effortlessly into Flour's pasta and clam dish. It's these new ingredients and ideas that keeps Matt and his hard-working team engaged and excited to come to the kitchen each day to create with beautiful Italian flavors.
Sticking to the terrior of the area,  Matt Mytro is honest with his ingredients. If there is an Italian ingredient that is hard to come by or grow in Ohio, you probably won't find it on Flour's menu. Instead he relies on local flavors to bring traditional Italian dishes to a white-tablecloth level. Surrounded by great Ohio soil and farming, it would be senseless to ignore the beautiful ingredients grown near the restaurant when trying to recreate the flavors of a country that has always prided itself on regional cooking.
http://flourrestaurant.com/
 From the fall season and straight into winter, you might find Chef Matt whipping up a batch of his grandfather's stuffing for a casual setting with close friends. The dish is layered with brioche, sausage, and any ingredients that are available at the time. His staple dish may be different every time, but it is always true to the season and land, just the way an Italian would have it. The refined, honest cooking that Matt Mytro and his team create in the Flour kitchen pays great homage to Italian cuisine and the people of Cleveland who love to eat it.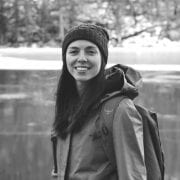 Annelise McAuliffe
Mandatory family outings to the Detroit farmers' market and nightly home-cooked meals cultivated Annelise's respect and curiosity for food. A graduate of The Culinary Institute of America, she spends her free time in New York City recipe testing, eating breakfast all day, and dreaming up international culinary adventures.