These moist, golden brown rolls will steal the spotlight on your dinner table and a topping of parsley and pomegranate makes them even more celebratory.
By Chris Scheuer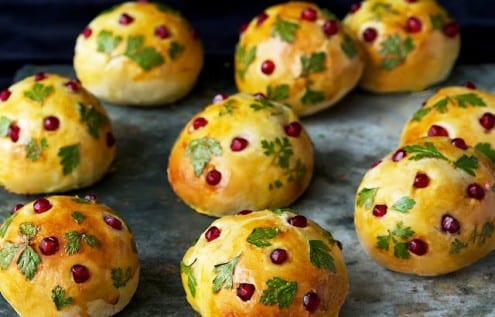 Brioche Rolls with Parsley and Pomegranate
These moist, golden brown rolls will steal the spotlight on your dinner table and a topping of parsley and pomegranate makes them even more celebratory.
Ingredients
½ cup warm water, 105-115? F., if you're not used to working with yeast, use a thermometer
1 tablespoon dry yeast
4 large eggs, at room temperature
? cup granulated sugar
2 teaspoons kosher salt
3 ½ cups all-purpose flour
½ cup softened butter
1 egg, beaten
2 teaspoons water
flat leaf (or Italian) parsley leaves, for garnish (Curly leaf parsley does not work as well.)
¼ cup pomegranate arils or seeds, for garnish
Instructions
Warm a medium size bowl by filling it with hot water and letting it sit for 5 minutes. Once your bowl is nice and warm, pour out the water and add the ½ cup water to the bowl. Add yeast and stir. Let yeast mixture sit until bubbly and foaming, about 5 minutes, then add ½ cup flour. Stir well to combine and set in a warm place* until batter rises up and then begins to fall. This will take anywhere from 40-60 minutes, depending on how warm your kitchen is.
Transfer yeast mixture to the bowl of an electric mixture with dough hook attached. (If you don't have an electric mixer this can be done by hand, use a strong wooden spoon for mixing.) Add eggs, sugar, salt and remaining 3 cups of flour. Mix, with the dough hook, starting on low speed until most of the flour is incorporated, then increase speed to medium and mix for 5 minutes.
Add the soft butter and mix on a medium speed until it's fully incorporated and the dough is smooth and elastic, about 2-3 minutes. Scrape down the sides of the bowl once or twice during this mixing. Dough will look smooth and shiny. It will still be a bit sticky
Cover dough with a clean towel and allow to rise in a warm place until doubled in size, 45 minutes to 1 hour. May take a bit longer if you don't have a nice warm area for dough to rise.
Line two sheet pans with parchment paper or grease lightly.
Place the dough on a well floured work surface. Turn the dough to coat with flour. Cut into 14-16 equal pieces. Coat each piece with flour and form into smooth round balls. If you're not used to shaping dough into balls, here's a great tutorial from Fine Cooking. Place dough balls on the prepared sheet pans. Cover rolls with clean kitchen towels, place in a warm area and allow to rise until doubled in size, about 25-30 minutes.
Preheat oven to 350?F. Combine egg and the tablespoon of water and whisk vigorously to combine. Place pomegranate seeds on top of several layers of paper towel to drain off any juice.
Brush tops of the buns with this egg wash, then place one or more parsley leaves on top of each one. With your finger rub over top of each leaf to flatten to the surface of the roll. Brush with more egg wash.
Bake for 15 minutes or until light golden brown. Remove from oven and, working quickly with the sharp end of a wooden skewer, poke 5 or 6 holes randomly into each roll. Twist skewer slightly after piercing to enlarge the hole just slightly. Stick a pomegranate seed, bright red side up, into each hole. The top of the seed should be just slightly be just slightly protruding above the surface of the roll. Brush rolls again, very lightly, with egg wash
Bake for an additional 5-7 minutes or until deep golden brown. Cool on a cooling rack. Serve warm or at room temperature.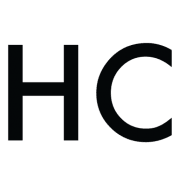 Chris Scheuer
Crescentia "Chris" Scheuer is the creator of The Café Sucré Farine food blog, which has been hugely successful since its inception in March 2011. Her recipes are seen on Foodgawker, TasteSpotting, Gourmet Live, Bon Appétit Bloggers, Foodista and other international food sites. Her inspiration for creating new, innovative cuisine comes from an insatiable curiosity, a love of travel and family connections in the UK. She has taught cooking classes in Raleigh, NC, USA.