Suzie Castello serves a delicious, chocolate, fudge-like treat popular at Brazilan birthday parties.
By Suzie Castello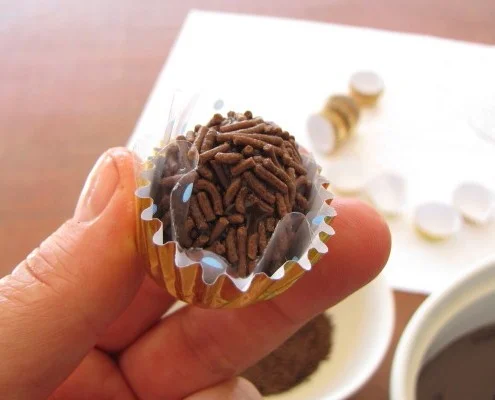 I made brigadeiros for my daughter's 10th birthday party last week. They are the bite-sized balls of chocolate fudge rolled in sprinkles served at birthday parties across Brazil. Delicious and unctuous, a perfect dose of sweet and goo, the succinct harmony of just three ingredients:chocolate, sweetened condensed milk and butter. So easy to make and carry along, no wonder they are loved here. For the last 13 years that I have lived in Brazil, I have never been to a birthday party that did not serve brigadeiro in some form or another.
The most common form of brigadeiro are the little balls. They are formed by rolling the cooled brigadeiro mixture between buttered hands into balls that are then coated in some kind of sprinkles, most often chocolate. In the last few years the variety of sprinkles has exploded and has too the variety of brigadeiro.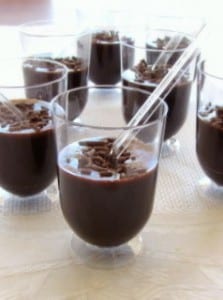 Another popular way to serve brigadeiro at parties is in t iny cups with equally tiny spoons. This is tremendous fun for little hands (or larger ones) and harks back to the homey origins of brigadeiro de colher or spoon brigadeiro. Spoon brigadeiro is mostly served at home. As a child, comfort and love was conveyed by way of a warm plate of chocolate chip cookies. Here it is through a pan of spoon brigadeiro. It is simply the cooled brigadeiro mixture eaten with a spoon, either from a large dish or directly from the pan. Many swear that it is the best remedy for migraines, PMS or any other ailment that could serve as an excuse to dive into a panful of just cooled brigadeiro all by yourself.
Brazilians use brigadeiro mixture beyond parties and pan-diving indulgence. They use it to frost cakes, fill pies and spread over pizza dough. Yes, there is even brigadeiro pizza that comes covered in chocolate covered bonbons. A whole industry surrounds brigadeiros and the part they play at parties. Cake tables are covered in brigadeiros proudly sporting every type of sprinkle imaginable (tiny hearts, sparkling stars, chocoballs, colored sprinkles, mini-m&ms…), sitting in colorful, pleated, foil papers and ruffled liners to match with party themes like My Little Pony or Spider-Man. There is canned brigadeiro mixture. Just open the can and roll in you your favorite sprinkles. But if I don't feel like making them, not even from a can, I can always order brigadeiros from the neighborhood doceira who runs a candy business out of her home. Such heroes are the backbone of the brigadeiro and birthday party industry here, filling last-minute orders so no party will be without.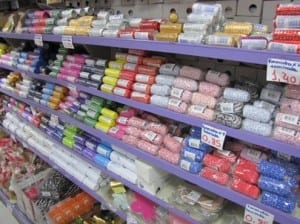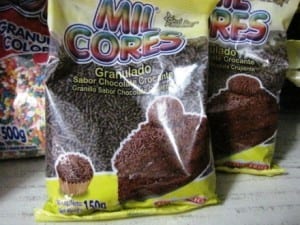 In the larger cities gourmet brigadeiro shops are now becoming all the rage. It seems the brigadeiro is suffering the same transformations that the once simple American cupcake, for better or for worse, has endured. Shops such as Donna Brigadeiro and Brigaderia Fashion in Rio de Janeiro, and Maria Brigadeiro in São Paulo, offer luxurious brigadeiros made of fine chocolate, covered in slivered almonds, pistachios, curls of Belgian chocolate, and the like. These places really do make wonderful sweets. There is nothing better for an afternoon fix of chocolate and cafeine than a really good brigadeiro alongside a well-made espresso. Humble or fashionable, brigadeiro is a part of every level of Brazlian culture.
Why are these little chocolate wonders called brigadeiro? Yes, that is Portuguese for Brigadier. Apparently the little fudgy sweets were made and sold by supporters of the Brigadier Eduardo Gomes during his run for the presidency during the late 40s. Gomes lost to Eurico Gaspar Dutra but his sweets live on to today.
Brigadeiro seems like fudge. It is like fudge, only easier. There are traditional brigadeiro recipes from the past that highly resemble fudge in that they included milk, sugar and butter cooked to the softball stage. Somewhere along the way, sweetened condensed milk became the chosen vehicle to make brigadeiro. But, what a minute, fudge changed too! Now it has sweetened condensed milk or melted marshmallows or corn syrup. These changes probably happened out of convenience.
Also like fudge, brigadeiro recipes are mostly chocolate but there are some variations without chocolate that use other flavors like nuts or coconut. Cajuzinho (little cashew) is made with sweetened condensed milk, butter and sometimes ground cashew nuts but more commonly peanuts, while Beijinho(little kiss) is made with sweetened condensed milk, butter, coconut and topped with a clove. Thick strands of brigadeiro, some made with chocolate and some without, rolled in sugar and twisted around each other are called Casadinho (little married ones). I've even seen sweetened condensed milk and butter cooked with lime-flavored gelatin packets then rolled in matching green colored sprinkles for a Green Lantern birthday party. That's getting really close to kool-aid pickles for my tastes, but it is just an example of where the possibilities may lead.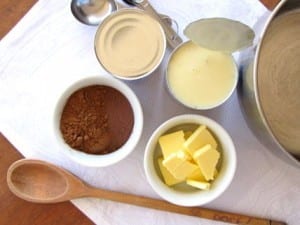 Brigadeiro is very easy to make. The ingredients are very accessible for any Brazilian budget. Of course, you could make gourmet brigadeiro from the best chocolate and homemade sweetened condensed milk, but that would rob, I think, a little of its authenticity. The most common way to make brigadeiro is with store bought ingredients that almost every Brazilian and American household has on hand every day: canned sweetened condensed milk and chocolate milk powder. I guess that is also part of the appeal. After a bad day, you want something you can whip up at home to give you instant comfort. I've found that standing and mixing a pan of cooking brigadeiro is therapeutic. It must be the chocolate steam.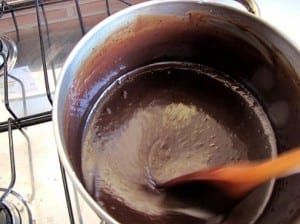 I go for a high-low sensibility in my recipe for brigadeiro. It differs from the traditional recipes in that I replaced ½ the chocolate milk powder with cocoa powder. Yes, the cocoa is considered a little snooty in my neighborhood but I found that it adds richness and real chocolateness, and I feel the need to crank down the cloying sweetness found with some chocolate milk powders. Cocoa is not an ingredient found in typical brigadeiro recipes, but I find it works very well. But I don't give up the chocolate milk flavor all together. I use Nescau, Brazil's version of Nestle's chocolate milk powder (of course you can use your favorite brand). I find it is necessary for authenticity. Making brigadeiro with real chocolate, which you are absolutely welcome to try, and which I bet it would be incredibly delicious, is just not the Brazilian brigadeiro I have come to know. Who am I to say what is Brazilian, but making brigadeiro without chocolate milk powder would be like making barbecue sauce without store-bought ketchup. It would probably be marvelous to make from homegrown, oven-roasted tomatoes, and would probably go over really well in parts of California, but some element would be missing. There is a quality to that cannot be re-created by doing it all by hand. Authenticity is a slippery subject, so I'll just leave it at that.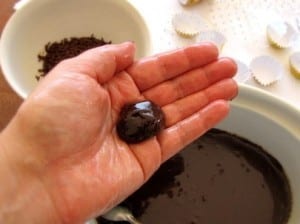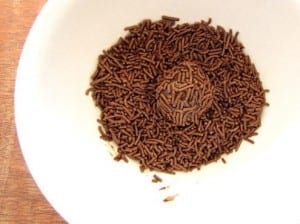 The recipe also calls for sweetened condensed milk; again store-bought, but knock yourself out and make your own if you like. The butter? I find the best results are with unsalted butter. I guess you could use margarine if it were the only thing you had in the house. If you're making this to better a ruined day, I don't want to make you go out and buy butter. Let's not kill the pleasure by making extra work. Personally, I like brigadeiro without the sprinkles, even for a party. I like to serve them in the little cups. Anyway, this is the way I like my brigadeiro.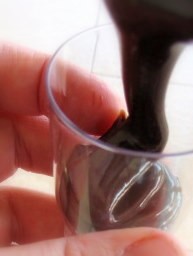 I hope this post inspires you make brigadeiro at home. Use this recipe as a jumping off point for your own creativity. Take your direction high or low, or both. I think a white chocolate birgadeiro rolled in macadamia nuts would be divine. I'd make them if I could get my hands on some macadamias. I still dream about abrigadeiro I had rolled in Ovaltine. Please let me know what directions you take with the recipe. Leave your comments. I'm very curious what will come of a brigadeiro recipe in the hands of a bunch of creative readers.
Print
Brigadeiro
A delicious, chocolate, fudge-like treat popular at Brazilan birthday parties.
Author:

Suzie Castello adapted from Juliana Motter

Prep Time:

1 hour

Cook Time:

10 mins

Total Time:

1 hour 10 minutes

Yield:

30

candies

1

x
1

can of sweetened condensed milk (

15oz

or

395g

)

2 Tablespoons

(30ml) of cocoa powder

2 Tablespoons

(30ml) of your favorite chocolate milk powder

2 Tablespoons

(30ml) of unsalted butter, plus more for buttering the cooling dish and your hands
About

1 ½ cups

(150ml) sprinkles, grated chocolate or other coating for rolling

30

small pleated paper cups or squares of parchment for serving
Instructions
Butter a shallow porcelain dish that could hold a quart of liquid.
Put the sweetened condensed milk, cocoa, chocolate milk powder and 2 tablespoons of butter in a heavy bottomed sauce pan over a low heat.
Mix the ingredients with a wooden spoon continually over the heat for about 7 minutes, making sure that the mixture doesn't burn. At about the 7 minute point, observe the mixture. It will start to darken and become very thick, making it more difficult to stir. You will start to see the bottom of the pan more clearly. When the mixture seems more like a dough and less like a batter, it starts to make a "schlack, schlack" noise, and it seems to come away from the pan easily, it is done. This should take about ten minutes cooking time. Remove from the heat and continue stirring the mixture for another minute to let it cool off evenly, avoiding the mixture from burning in the still hot pan.*
Immediately transfer the mixture to the buttered dish and let cool.
Put the sprinkles or other coating into a separate dish.
To mold the brigadeiro into balls, take a teaspoonful of mixture and roll it between your buttered hands. Transfer the ball to the dish of sprinkles and roll it around to coat all sides. Transfer the ball to a pleated paper cup or square of parchment for serving. Keep in an airtight container for up to 3 days.
Notes
*About cooking time: See, that wasn't so bad, and we didn't even have to use a candy thermometer. If after the mixture is cooled, it is still not thick enough to roll, put it back in the pan and cook it some more. If the mixture has cooked too much, and has become a hard crystallized chocolate candy, I'm sorry, you don't have brigadeiro, but you have a really, awesome harder chocolate fudge that melts in your mouth. Once I broke this into pieces and used it in the place of chips in a chocolate chip cookie recipe that caused howls of joy at my daughter's school Christmas party.
To Make Spoon Brigadeiro or Brigadeiro de Colher
Makes about 30 tiny cups
2 cans of sweetened condensed milk (30oz or 790g)
4 Tablespoons (60ml) of cocoa powder
4 Tablespoons (60ml) of chocolate milk powder
4 Tablespoons (60ml) of unsalted butter
In a heavy-bottomed sauce pan combine all the ingredients. Heat the mixture stirring constantly for 7 minutes. Be careful not to burn the mixture. Remove from heat and continue stirring for another minute. If you wish to serve the spoon brigadeiro in a presentable way, transfer it immediately to a serving dish, or to tiny party cups. If you're making it to share more intimately, let it cool in the pan. You'll only be able to remove later with a lot of licking and scraping.
If you really love sprinkles, you can decorate each tiny cup serving with a sprinkle of your favorite topping. Keep the cups covered in an airtight container for up to 3 days.
For further reading (sorry only in Portuguese) see O Livro do Brigadeiro by Juliana Motter, who is also the chef-patissière of Maria Brigadeiro in São Paulo.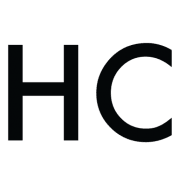 Suzie Castello
Suzie Castello is an American writer living and raising a family in a small town in the mountains just outside Rio de Janeiro. She writes about finding ways to cook, with the regional ingredients, dishes that tell her life story, from childhood in the States to travels abroad, and anything new discovered along the way. She is also the Editor of Da Minha Cozinha, a Portuguese-language blog about honest home-cooking.