A rich, lavish take on pizza made with brie cheese, caramelized onions and slivered almonds.
By Erica Scime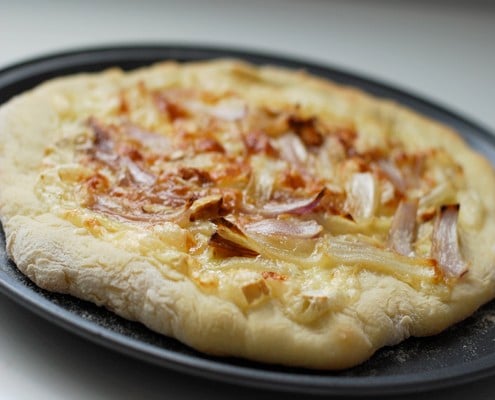 I just can't get enough brie cheese. Spread roughly onto a piece of crusty bread at a picnic, baked and slathered with cranberry sauce at my boyfriend's house on a cool, fall evening or tucked into a grilled cheese sandwich with a few slices of apple – there are so many ways to enjoy brie!But one of the best ways that I have ever enjoyed brie is on top of a slice of pizza, melted until it is as rich and creamy as only brie can be.
The other day, I indulged in a brie pizza of my own with caramelized onions for a bit of sweet and slivered almonds for a bit of crunch. The end result was so elegant. With a glass of white wine, this brie pizza was the perfect way to unwind after a long, long week.

Brie and caramelized onion pizza
A rich, lavish take on pizza made with brie cheese, caramelized onions and slivered almonds. It is creamy, crunchy and quite a treat!
Ingredients
½ wheel of brie cheese
1 ball of pizza dough
1 tbsp of olive oil
½ cup of red onion, sliced
½ cup of white onion, sliced
1 tbsp of brown sugar
¼ cup of almonds, slivered
Instructions
Heat the oven to 375°F.
Flour a counter or other surface and spread out the pizza dough. (You can use homemade or store bought dough, either whole wheat or white. Its up to you!) Use your hands and/or a rolling pin to stretch and flatten the dough until it is as thin as you like. (But this kind of pizza is best on thin crust.) Use a docker, if you have one, to get rid of any air bubbles. Now, spread your dough on a baking tray and place it in the oven for about 10 minutes.
While the dough is baking, place the olive oil and onions in a pan over low heat and cook for a few minutes. Then, add the brown sugar and cook for a few more minutes or until the onions are clear and beginning to brown. Then toss in the almonds and cook for just a few minutes longer. Remove from heat.
Now, slice the brie into large circles and set aside.
Once the dough is close to being cooked, remove it from the oven. Place the brie on top of the pizza dough and then the onions and the almonds. Place the pizza back in the oven for another ten to 15 minutes or until the crust is crispy and light brown.
Erica Scime
Erica is a food, health and wellness writer who loves bringing together fresh, local ingredients from the farmers market and bold, beautiful flavours from around the world. Find more on her blog, The Mindful Mouthful.