Breakfast in Bed – Baked Eggs with Spinach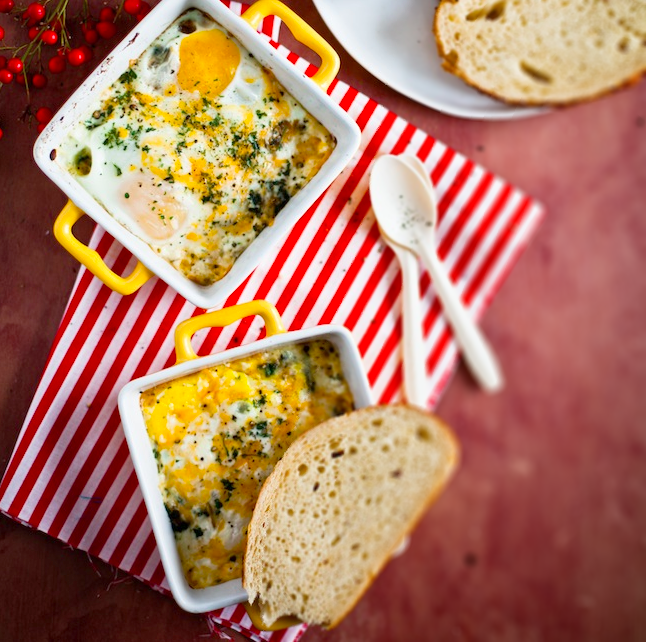 Baked eggs with spinach and toast is one of Kankana Saxena's favorite weekend breakfasts; it's easy, always effortless and so quick to make.
By Kankana Saxena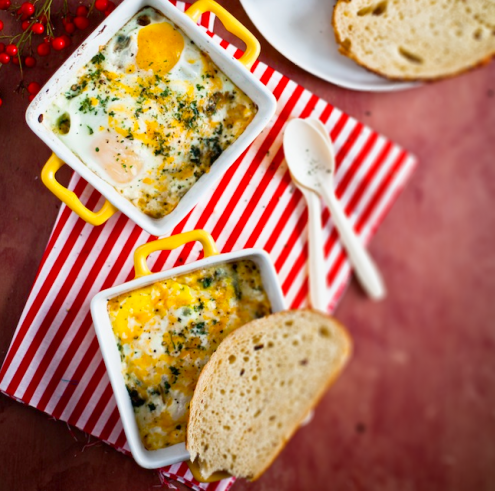 Baked eggs with toast is one of my favorite weekend breakfasts; it's easy, always effortless and so quick to make.
Ingredients
4 eggs
Couple handful of fresh spinach, roughly chopped
1 medium onion, thinly sliced
1 garlic cloves, grated
1 teaspoon chili flakes
1 tablespoon dried oregano ( or any other herb of your choice)
½ cup grated pepper jack cheese( or any other of your choice)
½ cup heavy cream
salt
pepper
oil
Instructions
Preheat the oven to 375F
In a pan heat some oil and sauté the garlic with onion until it's translucent. Season with salt and pepper
Add the spinach and cook for about two minutes.
Pour the cooked onion and spinach in two individual oven safe containers.
Add little bit of cheese on top followed by little bit of chili flakes and dried oregano
Now, very carefully crack two eggs in each of the container ( or one, depending on how small or big your oven save container is)
Next, pour the heavy cream, add the remaining cheese and add some freshly cracked peppers top.
Baked it for about 20 minutes or until the egg is cooked.
Serve immediately with some toasted bread.
Notes
Please note the cooking time will differ from oven to oven. My husband likes well-cooked eggs but if you prefer medium cooked eggs, yours should be done by 15 minutes.
Kankana Saxena
Kankana Saxena shares culinary journey, travel stories and passion for photography in her blog 'Playful Cooking'. Her cooking style is mostly nutritional with little bit of indulgence here and there. She believes in the mantra 'homemade is happiness'! She is a native of India but currently resides in Santa Clara, California with her husband.