The mix of vibrant, contrasting colors and flavors created an incredible vegetarian entree, this sweet potato flatbread with sage and ricotta.
By Kara and Marni Powers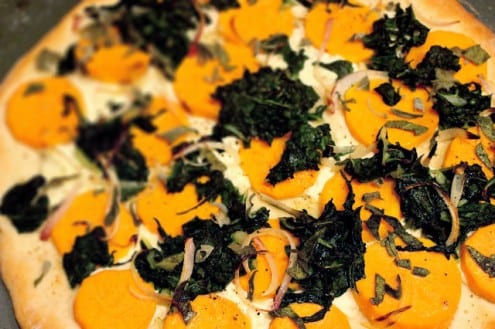 Sweet Potato Flatbread with Sage and Ricotta
The mix of vibrant, contrasting colors and flavors created an incredible vegetarian entree, this sweet potato flatbread with sage and ricotta.
Author:
Kara and Marni Powers
Ingredients
1 large sweet potato, cut into ⅛-inch thick rounds
EVOO
1 clove minced garlic
1 lb bunch Swiss chard, stems removed (save them for another time!) and chopped
½ red onion, thinly sliced
1 lb pizza dough, at room temperature
½ c ricotta cheese
¼ c Parmigiano Reggiano cheese
2 T chopped fresh sage
salt and pepper throughout
Instructions
Preheat oven to 450 degrees Fahrenheit.
Add the sweet potato slices to a medium pot of salted water and bring to a boil. Cook for 3-5 minutes, until the sweet potatoes are not fully cooked but al dente. Remove the sweet potatoes to a paper towel and pat dry.
In a large skillet, heat 1 T EVOO over medium heat. Add the minced garlic and sautee for 2 minutes. Add the Swiss chard leaves, salt and pepper sautee, about 5 minutes until wilted. If need be, add a few spoonfuls of hot water to speed up the wilting. Remove from heat and set aside.
Heat another 1 T EVOO in the same skillet over medium heat. Add the sliced red onion, salt and pepper, and sautee for 3-5 minutes until softened. Remove from heat and set aside.
On a floured surface, roll out the pizza dough with a floured rolling pin from the center outward. Feel free to make whatever ¼-inch thick freeform shape you would like. Brush a baking sheet with EVOO (or feel free to use a pizza stone if you have one). Transfer the flattened dough to the oiled baking pan and brush the surface with 1 T EVOO. Scatter dollops of the ricotta atop the surface and spread with a spatula, leaving a 1-inch border for the crust. Evenly sprinkle the Parmigiano Reggiano cheese on top. Cover the cheeses with the sliced sweet potatoes, swiss chard, and sauteed red onions. Sprinkle with the chopped sage leaves, salt, pepper and a drizzle of EVOO. Bake for about 12-15 minutes, or until the crust is golden.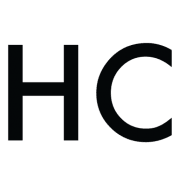 Kara and Marni Powers
Kara and Marni Powers are twin sister cooks, dining and blogging their way through Boston's North End and beyond. They see the act of cooking and entertaining as a form of creative expression, an art that encourages the mixing of flavors, spices, techniques and stories. Their interest in cooking dates back to their Greek grandmother's open-arms approach, letting them taste her savory creations like her famous spanakopita. Kara and Marni's fascination with food and culture continued during their travels abroad in Europe where they saw firsthand the limitlessness of cooking.