A healthier and seasonal version of a favorite Indian appetizer, the eggplant pakoras.
By Chitra Agrawal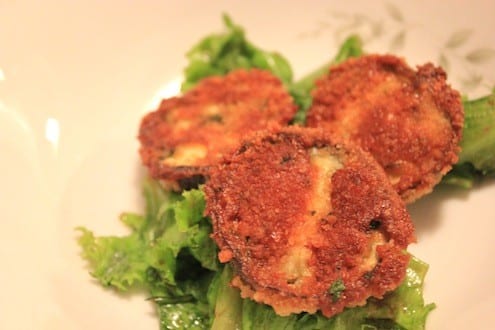 Pakoras are a North Indian appetizer, made out of vegetables that are battered in chickpea flour and water and then deep fried.  I wanted to make a variation of this recipe that was not deep fried out of a few ingredients I had leftover from my farmshare: Japanese eggplant, eggs, parsley and Romaine lettuce.
I ended up making the batter out of an egg, some Greek yogurt, chili powder, cumin, salt, and parsley.  I coated the eggplant first with some chickpea flour, before dipping it in the batter and Panko.  Panko are Japanese breadcrumbs which give you the most crunch, but you can use any bread crumbs that you have. Then I shallow fried the pakoras until crisp and browned.  The recipe worked and I made it for my dear friend Julie who was leaving town:(
I served them over some greens, coated with a little oil and sherry vinegar.  I feel like this would be a great way to cook the eggplant for eggplant parmesan – kind of like an Indian version of it. Stay tuned for that recipe once I make it.
Breaded Eggplant Pakora Over Greens
A healthier and seasonal version of a favorite Indian appetizer.
Ingredients
2 tablespoons oil
1 Japanese eggplant, sliced ¼ inch thick
1 egg
2 heaping tablespoons of Greek yogurt
¼ teaspoon chili powder (depending on how hot you like it)
⅓ teaspoon cumin powder
1 tablespoon parsley, chopped
¾ cup Panko or other bread crumbs
½ cup chickpea flour
half small head of Romaine lettuce, roughly torn
3 tablespoons olive oil
1 tablespoon sherry vinegar
salt and pepper to taste
Instructions
Slice eggplant into ¼ inch discs.
Place on a plate and sprinkle with salt.
Let the eggplant sit for a half hour. The eggplant will have given off some water.
Wipe the water and salt off of the eggplant when it's time.
In a bowl, beat the egg.
Mix in the Greek yogurt, chili powder, cumin powder, parsley and salt.
Line a plate with the bread crumbs.
Line another plate with the chickpea flour.
Put the eggplants in the plate with the chickpea flour and coat them all with the flour.
In a non-stick fry pan, heat oil under medium heat.
While the oil is heating, take each eggplant piece one at a time and dip them in the batter, then the bread crumbs and then place them in the hot oil. Try to do this as quick as possible so they all cook for the same amount of time.
Turn the heat to between medium and medium-low.
Cook the eggplant until browned on one side and then flip them over (4-5 minutes) to cook on the other side (3-4 minutes). If they start cooking too fast on the outside, just turn the heat down and cover them with a lid.
When cooked, place the eggplant in a bowl lined with a paper towel.
Assemble greens in a bowl or plate and lightly toss with olive oil, sherry vinegar, salt, pepper (Depending you may have some dressing left).
Place eggplant fritters on top and serve.
If you have any dressing left, you can drizzle a little on top.
Chitra Agrawal
Chitra writes the food blog, The ABCD's of Cooking, which chronicles her adventures cooking American Born Confused Desi recipes. When she is not recipe blogging, Chitra can be found hosting her online cooking show and a supper club featuring Indian-inspired, vegetarian cuisine. She also teaches cooking classes and sells Indian street foods (sometimes yummy Indian tacos!) at events and artisanal markets in Brooklyn. Her cooking has appeared in the New York Times Dining Journal and she is a contributor to The Huffington Post, Gojee, The Daily Meal and Brooklyn Based.