Brazilian-Style Pork Ribs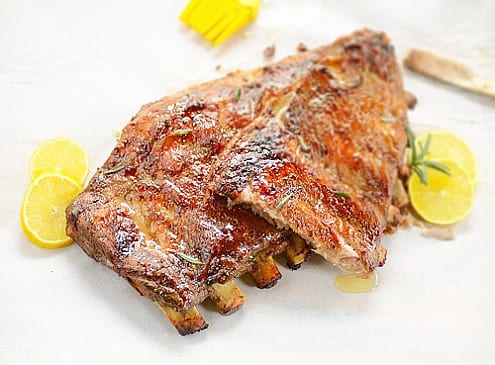 Fall-off the bones, caramelized pork ribs, prepared in the oven to be enjoyed all year round.
By Denise Browning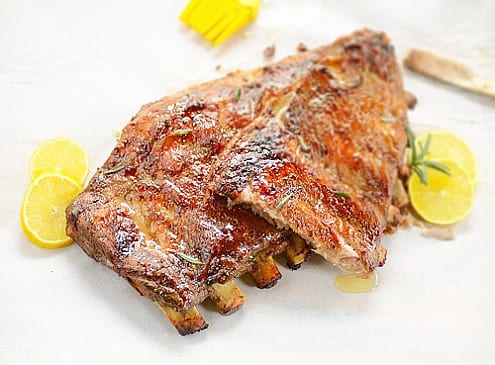 There are a variety of ways to both marinate and cook costela de porco (pork ribs) in Brazil. This one was prepared in the oven instead of on the barbeque grill. In this way, the dish can be enjoyed all year round regardless of the weather. We suggest to serve it accompanied by creamy polenta and couve à mineira (chiffonaded, sauteed collard greens).

Brazilian-Style Pork Ribs
Fall-off the bones, caramelized pork ribs prepared in the oven to be enjoyed all year round.
Ingredients
4 teaspoons salt (1 teaspoon per pound or ½ kg)
4 garlic cloves, minced
1 medium white onion, chopped
1 teaspoon ground black pepper
1-1/2 teaspoons Dijon mustard
1-1/2 teaspoons Worcestershire sauce
1 teaspoon dried oregano
¼ teaspoon ground cumin
1 teaspoon malagueta pepper or jalapeño
½ cup apple cider vinegar
4 pounds ( about 2 kg) pork spareribs (whole)
Vegetable oil (only for brushing)
Honey
Instructions
Process or blend the first 10 ingredients in a food processor or blender until obtaining a homogeneous mixture. Put the ribs in a large, deep rectangular baking pan, spread the mixture over the ribs and marinate for 1 hour at room temperature.
Preheat oven to 350º F (180º C).
Cover pan with aluminum foil, tightly sealing its edges so that steam will not escape (the ribs will braise in their own liquids and the marinade). Then, let ribs cook in the oven for approximately 1 hour and 50 minutes (25-30 minutes per pound or ½ kg). Reserve the drippings/remaining marinade from the bottom of the pan and then transfer ribs to another large baking pan . Brush top of ribs with the oil and then, honey. Increase oven temperature to 425º F (220º C). Leave the pan uncovered this time and roast ribs for 10-25 minutes or until golden brown. Brush/baste the ribs with the reserved drippings/marinade from the first pan and let sit for 10 minutes before serving. Serve it accompanied by polenta and couve à mineira.
Notes
If you are not overly concerned about the visual appearance, you can leave the ribs braising in the liquids/drippings for an additional 10 or 15 minutes before caramelizing which will result in an even more tender cut of meat. Although in Brazil we don't use honey with meats, I love to brush mine with it because it gives a great balance of flavor to the meat.
Denise Browning
Denise Browning is a native Brazilian foodie, trained Chef, cooking instructor, restaurant menu/recipe developer, and former lawyer. She is also the author of From Brazil To You - a blog that features Brazilian, fusion, and international dish recipes, stories, and photography of Brazil. Her writing has appeared in Cia Brasil Magazine, while her photography is frequently featured on Foodgawker, TasteSpotting, and Foodepix. She lives in Texas with her American husband and two children.