Rouge Tomate serves refined, fresh and healthy fine dining gastronomy in a much too large space.
By Kalle Bergman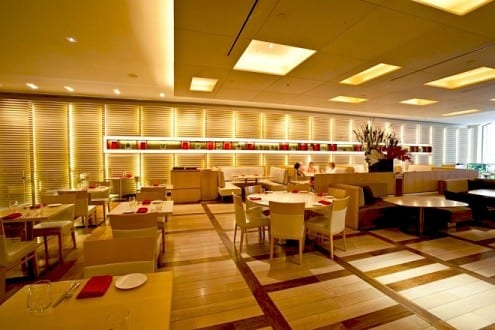 Rouge Tomate is a Michelin starred New York restaurant that prides itself on serving healthy gourmet cuisine. Situated on 60th Street, just by 5th Avenue, it is one of too few restaurants in the lower end of the luxury shopping district of Eastside Manhattan that has a clear culinary direction and a focus that isn't confined to merely pleasing a wealthy but conservative dining audience.
During our more than ten visits to Rouge Tomate, the food has ranged from average to amazing. The former being represented by a rather bland Arctic char a la Plancha where the flavors are simply too delicate to work together, or the squab and foie gras terrine that lands solidly as just another bistro dish. On the amazing side, we have enjoyed a sweet corn soup that made the angels sing. The sweetness of the corn seemed double, triple or even quadruple infused with some sort of magical corn-krypronite that would make even the steeliest of restaurant goer tear up, and surrender with a mindless smile. Luckily, more dishes at Rouge Tomate are amazing than average. The raw bar serves fantastic oysters, and a Hawaiian Walu, freshly presented with avocado, yuzu, fennel and pistachios. Or the Lobster a la Plancha, served decadently – and rather boldly – with poached egg and sea urchin.
One of the main attractions at Rouge Tomate, and one not to be missed even by the most conservative cocktail drinker – is the non alcoholic cocktails. It is one of the prides of the restaurant – serving creative and utterly delicious virgin cocktails that get the same (or perhaps even more) attention than their alcohol infused counterparts. Try the Cucumber Cooler with dill and selzer before dinner, pair your dinner with a Virgin Spring Mojito based on spring pea, yuzu, biodynamic elderflower syrup and mint, and finish off with an Amber Palmer made from jasmine and black tea, rosemary-grapefruit juice and mint. Absolutely stunning, and you won't miss the alcohol a bit.
Rouge Tomate is a large restaurant, even by New York standards. 15.000 sq ft on two levels, it takes a bit of an effort to create a warm and buzzing ambience. At lunch, or early evening, Rouge Tomate therefore sometimes feels a little like a large café or a cruise line restaurant, but as the evening goes, the restaurant fills up and becomes a glitzy, buzzy hangout for foodies and Barney's shoppers alike.
Unfortunately, the buzz comes with a downside. When such a ginormous restaurant fills up, there is simply no way that the kitchen can stay on top of every single dish that leaves the pass. We've often seen the quality of dishes slump as the evening went and the kitchen became busier. Not that the dishes were less creative or well composed, they were simply not as well executed when the restaurant was packed as when it was half full.
Another factor that adds to the slightly shaky impression of the standard at Rouge Tomate is the service. We've been met by some of the friendliest and most professional staff in the city at some of our visits, rather generic but smiling service on other occasions, and a surprising and downright arrogant welcome on yet others. We are guessing that the sheer size of the restaurant, and therefore the quick turnover of staff that usually comes with it, is part of that problem too.
At the end of the day, Rouge Tomate remains one of the best dining options in the early east 60's. Go there for a vibrant lunch during a shopping spree that the luxurious fashion stores that frame the area, grab an afterwork (non-alcoholic) cocktail or an early dinner, and realize that healthy food isn't just good for you. It can actually be good, period. We just wish it was smaller.
---
---



Rouge Tomate
10 E 60TH ST
NEW YORK, NY 10022
Phone 646-237-8977
Website
---
---
The Honest Cooking Rating System
****** Six stars – Cooking on the highest international level. Service is impeccable and beverages are perfectly paired with the food. A world class dining experience.
***** Five stars – Represents cooking on an international level. Dishes look and taste great and display a personal touch. Service is highly professional making it a dining destination that is really worth a detour.
**** Four stars – This represents very good cooking with ambitions. Solid preparation of all dishes, only very few flaws. A restaurant that Honest Cooking recommends a visit to.
*** Three stars – Represents good cooking, and an above average restaurant, but without the more personal touches and craftsmanship that is demanded of higher ratings.
** Two stars – Represents average cooking. The restaurant doesn't reach a level where the food stands out as anything special, and service / ambience has flaws.
* One star – Represents sub-par cooking and service. A restaurant to stay away from.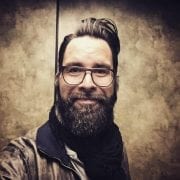 Kalle Bergman
Kalle Bergman is a food writer and media entrepreneur who is the founder of Honest Cooking. As a food writer, his writing has been regularly featured in publications like Gourmet, Los Angeles Times, Huffington Post and Serious Eats. He is obsessed with simple food, more often than not from his native Scandinavia.