Without a moment in the oven, these balls are sweet, crunchy, chewy and boozy. In other words, a delicious rich and chocolatey treat.
By Traci York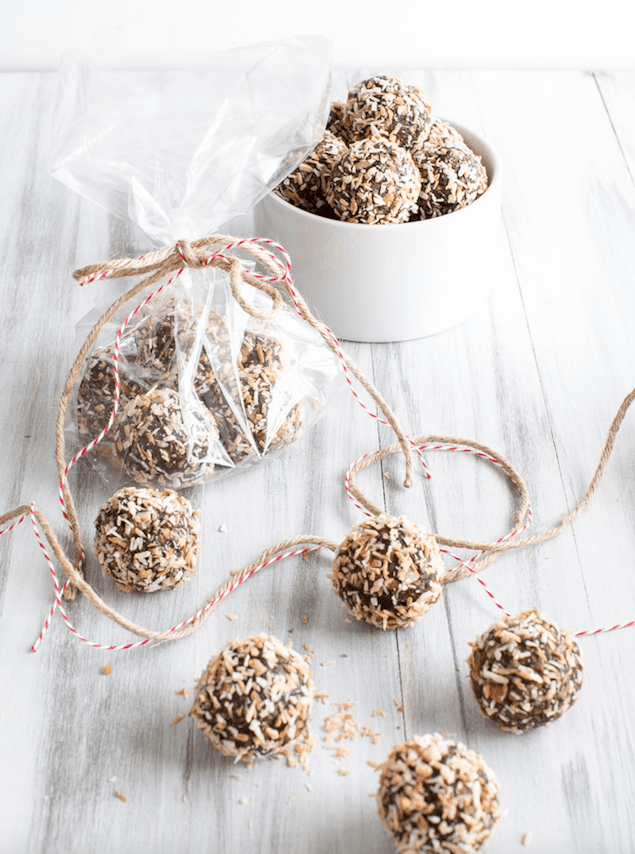 Date nut truffles whip up quick, hold well in the fridge for several weeks and arrive all in one piece to your when you decide to part with a few and ship them across the country to a loved one. I usually end up making a double or triple batch so I can have some stocked away in the fridge because I adore having these simple treats on hand.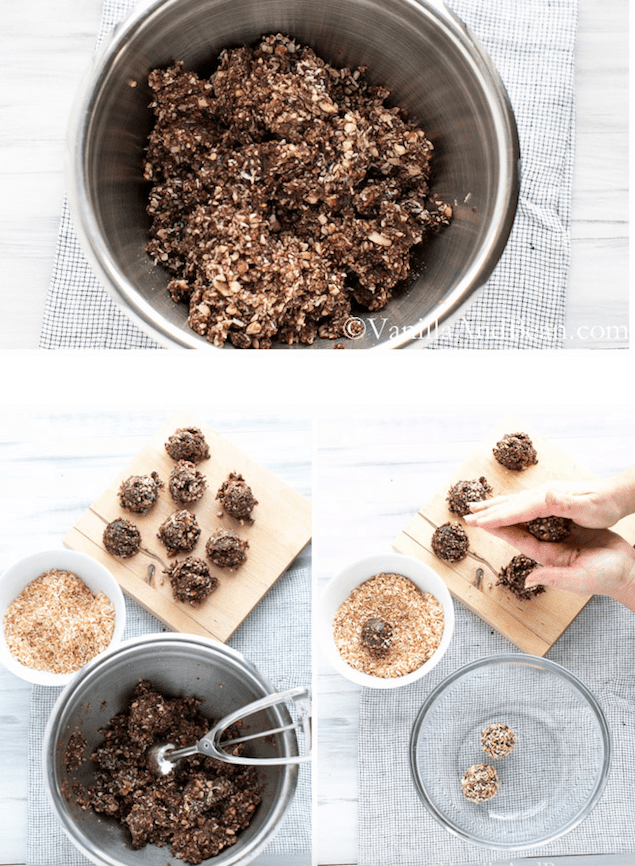 See Also
Date nut truffles will also sooth a sweet tooth and chocolate cravings. They are: no bake, sweet without added sugar, crunchy, chewy, boozy, rich and chocolatey.

Bourbon and Nut Truffles
Vegan and gluten free, this rich, chocolatey and boozy date nut truffle makes a fabulous gift, after dinner indulgence or a dinner party treat.
Recipe Type:
Dessert, Snack
Ingredients
½ C Walnuts (56 g)
¾ C Almonds (106 g)
12 Medjool Dates (280 g unpitted)
¼ C Whiskey Bourbon (see note)
3 Tbs Unsweetened Cocoa (26 g)
½ tsp Pink Sea Salt
1 tsp Vanilla Bean Paste or Extract
1½ C Shredded Coconut (141 g) divided 3 Tbs Cocoa Nibs (24 g)
Instructions
Place the nuts on a sheet pan and toast at 350F for 8­9 minutes. Also, toast 1?2 C shredded coconut (for rolling the truffle in) on a separate sheet pan and toast at same temperature for about 6 minutes. Set aside.
Add toasted nuts to a food processor bowl (this can be done while the nuts are still warm) and process until the nuts are finely chopped. There will be some that are finely chopped and others that are a bit larger. This is ok. Empty nuts into a large bowl and set aside.
Remove the pits from the dates. Add the dates, bourbon, cocoa, sea salt and vanilla bean paste or extract into the same food processor bowl (no need to wash it). Process the date mixture until a paste forms. You may need to scrape the bowl down several times as the dates tend to clump into a ball.
Add the toasted, finely chopped nuts to the food processor along with 1 C un-toasted coconut. Pulse mixture together until all ingredients are evenly distributed.
Dump mixture into a large bowl and pour in the cocoa nibs. Mix together with hands, squeezing and mashing until the cocoa nibs are evenly distributed.
Use a #50 scoop or 11?4 Tbs to portion individual balls. Roll each portion between you hands to make a ball. Then roll the truffle in the toasted coconut.
Serve at room temperature. Store in a covered container in the fridge for up to two weeks.
Notes
For a booze­-less truffle, leave out the bourbon and add, 1?4 C espresso or strong coffee.
Traci York
A Texas native and former omnivore, Traci is the author and photographer behind Vanilla And Bean, a vegetarian food blog where you'll find savory and sweet recipes and photography to inspire. Although flavors of TexMex influence her cooking, she now resides just North of Seattle WA where farms and farmers markets abound. This is where she finds her inspiration. After a career in education, Traci set off to pastry school to learn in the French style and hone her baking skills. While working at an organic, artisan bakery Traci started Vanilla And Bean to share her love of good food.