A chocolate vodka cake is enrobed in a festive peppermint white chocolate frosting. It's rich, decadent and perfect for your holiday table.
By Alexandra Azary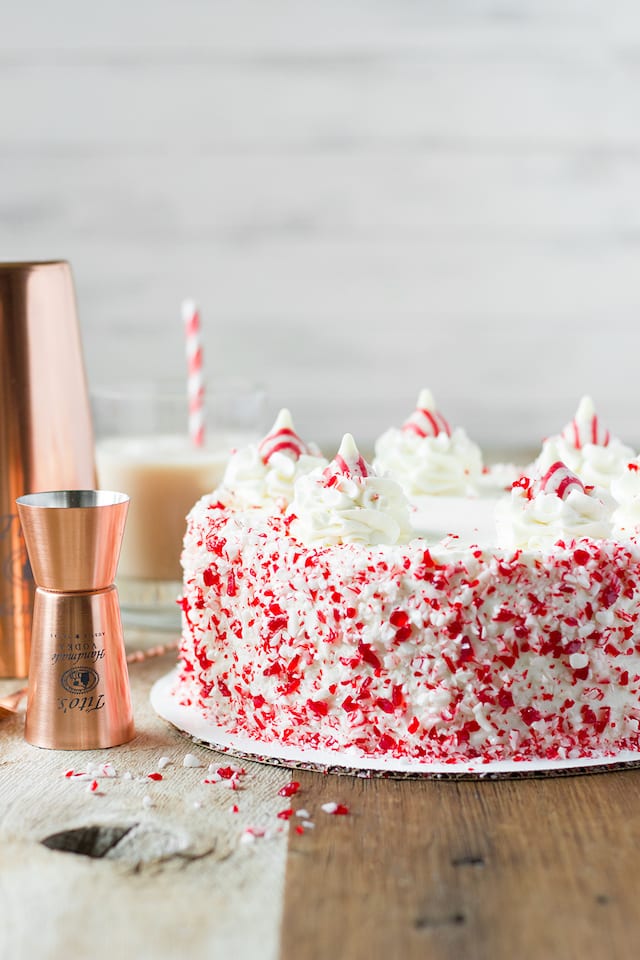 This is the dessert you need this holiday season. Rich, minty, decadent, and just a touch boozy. Made with Tito's Handmade Vodka, it's like a cocktail met dessert and it was love at first sight.
See Also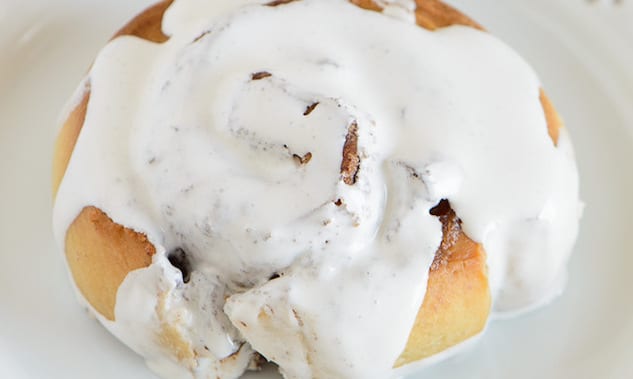 Boozy Chocolate Peppermint Cake with White Chocolate Frosting
Recipe Type
:
Dessert, Baking, Cake
A chocolate vodka cake is enrobed in a festive peppermint white chocolate frosting. It's rich, decadent and perfect for your holiday table.
Ingredients
Chocolate Peppermint Cake:
butter and cocoa powder, for pans
12 3/4 ounces (3 cups, spoon and level) gluten-free all-purpose flour
14 ounces (2 cups) granulated sugar
1 1/4 ounces (6 tablespoons) natural cocoa powder
2 teaspoons baking soda
1 teaspoon salt
11 1/4 ounces (1 1/3 cup) milk
4 7/8 ounces (5/8 cup) vegetable/canola oil
2 5/8 ounces (1/3 cup) Tito's Handmade Vodka
2 tablespoons white distilled vinegar
2 teaspoons vanilla extract
7 5/8 ounces (1 1/3 cup) chopped peppermint hershey kisses
Peppermint White Chocolate Frosting:
12 ounces (1 1/2 cups) unsalted butter, softened
1 lb 2 ounces (4 1/2 cups) confectioner's sugar
1 lb 2 ounces ounces white chocolate wafers (or chopped white chocolate), melted and slightly cooled
4 ounces (1/2 cup) Tito's Handmade Vodka
1 teaspoon peppermint extract
Garnish:
crushed candy cane bits peppermint hershey kisses
Instructions
Chocolate Peppermint Cake:
Preheat oven to 350oF. Butter the bottom and sides of two 9" cake pans. Line bottoms with parchment rounds and dust sides with cocoa powder.
In a large bowl, whisk together the flour, sugar, cocoa powder, baking soda, and salt. Add milk, oil, vodka, vinegar, and vanilla and fold in just until evenly incorporated. Fold in chopped peppermint kisses.
Divide batter evenly between the two prepared pans. Bake in preheated oven for 35-45 minutes, until a toothpick inserted into the center of each cake comes out clean and tops of cakes spring back when lightly touched in the center.
Let cakes cool to room temperature in pans, and then carefully turn each out onto a sheet of plastic wrap. Peel off parchment and wrap cake entirely in plastic wrap until ready to frost. For best results, place cake in freezer for 30 minutes before frosting.
Peppermint White Chocolate Frosting:
In the bowl of a stand mixer fitted with the wire whip attachment, beat the butter on medium-high speed until creamy. Reduce speed to low and gradually add confectioner's sugar until fully incorporated, scraping down bowl as needed. Increase speed to medium-high again and beat until smooth and fluffy.
With mixer on low, slowly pour in melted white chocolate. Once all has been added, beat in on medium-high until smooth (if any white chocolate hardens on sides of bowl, do not scrape it into the frosting). Add vodka and peppermint extract and continue to beat until light and creamy. Assembly:
Place one cake layer bottom-up on a cake board or plate. Spread a layer of frosting over cake and top with second cake layer, bottom side up. Apply a smooth layer of frosting over top and sides of cake.
Cup candy cane bits in palm of hand and gently press onto sides of cake to cover completely, allowing to extend over top perimeter of cake slightly. Use a piping bag fitted with a large closed star tip (I used Ateco #846) to pipe 6 dollops of frosting around the top perimeter. Top each with a peppermint kiss. Garnish top of cake lightly with extra candy cane bits as desired.
Leftover cake can be covered with plastic wrap or kept in an airtight container and stored at room temperature.
Alexandra Azary
Alexandra is a self-taught baker and food photographer who shares her creations on her personal blog, Confessions of a Bright-Eyed Baker. She's passionate about food and aims to inspire more people to bake from scratch and get comfortable in the kitchen.