Blueberry Raspberry Muffins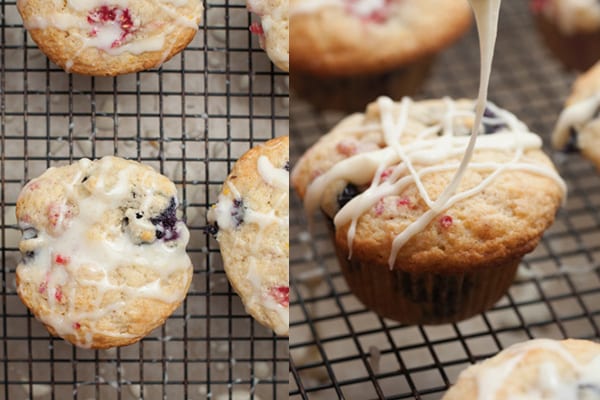 If you are bringing these muffins to an event, you can make them the night before and store in a sealable container. If you ice them the night before, make sure your sealable container has a cover that doesn't touch the glaze surface.
By Taylor Mathis and Sally James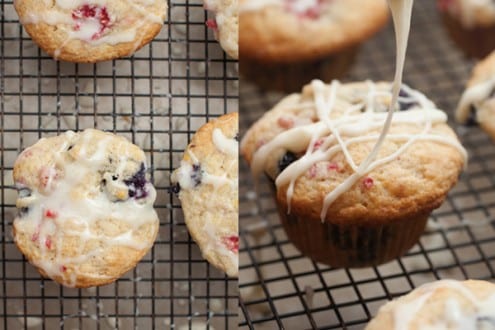 Do you have a berry lover in your family or at your tailgate? You know, those guests who happen to always pick all the blueberries and raspberries out of the fruit salad or always have raspberry waffles and blueberry pancakes. These Blueberry Raspberry Muffins are made for them! Warning though, when other guests see these muffins topped with an icing drizzle, there may be a battle over who will get the last one.
Blueberry Raspberry Muffins
If you are bringing these muffins to an event, you can make them the night before and store in a sealable container. If you ice them the night before, make sure your sealable container has a cover that doesn't touch the glaze surface.
Author:
Taylor Mathis and Sally James
Ingredients
2¼ cups all purpose flour
1 cup granulated sugar
1 tablespoon baking powder
½ teaspoon salt
⅛ teaspoon ground mace
⅛ teaspoon ground cloves
⅛ teaspoon ground ginger
⅛ teaspoon ground cinnamon
1¼ cup blueberries
1 cup halved raspberries
2 large eggs
1 cup milk
1 teaspoon vanilla
½ teaspoon grated orange zest
1 stick unsalted butter, melted
Icing Drizzle:
1 ounce unsalted butter, room temperature
1 ounce cream cheese, room temperature
½ cup plus 2 Tablespoons confectioners sugar
small pinch salt
1 Tablespoon fresh lemon juice
¼ teaspoon vanilla
⅛ teaspoon grated orange zest
Instructions
Preheat the oven to 350 degrees. Line a non-stick muffin pan with paper muffin cups. Set aside.
In a large bowl add the flour, granulated sugar, baking powder, ½ teaspoon salt, mace, cloves, ginger and cinnamon. Stir until all ingredients are blended.
Add the blueberries and raspberries to the flour mixture. Gently toss to cover the berries with flour. Set bowl aside.
In a medium bowl add the eggs, milk, vanilla and ½ teaspoon grated orange zest. Stir until all ingredients are blended. Add the melted butter. Stir to mix. Pour the milk mixture into the bowl of the flour and berry mixture. Gently fold the ingredients together until just blended and the muffin batter is still lumpy.
Evenly divide the muffin batter between the muffin cups. Bake for 25 to 30 minutes or until the muffins are puffy and light golden brown. Remove muffins from oven and cool on wire rack.
While muffins are cooling, make the icing drizzle. In a small bowl add the butter, cream cheese and small pinch of salt. Stir with a fork until the ingredients are blended. Add the confectioners sugar, lemon juice, vanilla and ? teaspoon orange zest. Vigorously stir with a fork until a smooth icing forms. Remove the cooled muffins from the muffin tin. With the icing fork, drizzle the icing on top of the muffins. Serve.
Taylor Mathis and Sally James
Sally James and Taylor Mathis are a mother and son duo from Charlotte, NC. Sally, a professional recipe developer, and Taylor, a professional Food and Lifestyle photographer, work together to create beautiful and delicious recipes designed to be eaten anywhere! Together they are the creators and authors of the food Blog Taylor Takes A Taste and worked together on The Southern Tailgating Cookbook.