Blueberry Hazelnut Honey Financier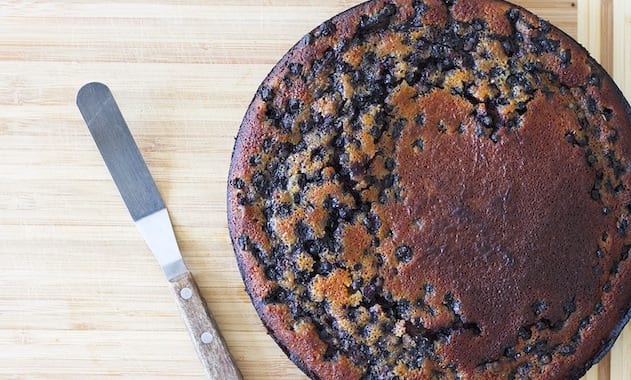 The combination of nutty brown butter and tart fruit is intoxicating. This cake is delicious slightly warm, but can also be enjoyed cool, and would make a nice picnic addition.
By Katherine Sacks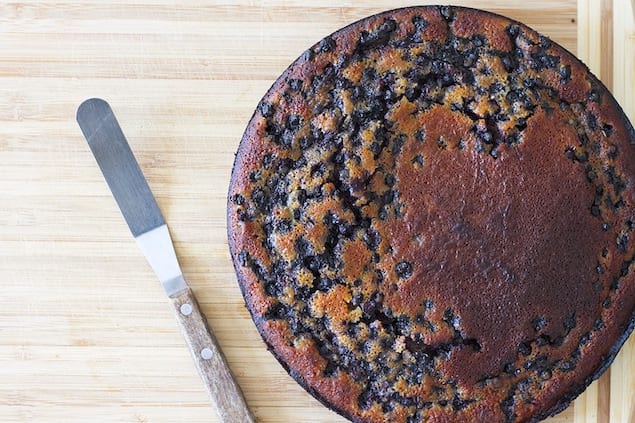 When our friends Giulia and Johannes invited us to their house in Parstein for the weekend, we jumped at the chance to get to know the area outside of Berlin a little better. The weekend was really lovely; Johannes put together a great jazz festival, we watched Germany play in the World Cup with a group of energetic locals, and we visited the organic dairy farm of Brodowin. And almost at the last moment we had a very spur-of-the-moment blueberry picking stop. Johannes just pulled the car over and said "I want some blueberries," and into the woods we all went to pick some.
Although we didn't pick too many berries, I was so smitten with the wild picking experience that I asked to take them home for a baking project. I knew at once that it would be financier cake, because we had some hazelnut meal I wanted to use up, and because blueberries to me must be used in financier. This recipe is a version of the one I learned while cooking at Spago, where we baked the batter off nightly in little triangle-like gem molds, each dotted with their own juicy blueberry. The combination of nutty brown butter and tart fruit is intoxicating. For super rich financier, use all butter; I've added half coconut oil here for a variation on the flavor. I also added in some dark buckwheat honey that we found on a trip to the Harz Mountains, but the recipe can also be prepared with just sugar if you prefer. This cake is delicious slightly warm, but can also be enjoyed cool, and would make a nice picnic addition.

Blueberry Hazelnut Honey Financier
The combination of nutty butter and tart fruit is intoxicating. The cake is delicious warm, but also enjoyed cool, and makes a great picnic addition.
Ingredients
⅔ cup all-purpose flour
⅔ hazelnut or almond meal
1 teaspoon orange zest
¾ cup sugar, plus extra
½ cup buckwheat honey
4 ounces brown butter
4 ounce melted coconut butter, plus extra
8 egg whites
1 cup blueberries
Instructions
Preheat the oven to 325°F (165°C). Brush an 8-inch springform pan with a small amount of coconut butter or vegetable oil.
In a medium bowl, combine the flour, hazelnut meal, orange zest, and sugar. Add the honey, brown butter, and coconut oil and sir to combine. The batter may look slightly broken, that's okay. Slowly stir in the egg whites, stirring to combine, until a thick batter forms.
Coat the blueberries in a thin layer of sugar and place on the bottom of the pan. Top with batter. Place the pan on a sheet tray and put into the oven.
Bake for 20 minutes, then rotate and bake for an additional 10, or until the top is golden brown the the cake is fully set. Remove from oven, let cool completely, and enjoy.
Katherine Sacks
Katherine Sacks is a Berlin-based freelance writer and recipe developer specializing in travel, food, lifestyle, and health topics. A graduate of Drexel University's culinary arts department and Northwestern University's Medill School of Journalism, Katherine combines seven years of restaurant experience with her reporting and editing background. Her work has appeared in Chicago magazine, the Chicago-Sun Times, and FoodandWine.com, among other publications. She also contributes to culinary trade publication StarChefs.com, Forbes Travel Guide, and Snooth Eats, and blogs at LaVitaCucinare.com.