Sponsored Post: It's the perfect time of the year to remember to be a little sweeter. Whether it's dropping off dinner for a neighbor or bringing in a treat for your coworkers, let's be sweet more often. We've partnered with the North Carolina SweetPotato Commission to bring you some sweet inspiration.
These BLT sweet potato bites are a creative and easy way to make an amazing appetizer using sweet potatoes. They're perfect as a snack, appetizer or a light meal.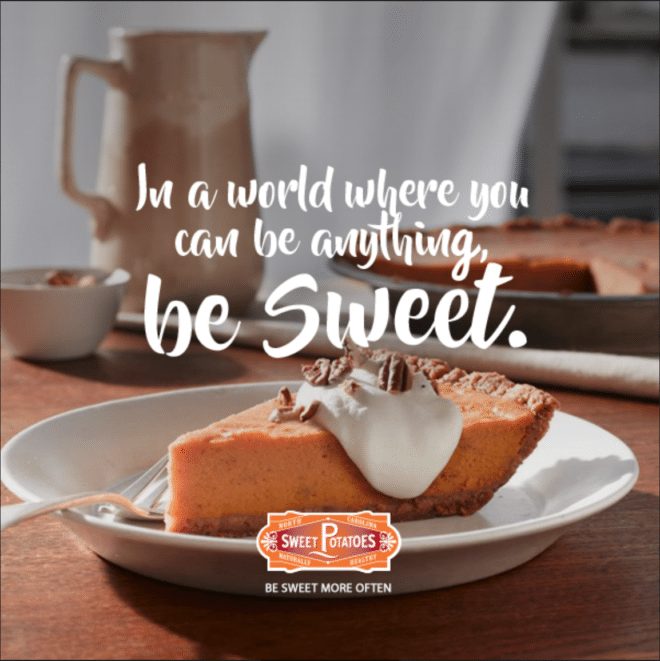 These Sweet Potato BLT Bites are made with slices of sweet potatoes, baked in the oven and topped with tomatoes, lettuce and bacon.
Low carb version of a very popular sandwich.
Nutritious, colorful and fun to make. Great for kids and adults. Such a cool way to incorporate nutritious sweet potatoes in your cooking, and also a healthier choice.
These Sweet Potato BLT Bites are made with just 7 ingredients, including olive oil, salt and pepper. Most of you may already have these ingredients in the fridge and pantry. I love cooking with sweet potatoes and I was very excited to make these Sweet Potato BLT Bites. The perfect combination of sweet potatoes (base) and savory topping.
Sweet potatoes are packed with vitamin A, fiber and are naturally sweetened from the earth. Not to mention, a medium sweet potato is just a little over 100 calories!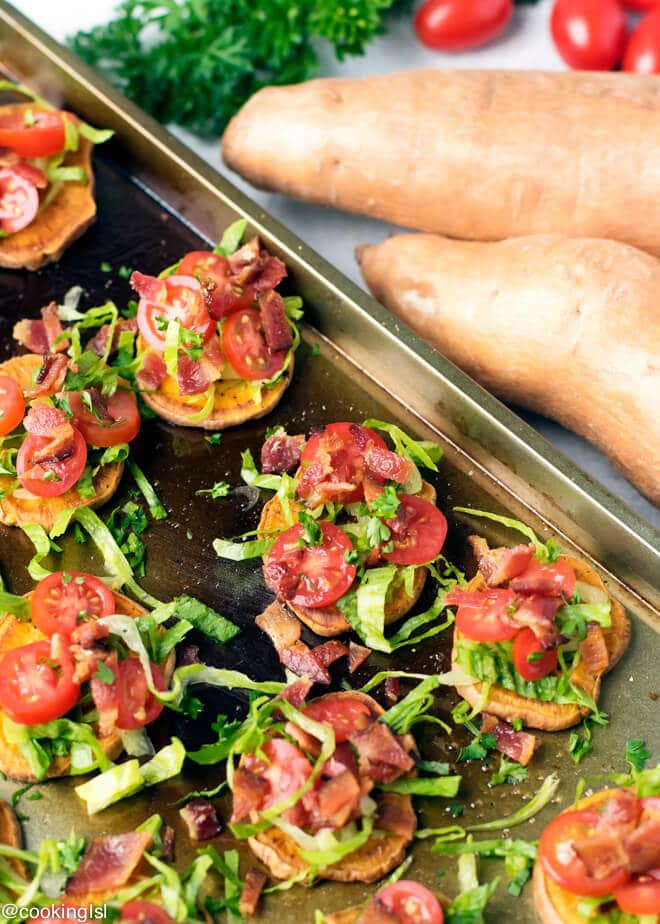 Since sweet potatoes are available year round, you can make these Sweet Potato BLT Bites any time. But I must admit, their colors are so festive, perfect for this time of the year.
Sweet potatoes are one of the most versatile vegetables available and this recipe is the perfect example. They play the role of bread in these Sweet Potato BLT Bites, but they also add numerous vitamins and minerals and also fiber.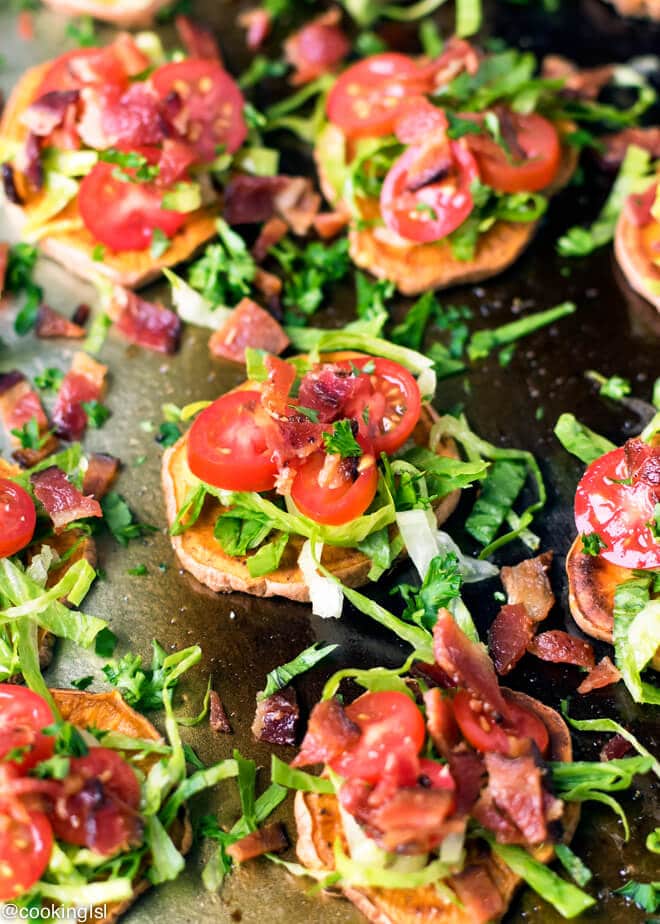 Sweet potatoes are no longer just for casseroles or pies; they're perfect to add in to veggie bowls, spiralized as "pasta" or even used as toast.
Sweet potatoes are convenient and versatile: they can fit into any lifestyle (healthy or comfort food!) and are a year-round staple for every meal of the day. They're perfect when prepping a quick meal. Think sweet potatoes are tough to cut? Think again! Simply pop in the microwave for a few seconds, use a mandolin, and make a thin cut on one side to give a flat bottom for easy cutting.
They are immune booster and source of anti-inflammatory benefits. Sweet potatoes rank low on the glycemic index and has less of an effect on blood glucose levels.
Thanks to the The North Carolina Sweet Potato Commission, who made this post possible!
It is founded on tradition. Since 1961, it has supported its growers and maintained North Carolina as the number one sweet potato producing state in the United States since 1971.
Enter below for a chance to win TWO Vitamix blenders!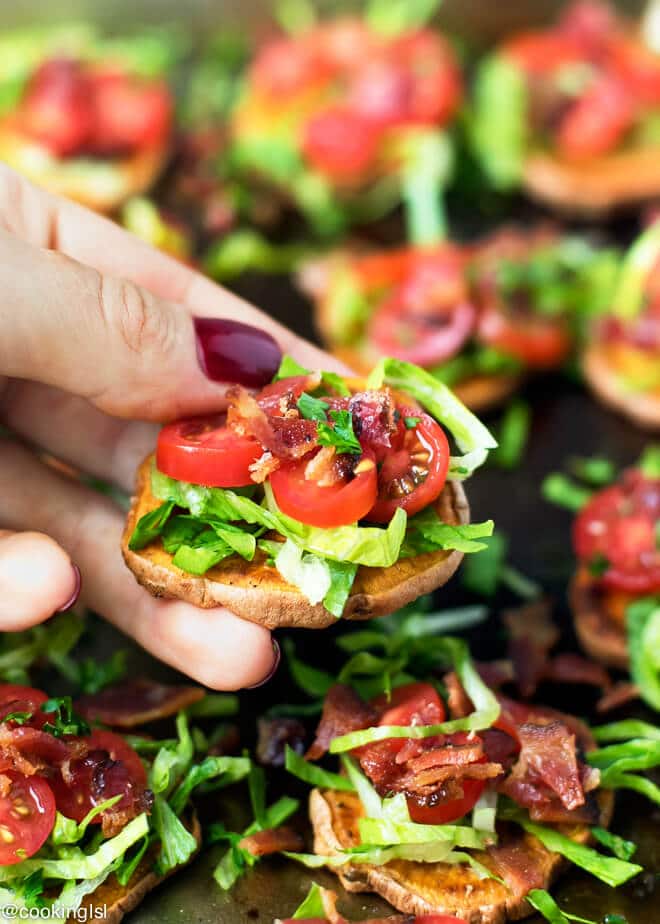 For even more sweet inspiration, check out this video.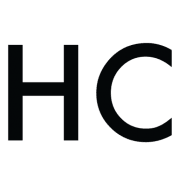 Lyubomira Lsl
Hi, I'm Lyubomira (people call me Mira). I have background in construction engineering and design, but recently discovered my new passion – cooking and food photography.I try to share simple, straightforward recipes, fast to prepare with widely available ingredients.