Blooming Champagne Cupcakes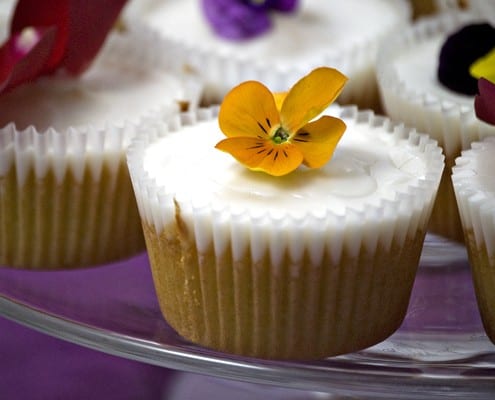 Ruby Moukli with the cupcake you need to serve mother this Mother's Day.
By Ruby Moukli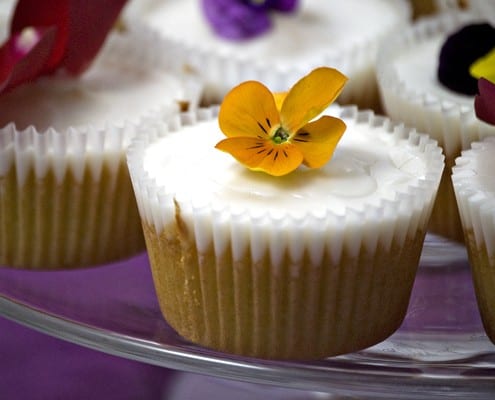 I don't know why we don't use fresh flowers more in cooking. The effect is so stunning – as though a flock of butterflies descended on your table. Couple that with a light and bubbly lemon cake and you have a recipe for celebration. Be it for spring, Mother's Day, graduation, or even a wedding, this is a truly special and versatile cupcake that you'll be glad to have in your repertoire.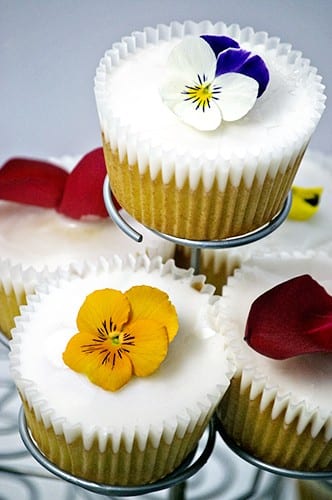 Blooming Champagne Cupcakes
Makes 20 cupcakes
Ingredients
For the cakes:
2 eggs
250g (1 cup) caster sugar
1 tsp. vanilla extract
Zest of 1 lemon
250 ml (1 cup) vegetable oil
250 ml (1 cup) sparkling wine (minus 1 sip – to test quality of course)
250g (2 cups) self-raising flour
For the icing:
250 g (2 cups) icing sugar
60 ml (¼ cup) sparkling wine
2 Tbsp strained lemon juice
At least 20 fresh edible flowers for decoration
Instructions
Preheat oven to 170C/340F/Gas Mark 3.5
Line your cupcake tray with paper cases
Beat eggs, sugar, vanilla and lemon zest together until frothy.
Add oil and sparkling wine and beat gently for about 30 seconds.
Sift in flour and mix well.
Bake for 20 minutes (or until done).
Cool for 20 minutes, then move them to a cooling rack until completely cool.
Prepare icing by mixing icing sugar with sparkling wine. When smooth, add lemon juice until it drips but is not too runny.
Gently pour icing over the top of each cake. Keep adding more to the centres (it will spread out to the edges) until you have a nice solid white layer on the tops.
Decorate with fresh flowers. Edible flowers include roses, nasturtium, pansies, violets (but NOT African violets) and many more. Ask at your florist or garden centre. If unsure whether the flowers you use are edible, play it safe and remove them before serving.
Notes
1. As in note 10 above, please be careful about the flowers you use. Even edible flowers, if grown using pesticides, can be unsafe to eat. Organically-grown flowers from your own garden, or from a reputable garden centre, are your safest bet. 2. This recipe can be made with a non-alcoholic fizzy beverage such as sparkling lemonade. You can also use any citrus fruit in place of the lemon. I think blood orange would be gorgeous, and I'm also keen to try grapefruit! 3. If you have any leftovers, the flowers will look pretty sad (wilted and withered) the next day, so be sure to add the flowers no earlier than a few hours before they will be displayed, and try to keep them fairly cool so they look fresh longer.
Ruby Rasa
Curious about her British mother's seemingly bizarre love of cheese & onion sandwiches, Ruby moved to England and discovered an island full of people eating them. She now lives among them, works as a freelance writer and photographer and yes, occasionally enjoys a good cheese & onion.