SPONSORED POST: Get inspired with new sides, appetizers main dish recipes perfect for your fall and winter dinner parties with artisanal cheeses from Goat Cheeses of France.
This festive pasta is made with roasted beets and served with French Bleu de Chèvre goat cheese and linguine to make for a cozy, beautiful, and easy meal.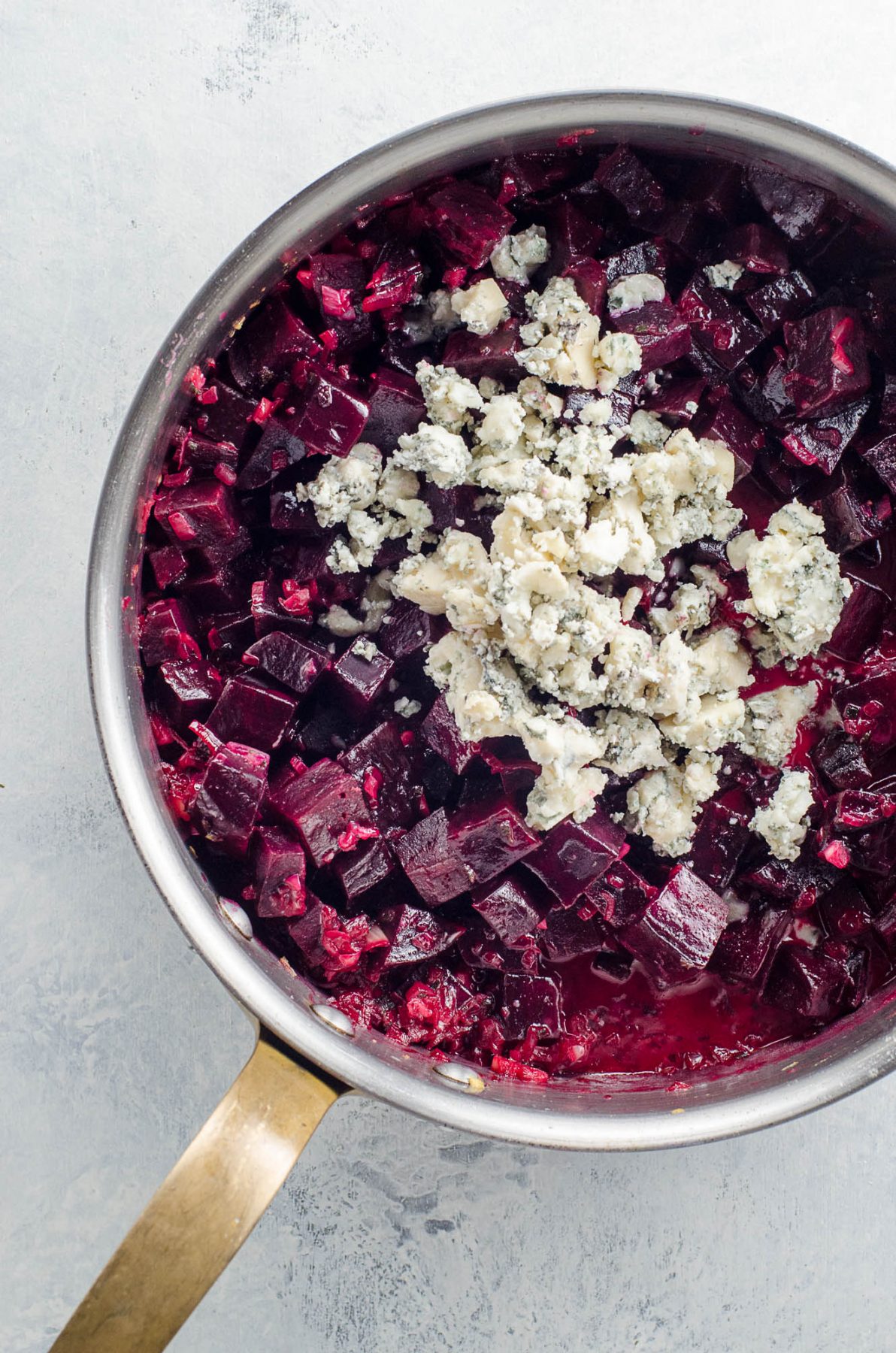 Happy Monday-after-Thanksgiving. That was fun, wasn't it? Fun and exhausting and slightly infuriating, and all the things that holidays will be. Today we're taking a nice little break from all that to focus on France. I figured we'd go somewhere that doesn't even have Thanksgiving, just to be safe.
Do you know what they do have in France, though? French goat cheeses. Beautiful, high-quality, but totally accessible and affordable French goat cheeses. France is the number one producer of goat's milk cheeses in the world, with 6,000 goat's milk producers, half of whom make their own cheese.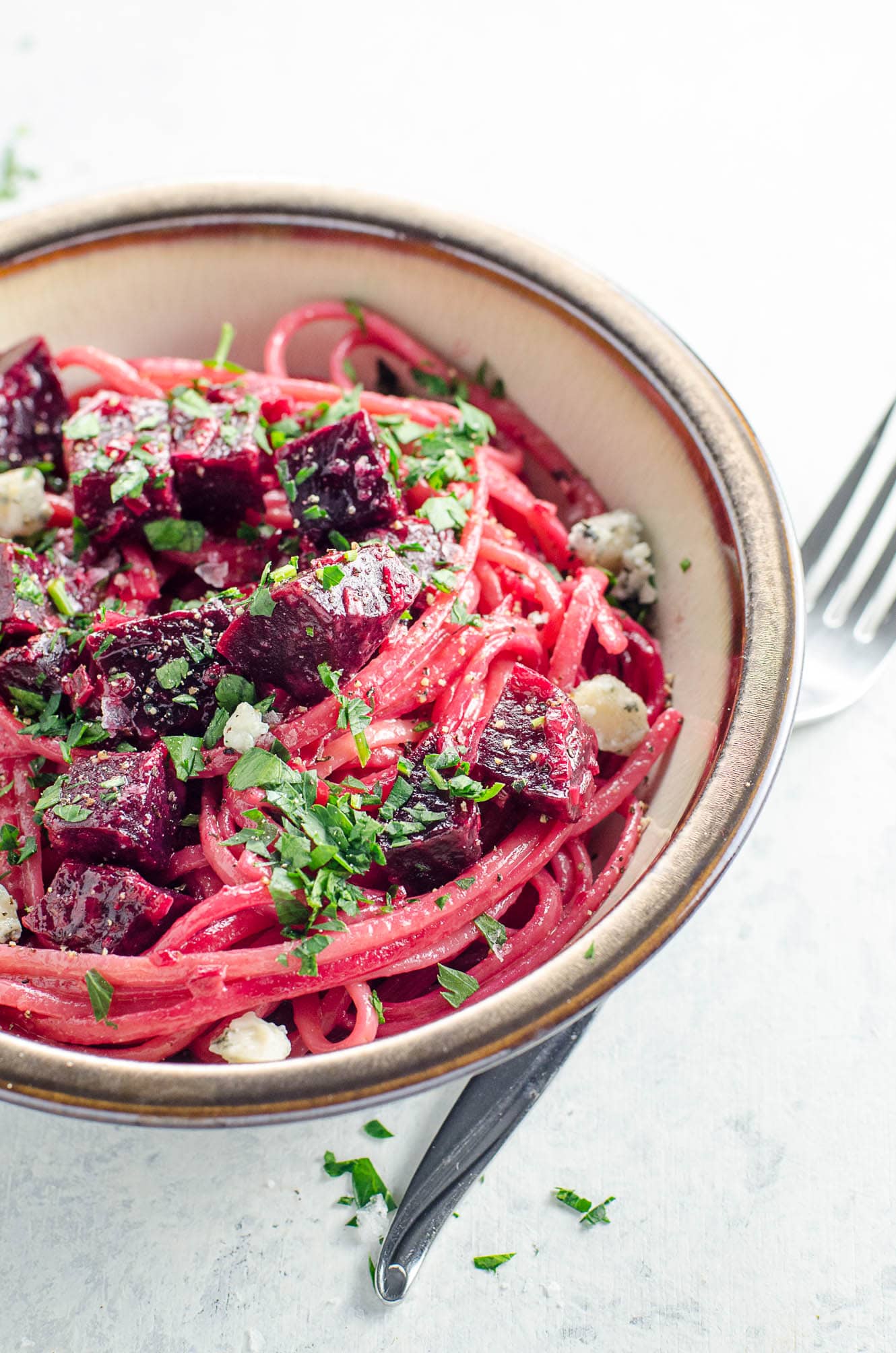 With production in multiple regions south of the Loire Valley, there's wide variety among tastes and styles. I thought I knew my way around chèvre reasonably well, but working with Goat Cheeses of France has introduced me to some new varieties, including the Bleu de Chèvre that I've used in the easy but special-feeling recipe below.
French goat cheeses in their multitudes work well all year round, but at this time of year it's nice to focus on cozy dishes that are dinner-party ready without too much time or effort. Bleu de Chèvre would make a great addition to a simple (or wildly ostentatious) cheese board and really needs no special treatment. But I couldn't shake the idea of how its gentle piquancy might enhance an earthy and festive-looking pasta sauce made with beets. The resulting Bleu de Chèvre and Beet Linguine was very popular, and I'm looking forward to making it again.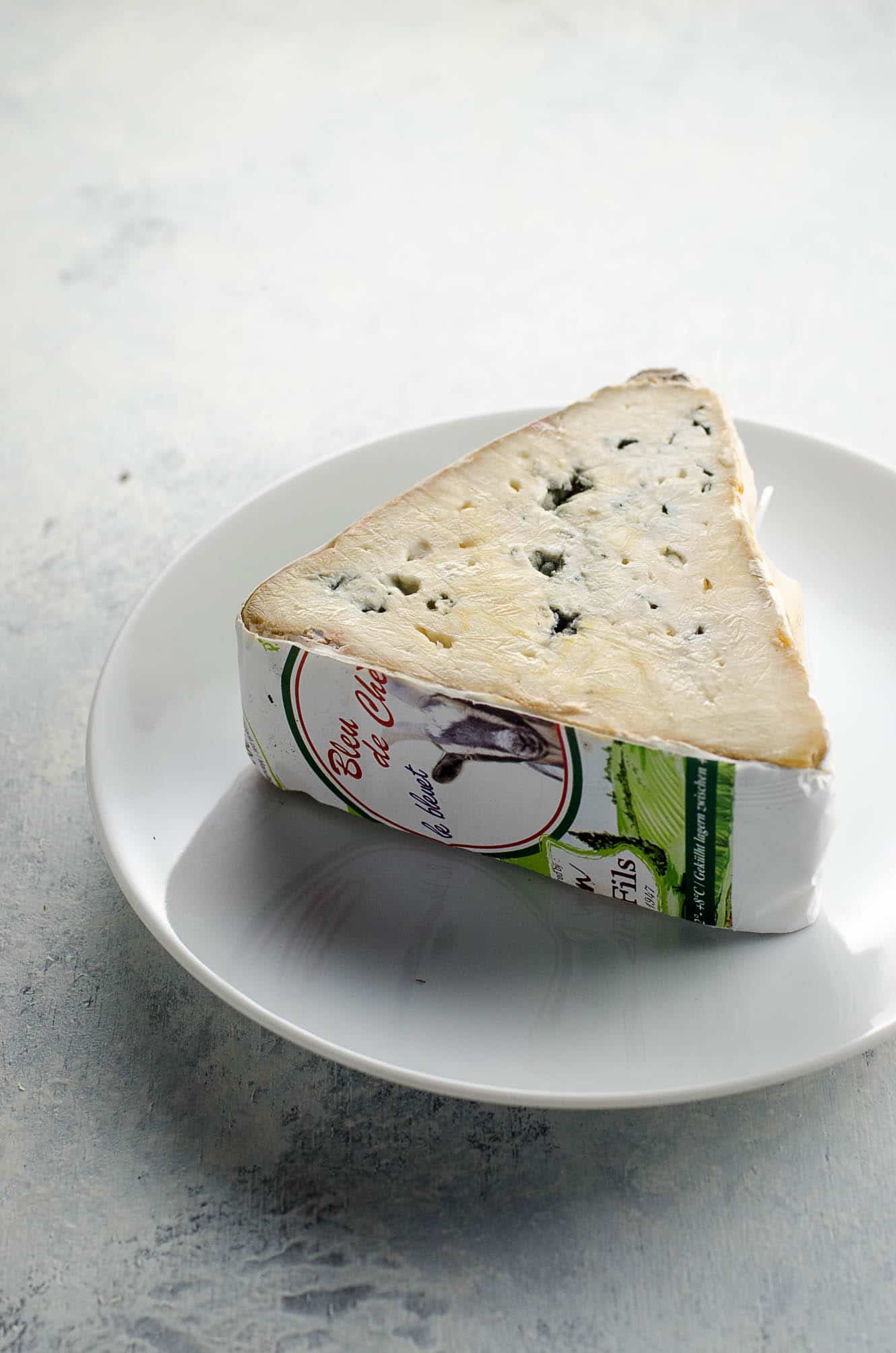 In the meantime, we're off on a little hike to make some room. For lots more great ideas, follow Goat Cheeses of France on Facebook and Instagram. I love that the goat in their logo has that casual-chic French lady thing going on, even though she's just a few lines on the page. How do they all know how to do that? Apparently you don't even have to be human — or sentient — to have that skill. Maybe eating more French goat cheese is the key. Let's try it and see how it goes.
Print

Bleu de Chèvre Goat Cheese and Beet Linguine
---
Author:

Carolyn Cope

Total Time:

40 minutes

Yield:

6

servings

1

x
4 tablespoons

butter

3

medium shallots (minced)

4

garlic cloves (minced)

6

fresh sage leaves (minced)

1/2 cup

dry white wine

1/2 cup

heavy cream

1/2 cup

chicken or good vegetable broth

1 1/2

pounds roasted beets (diced (see note))

3 ounces

Bleu de Chèvre (crumbled)

1

pound linguine

1/2 cup

minced flat-leaf parsley (to garnish, optional)
---
Instructions
Melt and lightly brown the butter in a 12-inch skillet over medium-high heat. Add shallots, garlic and sage and cook, stirring frequently, until tender, about five minutes. Add wine and simmer briskly until reduced by half. Add cream, broth and beets and simmer for 5 to 10 minutes to create a nice, slightly thickened sauce. Crumble in Bleu de Chèvre, reserving a little bit to garnish if you like. Taste for salt, and sprinkle in plenty of pepper.
Meanwhile, cook linguine al dente in well-salted water according to package directions. Drain and toss pasta into sauce. Stir in parsley and serve immediately.
Notes
To roast whole beets, wash well, drizzle with olive oil and wrap tightly in foil. Place in a roasting pan in a 400°F oven on the center rack. Roast for about an hour, depending on size and age of beets, until nice and tender. Peel when cool enough to handle. Alternatively, many supermarkets sell plain roasted beets in plastic in the fresh produce section. They stay good in the fridge for weeks and are great to have on hand.
Prep Time:

15 minutes

Cook Time:

25 minutes

Category:

Main
Carolyn Cope
Carolyn is the voice behind the popular blog Umami Girl and writes frequently for other food-related publications. Equal parts live-to-eat and eat-to-live, she holds certificates from both the French Culinary Institute and the eCornell Plant-Based Nutrition program. Carolyn has lived and worked in New York and London and currently resides with her husband and two daughters in a sweet little seaside town in New Jersey.