This pie offers everything a good pie should. A flaky crust, delicious filling of sweet summer peaches, balanced with the addition of fresh, tart blackberries, and a slight hint of cinnamon in every bite. Serve it warm with a big scoop of vanilla ice cream.
By Laura Davidson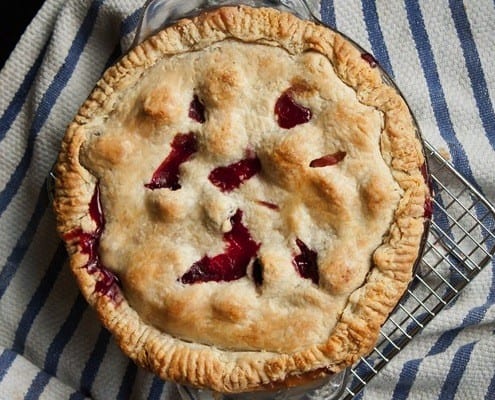 This doesn't happen often, as I usually leave the pie making to my older sister, who has been dubbed the "Pie Queen" in my family.  Despite making countless tarts and even tackling homemade puff pastry in school, pie dough continues to intimidate me.  And for good reason…
For one, pie dough is a very controversial subject.  One the one hand, you have the people who profess that shortening is the key to great, flaky pie crusts.  Then you have those in the "100% butter camp", and of course, the less common group that swears by the use of lard, which is obviously much harder to come by these days.
Intimidating, right?  Of course, now that I bring this all up, you are probably wondering where I fit in all of this.  I'm in the 100% butter camp, but for different reasons than you may assume.  I'm not a shortening girl—never have been, never will be.   Shortening is sketchy to me.  Mostly due to the fact that I can't even pronounce half of the ingredients on the back of the container.
See Also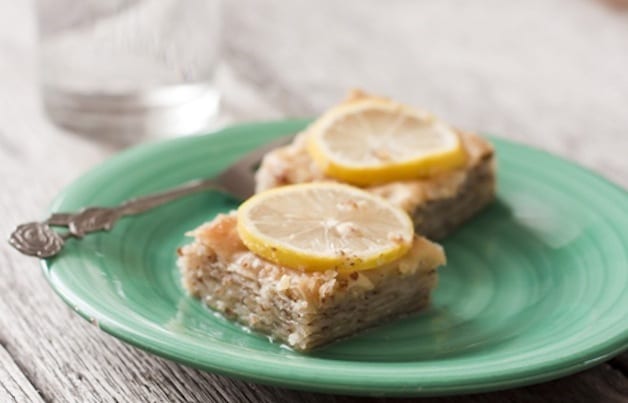 It also doesn't offer up that nostalgic image I believe we all associate with pie-making (part of its appeal to begin with)—as silly as that may sound.  "Aaahh, remember the good 'ol days when we used to crack open a cardboard container of Crisco?" Yeah…didn't think so.
Despite my self-professed lack of pie-making experience (repeat that sentence 5 times in a row) , I think in the end, a great pie crust comes down to technique, patience, and practice—something I'm more than happy to acquire if it means I can eat more pie.
Print
Blackberry Peach Pie
---
Author:

Laura Davidson

Total Time:

1 hour 30 minutes
Description
This pie offers everything a good pie should. A flaky crust, delicious filling of sweet summer peaches, balanced with the addition of fresh, tart blackberries, and a slight hint of cinnamon in every bite. Serve it warm with a big scoop of vanilla ice cream. There's nothing better!
---
Double Pie Crust
2 1/2 cups

(

315 grams

) all purpose flour

1 tablespoon

granulated sugar

1 teaspoon

salt

2

sticks (8 ounces) unsalted butter, very cold
~1/2 cup ice water
Filling
5

large white (or yellow) peaches (~

3

lbs), peeled & sliced into 1/3" wedges

1 cup

fresh blackberries
Juice of

1/2

lemon

1/4 cup

granulated sugar

1/4 cup

lightly packed brown sugar
few gratings of fresh nutmeg

3/4 teaspoon

ground cinnamon

1/8 teaspoon

salt

2 tablespoons

cornstarch
---
Instructions
Prepare Pie Dough
Combine flour, salt, and sugar in large bowl. Meanwhile, cut up cold butter into cubes and place in separate bowl. Place both in freezer for 5-10 minutes to chill.
Remove butter and flour from freezer. Working quickly, use a pastry cutter (or your fingers) to incorporate butter into dry ingredients until butter resembles the size of small peas.
Using a spatula, slowly stir in ice water. Using hands, knead dough together briefly to form a ball (add an additional tablespoon of water at a time, if more is required).
Divide dough in half, wrap tightly in plastic wrap, and allow to chill in fridge for roughly 2 hours.
Prepare filling (see below) and preheat oven to 425 degrees.
After dough has chilled, remove one disc of dough (roll bottom pie crust first). Place dough on a well floured surface, dust with more flour, and roll out evenly into a large, roughly 12-13" diameter disc—rotating the dough continuously as you go. Fold into quarters and transfer to pie dish to unfold. Using knife or kitchen scissors, trim any remaining overhang to one inch. Brush off any excess flour with a pastry brush.
Repeat procedure above with remaining dough to form top pie crust. Trim any overhang to the diameter of the pie dish.
Fold the rim of the bottom crust over the top and crimp using a fork or your fingertips (for more detailed instructions, read this tutorial).
Using a sharp paring knife, make several ~1 inch vents in pie dough.
Place pie dish on foil-lined baking sheet (this prevents any juices from overflowing onto your oven floor and creating a smoke-filled kitchen) and bake for roughly 20 minutes.
Turn down temperature to 375 degrees and continue to bake for another 30-40 minutes until crust is golden brown. **If crust is beginning to brown too quickly, cover with a foil tent for remainder of baking time.
Serve warm with a big scoop of vanilla ice cream (or allow to cool completely if you prefer a thicker, less runny pie)!
Filling
Bring medium saucepan of water to boil. Using a paring knife, make a small X on the bottom of each peach and carefully drop into boiling water. Allow to poach for roughly a minute (depending on the ripeness of your peaches), before removing and placing in a large bowl of ice water.
Using paring knife, carefully peel skin from peaches and set aside.
Once all peaches have been peeled, remove pits and slice into roughly 1/3" slices. Place in large bowl. Add blackberries and toss with lemon juice.
In separate bowl, combine brown sugar, sugar, cinnamon, nutmeg, salt, and cornstarch. Add to fruit and stir to thoroughly coat. Set aside.
Prep Time:

30 mins

Cook Time:

60 mins
Laura Davidson
After deciding to take a leap of faith, Laura enrolled in culinary school to pursue her passion for all things food. On her blog, Blogging Over Thyme, she shares her experience as a culinary student, her favorite recipes, stories, and photography!