Potpie or pot pie, here are some tips, tricks, and recipes to make the best pot pie filled with cozy savory fillings and topped with a flaky crust.
According to the online world, there is some discrepancy about the spelling of pot pie. Be it one word or two, there does seem to be agreement that a pot pie must be a savory meat filling, with or without a crust lining the dish it is baked in, and it must contain some sort of flaky pastry topping. From biscuits to pie dough, check out these fun pot pies to eat all throughout the cold season.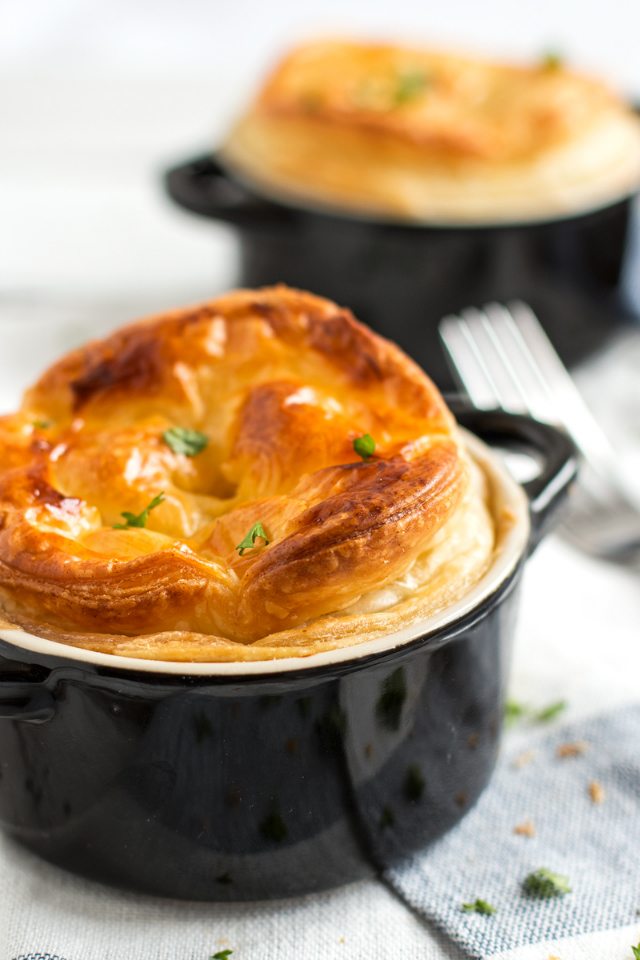 www.savorynothings.com
Chicken and Mushroom Pot Pies
These chicken and mushroom pot pies come together in a moments for a quick and comforting dinner. Chicken pieces and mushrooms are coated in a wonderfully creamy sauce, then topped with ready-made puff pastry for a deliciously flaky golden topping. See the recipe.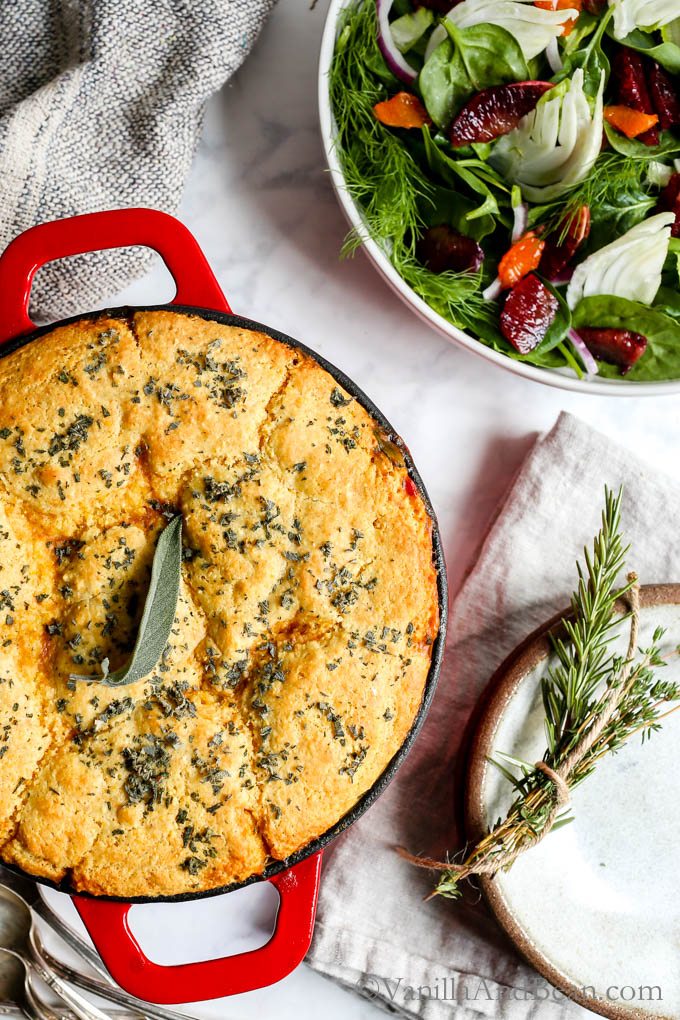 www.vanillaandbean.com
Black Eyed Pea Sweet Potato Cornbread Pot Pie
Whew. That's a mouthful. And according to our definition above, this is not a true pot pie because it doesn't have meat in the filling. But it doesn't matter, it's delicious. See the recipe.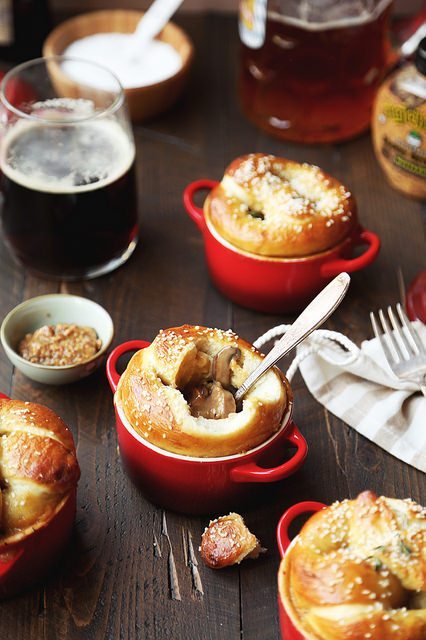 www.thecandidappetite.com
Bratwurst, Beer, and Cheddar Pretzel Pot Pie
This is about to be a new, hearty favorite. The vegetable and brat filling is topped with a giant pretzel topping that you will love dipping into the center. See the recipe.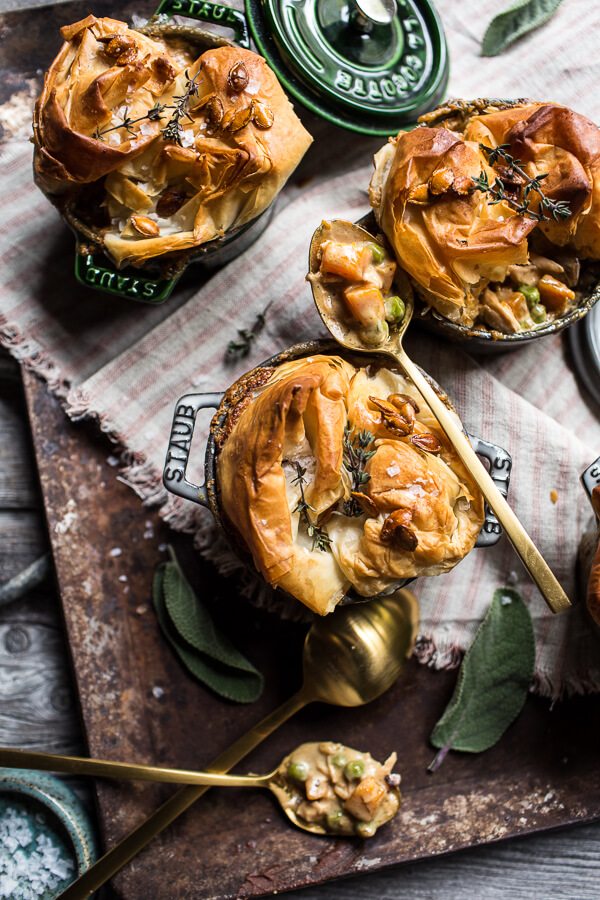 www.halfbakedharvest.com
Autumn Chicken and Phyllo Pot Pies
These beauties are a delight to the eyes and tastebuds with their crinkly phyllo top. See the recipe.

Cheddar Crusted Turkey Pot Pie
Save this recipe and be sure to remember this recipe when you're not sure how to use up your leftover Thanksgiving turkey. TIP: The easiest way to make the crust for this pot pie is in your food processor, be sure not to over-work the dough. See the recipe.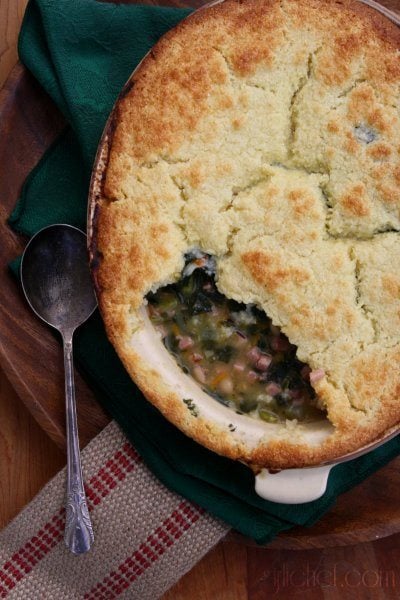 Cornbread Crust Ham and Greens Pot Pie
The richness of greens and ham is combined with black-eyed peas and veggies and baked in a cornbread crust to make a down-home, comforting meal. See the recipe.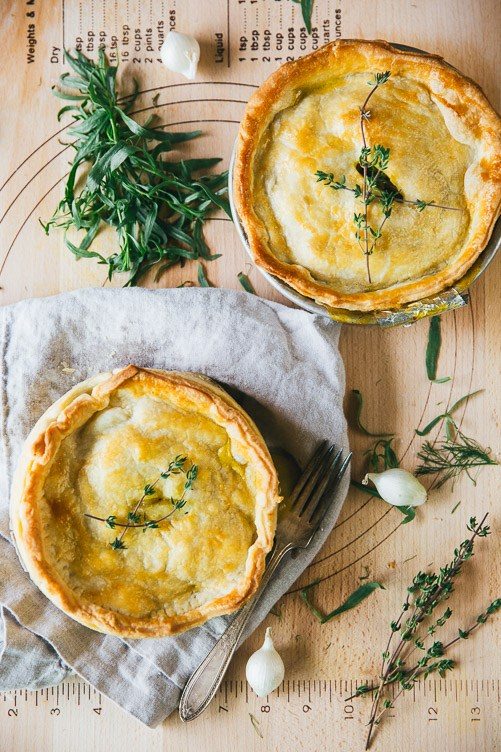 www.theblondechef.com
Potato and Fennel Veggie Pot Pie
Make the crust for this pie the night before so that dinnertime is a breeze the next day. It will be perfectly flake and the filling is veggie central. See the recipe.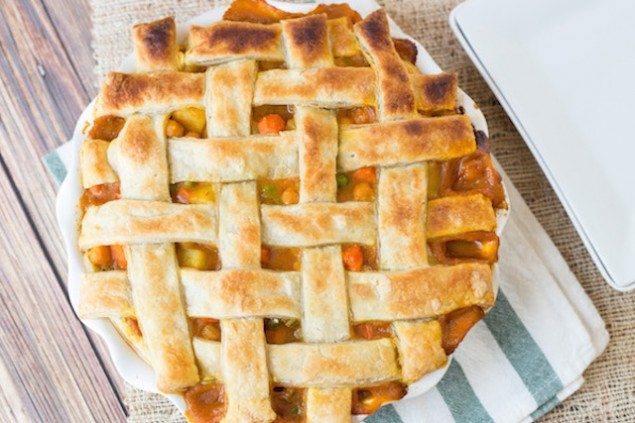 Curried Pumpkin Pot Pie
Coconut curry and pumpkin make this pot pie recipe extra comforting and delicious. Bake it in a pie dish with a beautiful lattice top. See the recipe.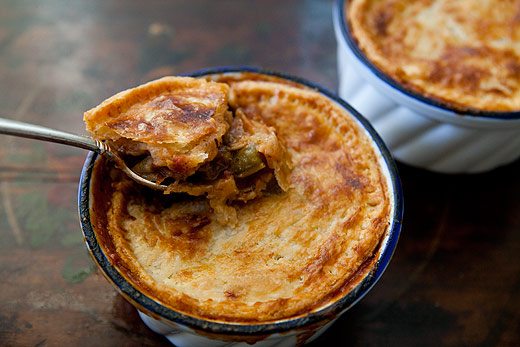 Elise Bauer
Cajun Turkey Pot Pie
Another recipe that is perfect for Thanksgiving leftovers, but this time loaded with beautiful spices. See the recipe.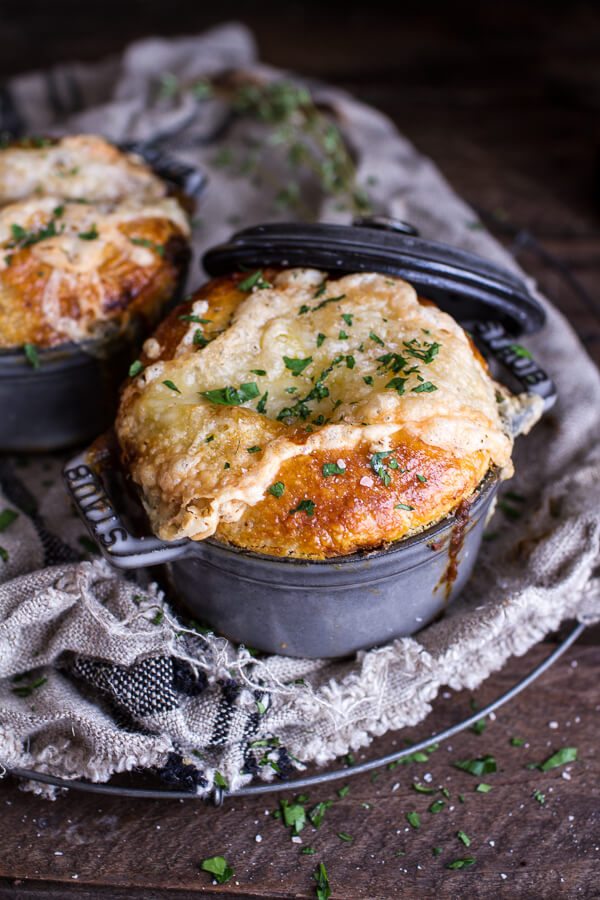 www.halfbakedharvest.com
Butternut, Beef and Mushroom Pot Pies with a Taleggio Crust
These flakey, cheesy pot pies are loaded with the coziest ingredeints of the season, if we do say so ourselves. TIP: Let this one cook low and slow all day long for maximum flavor and then enjoy for dinner. See the recipe.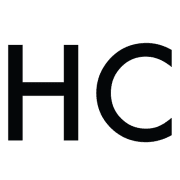 Honest Cooking
The Honest Cooking editorial team handpicks inspiring culinary stories to share with you that we think are beautiful. As an international online culinary magazine with the ambition to truly change the face of online food media we hope to create an inspiring place for serious culinary debate, salivating recipes, interesting food news and international food-fun.