Loaded with beets, tahini, fennel, and kumquat, this pink mole takes its inspiration from Mexico and Greece.
Mole, meaning 'sauce' has undeniably played a pivotal role in Mexican cuisine for centuries. Typically made with chocolate, spices, chiles and tomatillos, its long list of ingredients isn't the only impressive thing about it. The process of making mole is time-consuming and skilled. Unlike your usual mole, this beet-forward modern take brings a whole host of new flavors. Outside of the bright colored beets, tahini adds a creamy texture, kumquats impart a burst of acidity, and the dish is kept light with a spatter of fennel. Pair it with a protein or dip your favorite carb into this version.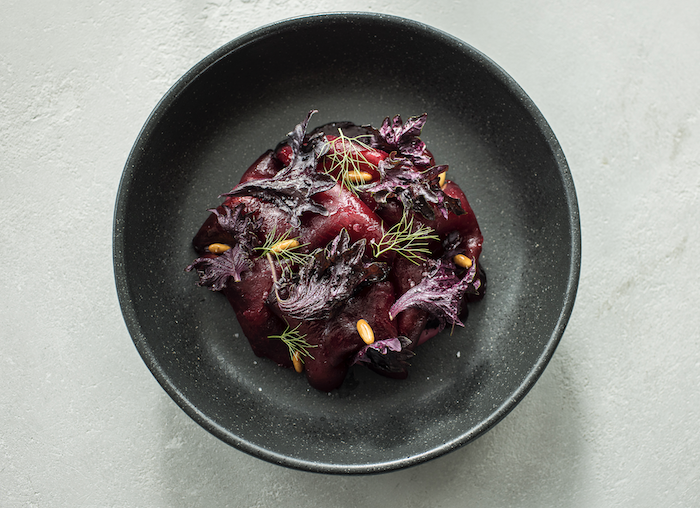 The recipe comes from Chef Maria Fernanda Serrano, a 30-year old powerhouse whose culinary journey has taken her from fine dining establishments in Mexico City to London and New York. Chef Fer's unique vision for dishes is a melange of her family's Mexican heritage with her travels and experience in kitchens around the world. Today, she showcases her talents at Brooklyn's buzziest rooftop restaurant, elNico.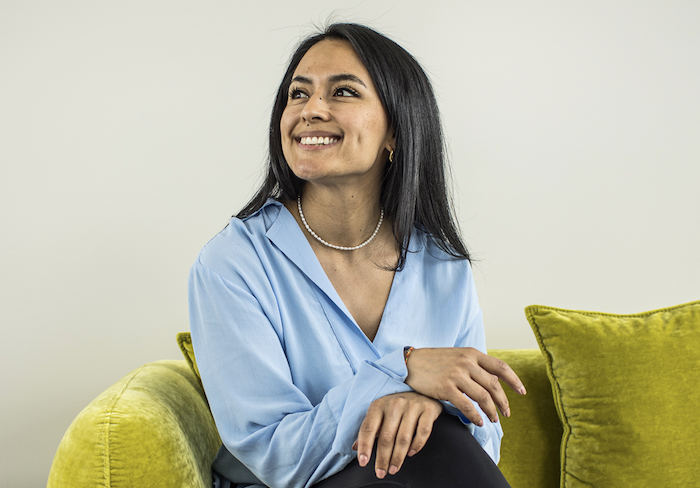 Honest Cooking had a chance to ask Chef Fer about her inspiration behind this creative rendition of an age-old classic!
What inspired you to become a chef?
Chef Fer: Food was such an important part of my upbringing – some of my fondest memories were around the table. My father specifically encouraged our family to have adventurous palates which opened my eyes to new experiences, flavors and cultures. However, it was when I watched Disney's Ratatouille that made me pursue this as a profession. The movie reignited the nostalgic memories from my childhood and inspired me to attend culinary school in Mexico City. This has allowed me to work with chefs across the world which has inspired the modern Mexican recipes reflected throughout elNico's culinary program.
What is the significance of mole to you and in Mexican culture generally?
Chef Fer: Mole was such an important part of my upbringing and it's funny – everyone back home will claim that their grandmother makes the best mole. Mole is Mexico's national dish and originated in Puebla dating back to the Aztec empire. We take pride in our moles not only because they are a labor of love but show the creativity that our culture incorporates in our cuisine. Each mole celebrates the ingredients of each region and tells Mexico's rich history. I like to think of it as something that preserves tradition and unifies our culture. It's so much more than a recipe in my eyes.
What is your inspiration behind Pink Mole?
Chef Fer: Pink mole is a specific type of mole from the town of Taxco in Guerro, Mexico. The original recipe includes beets that make the sauce pink, though it's traditionally served with a protein. When traveling in Greece with my mother, we tried a beet and orange salad served with a spicy sauce that reminded me of this mole. The idea inspired me to create a mole that was purely vegan allowing the beets to take center stage. I used different ingredients such as tahini, fennel and kumquat that make the recipe extremely fresh, flavorful and vibrant.
---
Step by Step Guide to Making Pink Beet Mole
---
This dish definitely is a little bit more advanced than just your "average" mole, but it looks amazing, tastes wonderful, and is totally possible to make at home. Here's how to:
---
1. Pink Mole:
a. In a blender, combine tahini, beet powder, seeded habanero, lemon juice, garlic clove, toasted cumin seed, and water.
b. Blend until smooth, ensuring the mixture achieves a creamy consistency.
c. Check the color and thickness. If it's too thick, add a bit more water; for deeper color, incorporate a little more beet powder.
---
2. Roasted Beets:
a. Preheat the oven to 420°F.
b. Cover a deep sheet pan's bottom with a generous layer of kosher salt.
c. Arrange the cleaned beets on the salt layer.
d. Seal the pan with aluminum foil and roast in the oven for about 35 minutes.
e. Test doneness by inserting a cake tester or knife into a beet. If it penetrates easily, they are done. If not, extend the cooking time in 5-minute increments. The beets should remain firm to touch.
f. Once roasted, allow the beets to cool before peeling.
g. Slice the cooled beets thinly, using a sharp knife or mandolin.
---
3. Kumquat Habanero Kosho:
a. In a blender, combine seeded habaneros, kumquats, and lemon zest.
See Also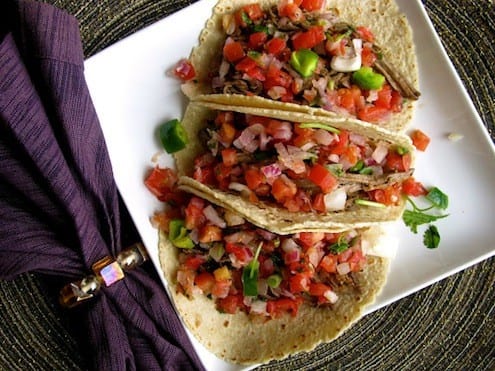 b. Blend until the mixture is very smooth.
c. Gradually emulsify by adding olive oil one tablespoon at a time until the mixture is smooth and well combined.
---
4. Assembling the Dish:
a. On a serving plate, spoon two tablespoons of the pink mole. Spread it into a broad circular base.
b. In a separate bowl, toss the thinly sliced fennel with kosher salt and some lemon juice. Mold the mixture into a ball and place it in the center of the mole.
c. Create a canopy over the fennel using the thinly sliced roasted beets, ensuring the fennel and mole are hidden beneath.
d. Add a layer of the Kumquat Habanero Kosho atop the beet slices.
e. Sprinkle the toasted pine nuts evenly over the beets.
f. Decoratively place the shiso leaves and fennel tops around the plated beet slices.
g. Finish with a drizzle of extra virgin olive oil and a sprinkle of Maldon or kosher salt.
---
Print

Beet Mole with Kumquat Habanero Kosho
---
Author:

Chef Maria Fernanda Serrano

Total Time:

1 hour 25 minutes

Yield:

4

-

6

portions

1

x
Description
Loaded with beets, tahini, fennel, and kumquat, this pink mole takes its inspiration from Mexico and Greece.
---
Pink Mole:
1

cup

of tahini

2 tablespoons

beet powder

1

seeded habanero

1

cup

lemon juice

1

garlic clove

1/2

teaspoon toasted cumin seed

1 1/2

cups

water
Roasted Beets:
Kumquat Habanero Kosho:
4

Habaneros, seeded

4

cups

Kumquat, seeded
Zest of

4

Lemons

1 teaspoon

Salt

1

cup

extra virgin olive oil
To assemble the dish: 
2 tablespoons

toasted pine nuts

1 tsp

. of butter

1

cup

of fennel, thinly shaved/sliced

3

pieces of Shiso leaves

5

pieces of Fennel tops

1 tablespoon

of EVOO

1/2 teaspoon

of kosher salt
---
Instructions
For the Pink Mole:
In a Vitamix, blend all ingredients. Be careful to blend all ingredients thoroughly, double check consistency and color. It should be a creamy texture, without being liquid. If needed, add more water if too thick or beet powder for color.
For the Roasted Beets:
Preheat the oven at 420F.
Cover the bottom of a deep sheet pan with a layer of kosher salt.
Place clean beets on top of the salt, and cover the pan with aluminum foil.
Place the pan in the oven for 35 minutes.
When done, check to see if the beets are cooked by placing a cake tester into the beet and it goes through easily. If needed, add 5 minutes every time. Keep in mind the beets will keep cooking once you take them out of the oven. They should still feel firm when done cooking (sign that you haven't overcooked!).
Cool down and peel beets.
Thinly slice with a knife or mandolin.
For the Kumquat Habanero Kosho:
In a Vitamix, Blend all ingredients and habanero until very smooth.
Emulsify with approximately olive oil, adding 1 tablespoon of olive oil at a time. The mixture should blend easily and be smooth.
To assemble the dish:
On a larger serving plate, add two tablespoons of pink mole to a plate and spread it in a circular shape.
In a mixing bowl, combine the shaved fennel with the kosher salt and lemon juice.
Shape into a ball and place it in the middle of the mole sauce.
With the thin beet slices, create small parachute-like shapes, a layer of the Kosho and cover the fennel ball and sauce (you want to hide the fennel and sauce underneath the beets).
Once covered, sprinkle the pine nuts on top of the beats.
Place the shiso leaves and fennel tops around the beets and drizzle with olive oil and maldon salt.
Serve and enjoy.
Prep Time:

40 mins

Cook Time:

45 mins

Category:

Appetizer

Method:

Blending

Cuisine:

Mexican Inspired
Keywords: mexican, greek, mole, guacamole, hummus, beets, kumquat, mediterranean inspired