Portobello mushrooms are marinated in a lager beer vinaigrette and then grilled. Top with kimchi, cilantro, and jalapeños.
By Pallavi Gupta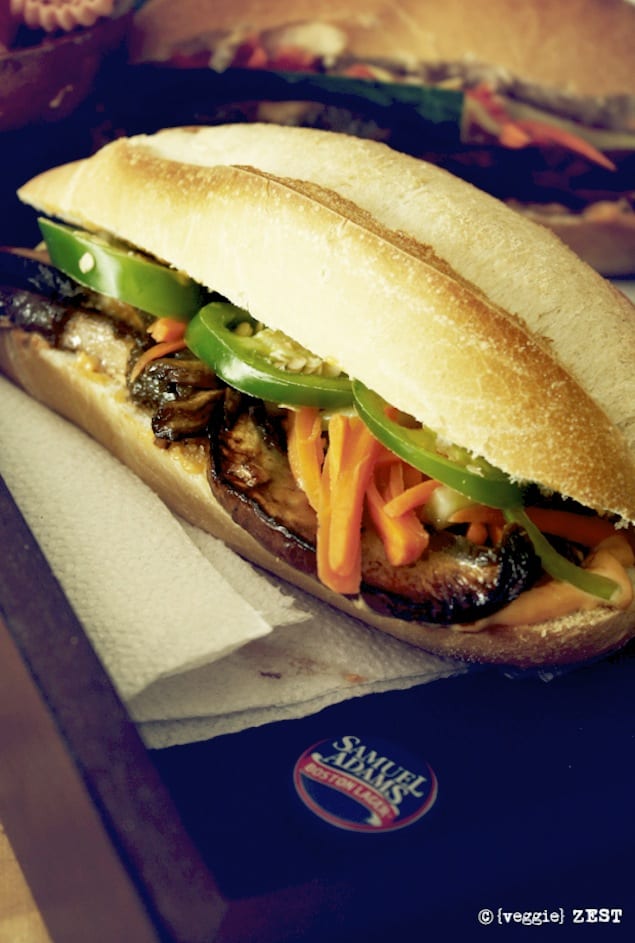 This sandwich is mostly made with grilled meat and the only vegetarian version that I have had of Banh Mi is with tofu. I used protobella mushrooms and marinated them in beer vinaigrette and then grilled them. This recipe is great for barbecues, parties and for summer picnics.
The beer I used for this recipe is Boston Lager which to my surprise I couldn't find at the LCBOs near where I live (Ossington). I went to two LCBO stores and called two other and none of them had it. Finally I called The Beer Store at 1200 Dundas Street and the gentleman at the store confirmed that he had the beer in stock.
Boston Lager pairs really well with citrus flavors so I sweetened the vinaigrette with some fresh orange juice and flavored it with ginger and shallots…a little bit of jalapeno for heat. I tasted the vinaigrette thinking that it will still be bitter because of the beer but the orange juice had completely transformed the flavor of beer. I marinated the mushrooms in the vinaigrette for about 20 minutes and grilled them in a cast iron skillet. You can do this step on your bbq grill. The cooking removed any bitterness that was left from the beer leaving the mushrooms juicy and with a nice earthy flavor. I poured some extra vinaigrette on the mushrooms while they were cooking for a more intense flavor.
Unlike the regular sandwiches Banh Mi has kimchi instead of lettuce or any other kind of salad. Top it up with some fresh cilantro and slices of jalapeno to increase the heat by a few notches. I also smeared some spicy mayonnaise to make the sandwich moist. Its a perfect sandwich for a road trip. Give it a try you sandwich lovers!
See Also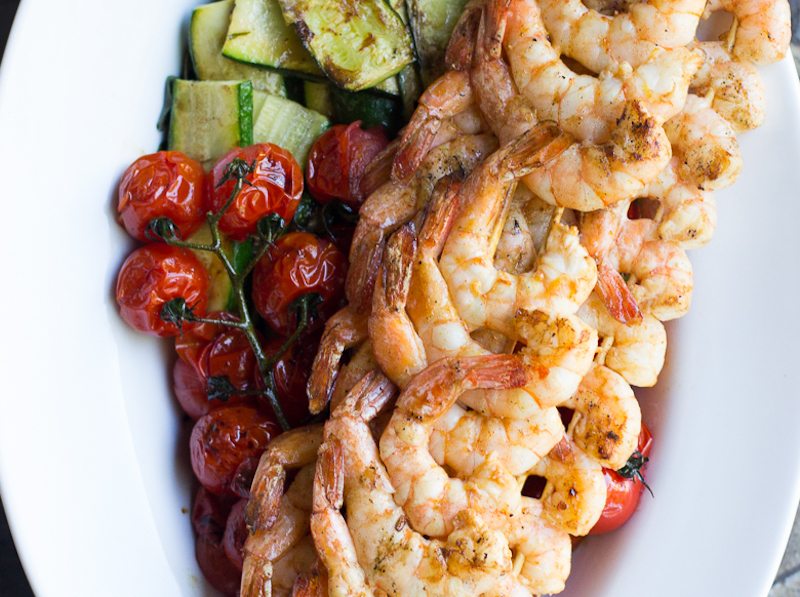 Print

Beer Marinated Portobello Mushroom Banh Mi
---
Author:

Pallavi Gupta

Total Time:

1 hour

Yield:

2

1

x
Description
Portobello mushrooms are marinated in a lager beer vinaigrette and then grilled. Top with kimchi, cilantro, and jalapeños.
---
For the vinaigrette/marinade
1 cup

Sam Adams Boston Lager beer
juice of

1/2

an orange

1 tsp

minced ginger

1 tsp

minced jalapeño

1/2

shallot, minced

2 tbsp

olive oil
salt
For Banh Mi
2

banh mi baguettes

2

large portobella mushrooms, cut into thick slices

1/2 cup

carrots, cut into sticks

1/2 cup

cucumber, cut into sticks

3 tsp

sugar

1 tsp

salt

1/4 cup

water

1 tbsp

lemon juice

1/4 cup

mayonnaise

2 tsp

sriracha sauce

1 tbsp

olive oil
---
Instructions
For the vinaigrette/marinade
In a large bowl, add all the ingredients except olive oil and whisk well a few times. Pour olive oil in a thin stream while whisking the vinaigrette. Keep aside.
For Banh Mi
Marinade sliced mushrooms in the vinaigrette for about 20 minutes to upto an hour.
In a grill pan heat up the oil on high. Turn the heat to medium and grill the sliced, marinate mushroom till they become brown on both the sides. Spoon some minced shallots from the vinaigrette on the mushrooms while they grill. You can also drizzle some extra vinaigrette on top of the mushrooms while they are cooking.
In a jar add water, lemon juice, sugar and salt – stir to mix well. Keep aside.
In a bowl place carrot and cucumber sticks and sprinkle 1 tsp sugar and 1 tsp salt. keep aside for 10 minutes.
After 10 minutes the carrots and cucumbers will release liquid. Using your fingers, squeeze all the liquid out and place the stick into the jar with water and lemon juice mixture. Let it sit for about 20 minutes
Mix the sriracha sauce with the mayonnaise.
Preheat the oven to 350 F.
Take one baguette and slice it from the center so that its still attached from one of the longer sides. You don't want to cut it all the way through.
Place the baguette into the oven for about 3 to 5 minutes. You just want it to be warmed up.
Smear a generous amount of spicy mayonnaise on both sides on the bun. Arrange grilled mushrooms, pickled carrots and cucumbers and a few slices of jalapenos for some extra heat. You can also add some chopped up cilantro for more flavor.
Prep Time:

30 mins

Cook Time:

30 mins

Category:

Main
Pallavi Gupta
Pallavi is a vegetarian globetrotter, who currently lives in the southern part of India. Past ten years of her life includes living in six cities in three different countries. It has added to her vast exposure of cuisines from different parts of the world which is now reflected in her cooking. She shares her knowledge of vegetarian and vegan recipe from around the world via her blog Veggie Zest. When not cooking or photographing, she does graphic design.