Enjoy a fantastic and super-cute beehive cookies recipe from Sherron Watson.
By Sherron Watson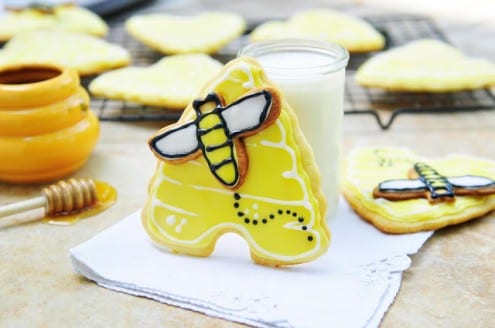 Beehive Sugar Cookies
Enjoy a fantastic and super-cute beehive cookies recipe from Sherron Watson.
Ingredients
2 cups all-purpose flour
½ teaspoon baking powder
¼ teaspoon salt
10 tablespoons soft unsalted butter
⅔ cups sugar
1 large egg plus 1 egg yolk, at room temperature
1 teaspoon vanilla extract
⅔ cup Monk Fruit In the Raw Bakers Bag
Icing--recipe below
Cookie Cutters--beehive and bee
Food coloring--favorite yellow and black
Icing
1 cup of powdered sugar, sifted
1 T. milk
1 T. light corn syrup
quick squeeze of lemon juice
Instructions
In a medium bowl, combined the flour, baking powder and salt; set aside.
In a large bowl, beat sugar and butter together until light yellow.
Add vanilla and egg plus one egg yolk. Combine until well blended.
Stir in Monk Fruit sweetener. Slowly add dry ingredients from medium bowl.
Dough should rest for 3 hours to overnight. Place cookie dough on a piece of plastic wrap and tightly seal. I kept mine in the fridge overnight and made the cookies the next morning.
Preheat oven to 350. Line a cookie sheet with parchment paper.
Remove cookie dough from refrigerator and cut in half. Using a bit of flour and your rolling pin, roll dough to ¼ inch thickness. Dip cookie cutter into flour and cut shapes place 1 inch apart on cookie sheet.
Bake for 10-12 minutes for a large cookie. My bees did not take as long because of their size.
Remove and let completely cool on wire rack before icing and decorating.
These can be stored up to three days before decorating in a sealed container or bag.
Icing
Combine ingredients together in small bowl and whisk well. This will be used for the outlining of the cookie. Add coloring if desired.
Put a small amount into a icing bag with #4 tip and outline your cookie.
To flood cookie, thin icing with a few more drops of milk. Add icing to a new bag with #4 tip and fill the inside of your outlined cookie or design.
Let cookie sit for 1 hour for icing to set.
Finish decorating cookie with your favorite design.
Store cookies in sealed container or baggie.
Sherron Watson
Sherron Watson is a writer and photographer. Her passion for food started at a young age while working with her family in their restaurant business. A career in photography gave her the experience she needed to start capturing images of her favorite dishes. This led to the creation of her blog: simply-gourmet.com. She is currently a food writer for Capital Style Magazine in Annapolis, MD.