Beef Tacos – Animal Style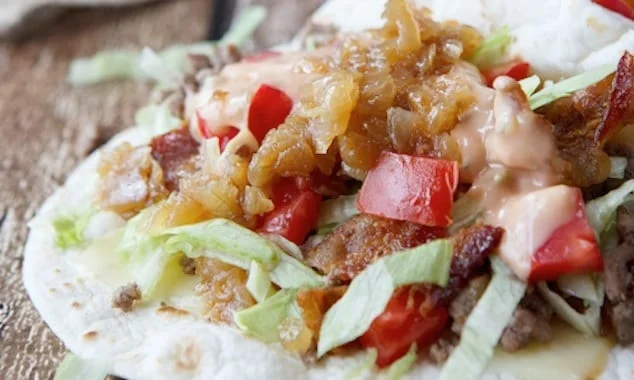 When you combine a copycat recipe for an iconic burger and wrap it in a tortilla, taco night will never be the same. Animal Style In-N-Out Bacon Beef Tacos.
By Chris Cockren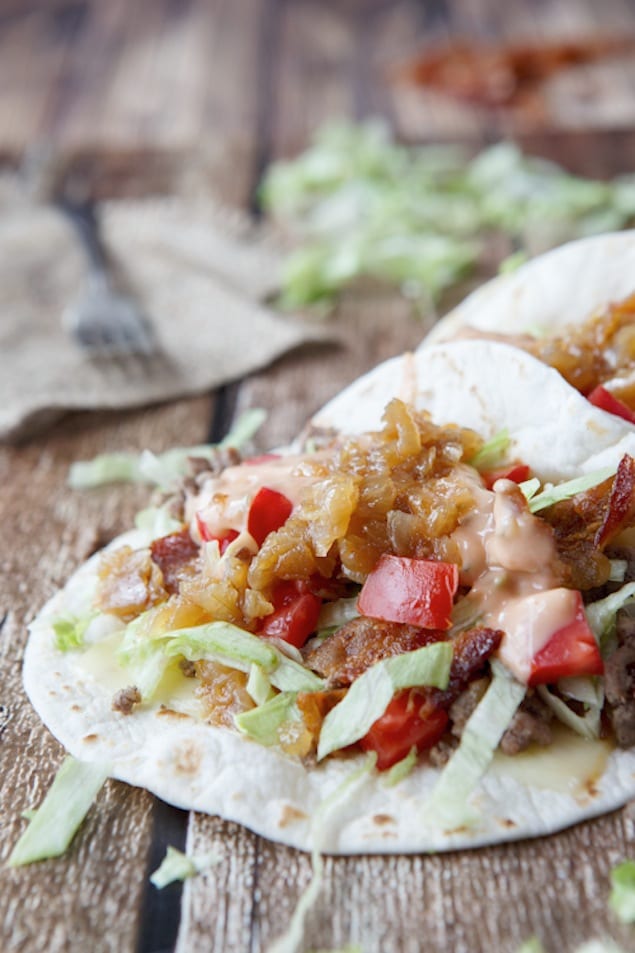 Pretty much everyone knows about In-N-Out's not so secret menu at this point, which includes making your burger Animal Style. They cook your patty in a bit of mustard, add on caramelized onions, and give an extra smear of their special sauce. For a fast food burger, it's legit.
Then the Animal Style In-N-Out Bacon Cheeseburger Taco was born. It has all the components of the In-N-Out burger (sans pickles), wrapped up in a tortilla. Beef cooked with a bit of mustard. Check. Caramelized onions. Check. Copycat animal style sauce. Check.
See Also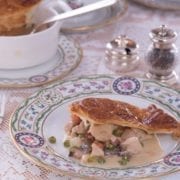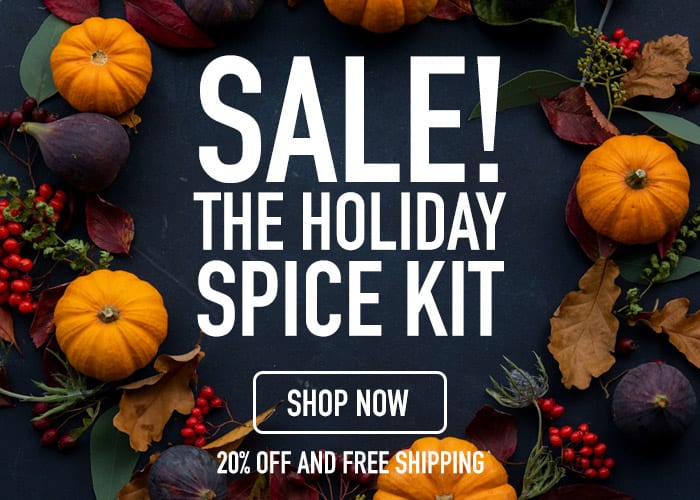 And I added bacon to it as well, because bacon makes pretty much everything better and it's for a party with all dudes. It's a night when we literally try to add bacon to as many things as possible.

Beef Tacos - Animal Style
When you combine a copycat recipe for an iconic burger and wrap it in a tortilla, taco night will never be the same. Animal Style In-N-Out Bacon Beef Tacos.
Ingredients
2 tablespoon neutral-flavored oil (i.e. canola or vegetable)
2 yellow onions, finely chopped
1 pound ground beef
1 teaspoon yellow mustard
Kosher salt
Flour tortillas
Sliced American cheese
6 slices bacon, chopped and cooked crispy
Iceburg Lettuce, shredded
1 large tomato, chopped
Animal Spread (recipe below)
Animal Spread
¼ cup mayonnaise
2 tablespoons ketchup
1 tablespoon sweet pickle relish
½ teaspoon white vinegar
Kosher salt
Instructions
Heat 1 tablespoon oil over medium-low heat in a medium skillet. Add onions, season with salt, and cook slowly for 30-40 minutes, stirring occasionally, until onions are caramelized, golden, and soft. Raise heat to medium, add ¼ cup of water to pan, and stir to scrap up any browned bits. Simmer until all water has evaporated. Remove onions to a small bowl and set aside.
Add remaining 1 tablespoon oil to skillet and add ground beef, mustard, and season generously with salt. Cook over medium heat, breaking up beef into bite-sized pieces, until meat is cooked-through, about 4-5 minutes. Use a slotted spoon to remove beef to a medium bowl.
Place a slice of American cheese on each tortilla. Melt cheese onto tortilla by either microwaving for about 10 seconds each or heating tortillas in a skillet over medium heat.
Top each melted cheese covered tortilla with beef, lettuce, tomato, bacon, animal spread, and caramelized onions.
Animal Spread
Combine mayonnaise, ketchup, sweet pickle relish, and white vinegar in a small mixing bowl. Season with Kosher salt.
Chris Cockren
Chris is a New York based food blogger that loves bringing friends and family together through food. On his blog, Shared Appetite, Chris chronicles his culinary adventures of eating his way in and around NYC, as well as cooking and entertaining at home.